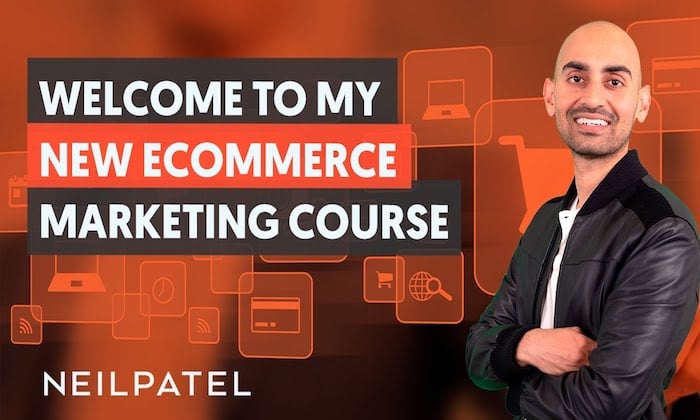 E-commerce is booming.
There are currently 24 million e-commerce sites and counting. And with only 12% of sales taking place online, you can expect there to be massive growth in the years to come.
So if you want to create an online business, one of the best ones to create is an e-commerce store.
But how do you market it? How do you grow your traffic? And, most importantly, how do you get sales?
Sure you can use tools like Ubersuggest to help you out, but what do you do if you need step-by-step instructions from the very beginning… especially if you have little-to-no marketing experience?
Introducing E-Commerce Unlocked
Over the next 4 weeks, I am going to teach you how to market an e-commerce website. From SEO to paid ads to even CRO… I am going to cover all aspects of e-commerce marketing.
And of course, all for free. 😉
E-Commerce Unlocked is similar to my free SEO training course, SEO Unlocked.
But unlike SEO Unlocked, which is a 7-week course, I thought it would be more efficient to get you the training you need in just 4 weeks.
So, every Monday, Thursday, and Saturday, I will release new videos to teach you how to get more traffic and sales to an e-commerce site.
And just like SEO Unlocked, E-Commerce Unlocked will contain worksheets, cheat sheets, PDFs, spreadsheets, and everything else you need.
Here's the first lesson, which you can watch below:
Make sure you go here to download the worksheets that go along with it.
So what exactly will I learn?
As I mentioned above, it is a 4-week course. Here is an overview of what will be broken down in each week and in each lesson:
Week #1
Lesson #1: Getting Started
Foundation methodology
Strategies you're going to learn
Strategies & mindset
Lesson #2: Sales Channels
History of e-commerce the timeline
What is working in the e-commerce space
Introduction to sales channels
Understanding sales channels
Lesson #3: Marketing Channels
Multi-channel marketing
Which market and sales channels work
Building visibility and brand
Current & future movers and shakers in the e-commerce industry
Week #2
Lesson #1: Conversion Rate Optimization
Introduction
Product pages made to convert buyers
Experience
Using reviews
Urgency and scarcity
Abandoned carts and follow up
Increase your AOV (Average Order Value)
Exit intent – capture lost traffic
Split testing with Crazy Egg
Increasing conversions on your e-commerce store
Email marketing campaigns for your site
Action tasks for optimizing your website for conversions
Lesson #2: SEO & Content Production
Setting up your Google organic feed
Rank your product listing pages
E-commerce content marketing workflow
Technical SEO for e-commerce
Making your content & transaction pages
E-commerce topical clusters
Content examples to look at
Lesson #3: Content Promotion
Link building for e-commerce
Building links to content, PDPs, & PLPs
Social media and social proof leveraging
Social media platforms in the long-term
Strategy for content promotion
Week #3
Lesson #1: Amazon
Keyword research for Google & Amazon rankings (and the differences)
Data sources
How to write good copy, product descriptions, ads, and come up with different marketing "angles" for Amazon
Amazon promotions & lightning
Optimize your listings
Using Facebook Messenger & Manychat
Amazon PPC
Sell more to your existing customers
Lesson #2: Sales Channels
Getting higher rankings on marketplaces
Walmart – how to get set up and what to expect
eBay – how to get set up and what to expect
Etsy – how to get set up and what to expect
Wish – how to get set up and what to expect
Facebook Commerce – how to win
Getting traction on each platform & what to do to win in each platform
Lesson #3: Marketing Types
E-commerce Marketing for (B2B) vs (B2C)
Sales process for B2B e-commerce vs B2C
Picking the one that's right for you – do both or pick one?
Week #4
Lesson #1: PLA Campaigns
Setting everything up
Google dynamic remarketing
Google product listing ads (Google Shopping Ads) introduction + setting up
Your PLA campaigns
Bing product listing ads + setting up
Facebook dynamic product ads + setting up DPA's correctly
PLA + DPA summary
Lesson #2: Additional Marketing Channels
Instagram ads
YouTube PPC – world's 2nd largest search engine work to get you sales
Etsy PPC – what's working on Etsy
Email marketing campaigns must have campaigns for e-commerce
Automate your customer emails and gather reviews much faster
Lesson #3: Additional Channels
Working with influencers
Push notification – lists & messaging
Understanding your metrics (COGS, ROAS, ROI to see what SKUs to scale with)
Case studies
Summary
How can I follow along during the 4 weeks?
You'll see videos released every Monday, Thursday, and Saturday.
The videos are roughly 10 to 15 minutes in length on average so it shouldn't take you more than an hour per week to follow along, including the completion of the homework assignments and worksheets.
To make things easier, the worksheets and homework assignments will be somewhat pre-filled so you will know what to do every step of the way.
No matter what, make sure you complete each assignment. Watching the videos is not enough.
Sure, the videos will teach you theories and strategies, but you also need to learn how to execute and implement. That's why I want you to complete the worksheet and homework assignments.
In total, I'm asking you to commit an hour each week. If you are new to marketing, maybe an hour and a half, which should be doable. 🙂
Once you complete the 4 weeks (12 videos), you'll know how to market any e-commerce website and even how to sell products online on sites like Amazon.
If you want to make sure you don't miss a lesson (because I won't be blogging about each lesson), make sure you subscribe to my YouTube channel as I will be uploading the lessons there.
Once you click the link above, you'll see a subscription box popup on YouTube. All you have to do is click the "SUBSCRIBE" button.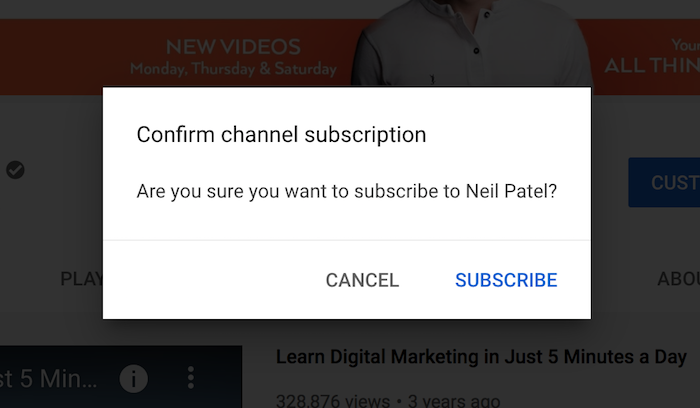 Once you click "Subscribe," you'll notice a bell image next to the subscribe button, make sure you click on that as well.

When you click on the bell, you'll be given a few options.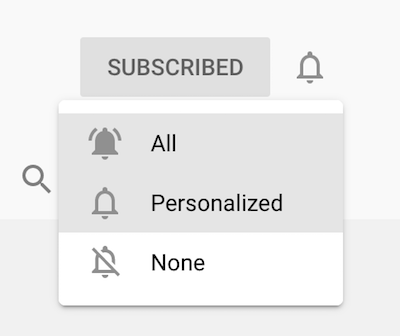 Click on the "All" option. Next to the "subscribed" button, you should see a new bell notification :

This makes it so YouTube notifies you when I release a new E-commerce Unlocked lesson.
Conclusion
E-commerce is a booming field. Just look at Amazon, they are bigger than any traditional retailer.
Having the skillset of knowing how to market an e-commerce site can never be a bad thing.
And who knows, maybe you'll do it full time as either a consultant or through running your own e-commerce site.
If you are new to marketing, don't worry about being overwhelemed. I am going to teach you the main tactics that drive the majority of the results. And I will break them down in a simple step-by-step formula.
You'll also be provided with the worksheets and tools you need, so you all you have to do is bring yourself and be willing to commit an hour to an hour and a half each week.
So, are you ready to learn e-commerce marketing?
PS: Leave a comment below letting me know what course you would like me to create next. I already did one on SEO, and now I am doing one on e-commerce marketing. Would you like one on content marketing, paid ads, Instagram…? It can be anything, just let me know in the comments.
The post Welcome to Ecommerce Unlocked: Your Free Ecommerce Marketing Course appeared first on Neil Patel.