It's our mission to help you create remarkable connections with your audience, so you can grow your business and live the life of your dreams.
That's why we're always working on adding incredible features in AWeber that help you work smarter. We just made a few brand new updates — now available in your account — to help you create more, work easier, and earn more money.
Read on to learn what's new in your AWeber account.
Create your logo in AWeber with Canva
Create a logo with the Canva Button right inside AWeber.
The Canva logo creator is located in your list settings. When you go into "Personalize Your List," you can upload your logo or image if you have one created, or you can create one with the Canva button right inside AWeber.
Now you no longer have to create a logo with photo editing software and then import that image into the image gallery.

Don't forget that all of the previous Canva enhancements, like saved revision history, are also available for logos, too.
Be on the lookout for more Canva enhancements in the near future.
Promote your Stripe products with AWeber
Do you have all your products already set up in Stripe? You're one step ahead.
Now, AWeber's Ecommerce element will let you pull in products you have already created in Stripe onto your landing page. And, any product you create with AWeber will be available in your Stripe account.
This is a huge win for small business owners who have everything set up in Stripe and want to hit the ground running by selling on AWeber landing pages.
Plus, it's easier to stay organized and keep everything centralized in one place with no extra work. No more shuffling between tools. No more double work. Sell the same product on multiple landing pages at lightning speed.
Pro tip: Not ready to commit to a Stripe account? Get a feel for how it works with the "try it without connecting" option in AWeber.
Make your social posts look great
Broadcast Archive now supports open graph — the box that populates with text and an image when you share a link on social media — so sharing hyperlinks is more appealing.
Check it out: when you share your Broadcast Archive link on Facebook, a beautiful image will automatically populate.
As you can see, this post automatically pulls in the thumbnail image, the page title, as well as the description.
Take comfort in knowing that when you share your Broadcast Archive, it's going to look good and encourage visitors to sign up to your newsletter.
Create any size image with the Canva button
The Canva button now supports multiple sizes.
Edit any photo you want for emails or landing pages right in AWeber without hassle. No need to worry about shuffling between tools to download and upload images.
This feature is currently available in the message editor and the landing page builder.
Copied landing pages now contain advocates' referral IDs
AWeber Advocates: you'll love this!
If you made your landing page shareable, your referral ID will be automatically populated into a copied landing page.
That means you get credit when someone in your audience copies your landing page and becomes an AWeber customer.
Customize any of our 7 new landing page templates
Get a head start setting up your landing page with brand new, professionally designed landing page templates — for every line of business.
Check out the brand new landing page templates in our landing page gallery:
Take a look at the new designs and if you have suggestions of additional verticals, please share in the comments!
The post New Features Now Available: Create Logos, Promote Your Newsletter on Facebook, and More! appeared first on AWeber.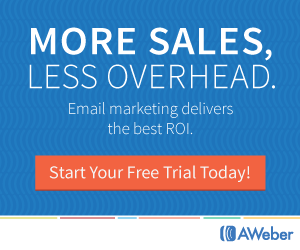 Article link