Not everyone reads emails in the same way. Some people may use dictation or magnification to consume your email, while others may only see grayscale or certain colors.
It's important to make your emails accessible so anyone can read them, regardless of disability. Plus, an accessible email is also valuable to many other people in your audience.
Headers and appropriate colors make emails easier to read, image ALT tags help out people experiencing low internet bandwidth, and simple fonts keep readers focused on your content.
Good news. It's easy to make your emails accessible. Simply consider color contrast, screen readers, and ADA compliance when you're composing your emails.
Don't worry, we'll walk you through the process.
But first, let's examine why accessibility in email marketing matters and some best practices for making all your emails accessible.
What is email accessibility?
In a nutshell, email accessibility means crafting email content that people with disabilities can understand and interact with. Accessibility for differently-abled customers is just one of the ways you should be adopting diversity and inclusion practices in your business model. 
To create accessible emails, you first need to understand the ways people are reading them. Many people use tools to help them, also known as "assistive technologies." 
Some common types of assistive technologies include:
Screen readers, a type of software interface that allows visually impaired users to navigate digital tools like email by reading text aloud or converting text into Braille
Magnifiers, an accessibility tool that makes text large enough for visually impaired individuals to see
Joysticks, a tool that can be used instead of a mouse for navigation
Eye-tracking technology, a tool that allows people with disabilities to control their computers and devices with eye movements
Sip-and-puff technology, another accessibility tool used for control and navigation through inhaling and exhaling
See how a screen reader reads an email
Why is email accessibility important?
It's important to make your emails accessible to every current and potential customer. Here's why:
Ecommerce is likely an important source of sales for your business. In fact, ecommerce makes up 40% of retail sales — how much of your business depends on online sales?
Email marketing is an integral part of growing and facilitating these online sales. After you make a sale, your customers expect order and delivery confirmation emails.
All of your customers need this information, but they won't all read your emails in the same way. That's why you need to make them accessible in every way someone may consume the email content.
Keep in mind, email is also one of the best ways to get previous buyers to purchase again — driving up to 20% more sales.
In the US there are 61 million adults living with a disability — that's about 26% of the population. If your email marketing isn't accessible, then your company could be mis-serving a large portion of their customer base.
So how do you serve everyone? Well, start by following ADA compliance and PCI compliance standards to stay out of legal trouble. You should also consider the web content accessibility guidelines (WCAG).
Read on: We'll cover the basics.
Email marketing accessibility best practices
According to WCAG, in order for content to be accessible, it must be perceivable, operable, understandable, and robust. That way, people with disabilities like hearing and vision impairment, physical immobility, and other disabilities can interact with it. 
Here are three important ways marketers can implement accessibility best practices today:
1. Use accessible typography (colors, fonts, etc.)
Colors are often used in marketing materials to convey certain meanings, but not all people can distinguish between colors or see color at all.
Color Blindness affects 300 million people worldwide, so it's important that marketers don't rely too much on color to convey their message. Instead, you can place more emphasis on the font and font size.
Color is just one example of how you should consider typography, aka the style and appearance of your text.
Here are some other ways that marketers can make their email text more accessible:
Use simple fonts
The most accessible fonts are Tahoma, Calibri, Helvetica, Arial, Verdana, and Times New Roman. Learn more about the most accessible fonts.
Break up large sections of text with images
Align your copy to the left
Rather than the center or right. Screen readers are better at reading left-aligned text in a comprehensible way.
Create clear spacing
Create clear spacing around your lines, letters, and paragraphs. For example, your line height should be 1.5 times the font size. Learn more about accessible spacing for your text.
Plain text
Include a plain text version of all of your email communications (in AWeber, this is included and can be automatically created or manually edited).
2. Create accessible content
Text color and font are just the beginning of creating content that is accessible. Next, it's time to look your GIFs, videos, and images and how their text content is delivered.
For example, don't add important text to your videos or images — many screen readers won't be able to read it. Then the person consuming your content via screen reader will miss out on something potentially important.
Would you want to miss a sale because your sale code was hidden on an image?
Even without words in your images and GIFs, it's important to use alternative text (ALT text) that clearly explains what the photo/GIF is about. This way assistive technologies can accurately describe what's being shown.
Pay attention to your links, too. Anchor text (the words you link) should be descriptive enough that people with disabilities can easily identify where the link might lead them. Don't use ambiguous phrases like "click here."
It's never really a good idea to use links in headings and subheadings, but especially not from an accessibility standpoint. It can be difficult for screen readers to understand, and that information could end up getting left out.
Here are some other things to consider when creating accessible content:

Avoid giving instructions that must be seen or heard in order to be followed
Provide clear, direct CTAs and simplified explanations for complicated terms
Follow a logical structure to optimize readability, where each point you make clearly and logically leads to the next point
Create descriptive and specific subject lines
3. Use drag-and-drop features to create customizable emails
Creating accessible emails is as easy as using the drag-and-drop features like what AWeber provides. The elements that you can utilize in the drag-and-drop indicate content hierarchy and other factors that allow assistive technologies to accurately relay information. 
You can further customize your emails by including unique graphic design elements related to your brand in your emails as well. These elements could easily be created using a graphic design platform such as Canva. 
Email accessibility test
There are many tools available for marketers to test email accessibility, which becomes even more important once you start messing with different customization and drag-and-drop options. 
Testing your email for accessibility can help you and your developers learn how to improve future email campaigns and create more accessible content.
Conclusion
Crafting accessible email marketing campaigns can help increase your ROI by allowing you to reach a more diverse audience.
However, email accessibility is about more than just money. It's about creating a brand that is focused on inclusive practices and improving user experiences for all of your visitors and contacts.
There are a number of free online tools available to create accessible email templates to use over and over so you can streamline campaign creation without cutting corners and compromising accessibility.
The post How to Make Your Email Marketing Campaigns More Accessible appeared first on AWeber.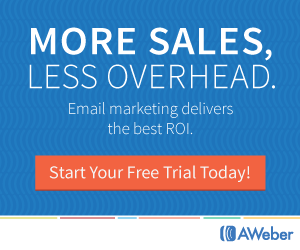 Article link