We live in the era of the side hustle. The passive revenue stream. The start-your-own-business movement. And there's a reason: Selling online isn't all that hard. Making online sales is no longer just for established businesses.

You can do it! You probably have at least one thing you'd like to sell. If not, don't worry, we have some ideas for you.
And now is the perfect time. For the month of September, AWeber is running its Sell Something Challenge. Want to join?
Sign up for the challenge
[aweber listid=309777 formid=1343946083 formtype=webform]
We'll teach you everything you need to know to make your first sale AND you'll get a free month of AWeber Pro when you sell something.
So read on and learn how to empower yourself with the knowledge that can change your future!
Why learn to sell online?
Well, other than the obvious — you get to make a little money — there are a few other benefits to knowing how to sell things online. You'll:
Earn passive income on the side
Learn a new tech skill (and put it on your resume)
Be able to quickly set up new revenue streams when you have ideas in the future
Make more use out of your existing tools (like AWeber)
Get one month of AWeber Pro for free (if you're currently on the free plan)
… which brings us to the details of the challenge.
The 2022 Sell Something Challenge
What is it: A free challenge running from Thursday, September 1st through Friday September 30th, 2022.

What you'll learn: How to use AWeber's landing page builder and Ecommerce tools, along with how to develop ideas for digital products and how to set them up to sell and be fulfilled automatically – while you go do other things (sip a margarita on the beach, play with your kids, explore how to make cheese… whatever you're into).
Here's the small print: If you sign up with an free AWeber plan, or you already have a free plan, when you set up a landing page using our Ecommerce element and make one sale, we'll send you a promo code for a free month of AWeber Pro for up to 500 subscribers. Your promo code will expire on October 31st, so use it as soon as you get it.
Ready to join? Sign up for the challenge now.
We'd love to hear your plans and to help you out in our Facebook community! Or tell a friend about how easy it was to set up your store. Who knows, you might help someone else get started selling online, too.
Why sell with AWeber?
There are three main reasons why you should sell with AWeber: simplicity, control, and low-cost.
Simple-to-use
AWeber offers over 100 page templates, integrations with Stripe and PayPal (for online payment processing), and a landing page builder that one marketer called "the easiest one I've ever used with all the functionality I need."
Quite simply, no matter how tech savvy you are, you can make a sales page in one day.
You're in control
Promoting your product or service on a social media platform or listing site can be good for visibility. But, ultimately, you are subject to the rules and algorithms of whichever platform controls your listing. They can shut you down at any time, with no warning. However, with AWeber, your pages, your products, and your promotions are 100% in your control.
The lowest cost
You can set up your sales pages with any AWeber plan — that means getting up and running is completely free. Squeaky-clean, no-strings-attached, no credit card required, forever free.
AWeber also won't charge you an arm and a leg when you make your sales. You see, online listing sites often charge really high fees — up to 20% from your sale. That means either you're giving up a cut or you're passing the cost onto your purchaser. AWeber's fees are the lowest in the industry at 1%, 0.6% if you have a Pro account (plus Stripe's fees of 2.9% + 30¢ per charge).
So if you sell an ebook for $15, you're walking away with $14.12. The same book sold elsewhere could leave you with only $12. The same book sold six times will get you $86.19 versus $72 ($14 difference!). High fees start to add up.
We've done the math. Selling online with AWeber Ecommerce is the best way to walk away with the most money in your pocket.
What to sell
The purpose of The Sell Something Challenge isn't to start a business or even get your side-gig going — although it would be great if you did that eventually. The purpose is to learn how to sell online, easily and affordably without using marketplaces or listing sites.
So don't overthink the first thing you sell. Start simple. Here are ten ideas that may help inspire you to sell something uniquely yours:
Sell something physical
A tool in your garage you no longer use
Used books
Sketches, paintings, photography, etc.
Resell used clothing or furniture from a thrift store
Note: If you sell something physical, pay close attention to when it's sold and remove it from your page. This process currently can't be automated.
Sell something digital
An online course with your expert advice
A digital book or short story
Expert content given via blog or email
Sell services
Freelance work like writing, editing, or design
1:1 consulting in your area of expertise
Local physical services offered in your area
Whatever you decide to sell, give it a name, a short description, and a picture — either of the physical thing you're selling or to represent what you'll be doing.
For example, if you're going to offer consulting services, use a headshot or search for a relevant stock photo in the AWeber image gallery or on Canva. Here's one from Canva:
Don't forget to keep it simple for the challenge. We want to get you up and running — and even making a sale — today!
How to set up your sales page
Selling online involves two things: creating a sales page and marketing your product or service. Here we'll cover creating your sales page. It only takes five simple steps to get a sales page up in AWeber (you can set up a free account if you don't already have one).
1. Create a landing page
Click on "Landing Pages" in the side panel of your account and then click "Create landing page." You can filter the templates by ecommerce or scroll to choose one (you don't need an ecommerce-specific template to make a sale).
A popular template is the "Simple Product Sale." Click "Choose" on the template to copy the page into your drafts.
2. Add sale details
Add the name, description, and imagery representing whatever you've decided to sell. You should always include a picture, especially if you're selling a physical product.
Keep the description relevant to the size of what you're selling. For example, you may want to lay out what someone will learn throughout a several-weeks-long course. But if you're reselling something from your house, a picture and a short description is plenty.
3. Add a sale button
Drag and drop the ecommerce element from the left onto your sales page. This will give you a button (though there may already be one on your template). Update the button's text. For example, you could say "Buy now – $15" or "Get Your Course."
4. Connect to Stripe
To charge for your product or service, you'll need to connect to a Stripe account. When you've selected your ecommerce button, you should see a prompt to connect Stripe. If you don't already have a Stripe account, don't worry. You can set one up in about five minutes.
Once Stripe is connected, you can create new products, subscriptions, payment plans and prices directly in AWeber. No need to switch back-and-forth to multiple tabs.
5. Configure sale button settings
Add a "product" to your button (a digital product or service is also called a product). Give it a name, price, and decide whether you'll charge just once, or offer a subscription or payment plan.
Under "Tag automation," tag anyone who purchases with something like ebook-sale. Then you can track and market to who you sold to later.
Review the order form and double check that the prices and description match what you're selling.
You can choose to show a receipt after the sale or redirect to another page. If you redirect, you can show a thank you page or send purchasers to a landing page that contains the content they've bought (like a digital book or course).
6. Review and publish
Check your page's title and preview the page to make sure it looks like you want it to. Then click "Save and exit" and then "Publish" to make your page live on the web (yep, it's really a live sales page at this point!)
If you want a custom domain — exampleproduct.com instead of mypage.aweb.com/p/1283…— you can buy one directly from your AWeber dashboard. Buy and connect your new domain on your landing page's settings.
That's it! You now have a fully functioning sales page that you can share online or offline. It's time to put "web designer" on your list of skill sets.
Sales page ​​templates
Want to see a few options for the templates that can get you up and running right now? Scan through these five for some inspiration and click on any to copy it directly into your account.
Online course
Ebook offer
Product sale
Services
Crowdfunding
Subscription
Click "Ecommerce" on the left when you're choosing a template to see all the options, or check out our public template gallery.
How to make the sale (marketing 101)
Now that you have your sales page set up, it's time to work on actually making that first sale. It's time for some marketing.
Marketing comes down to two things:
Who would want to buy my thing?
Where do they learn about new products and services?
There are four easy ways to start your sales journey, depending on the time and resources you have to spend. Try these tactics to make your first sale:
Tell your friends and family
As you're starting your sales journey, the people who love you are likely to be on board with helping out. Ask your closest connections if they'll support you by buying your thing, especially if it's fairly affordable and useful for them.
Find buyers on social media
If you have an existing audience on Facebook, Twitter, LinkedIn, TikTok, or anywhere else, promote your new product to them. Give a quick pitch on the benefits, uses, and how their lives will definitely be better after they buy your product.
If you don't have an existing social media audience — or not one that's used to being sold to — it's time to start.
If you're comfortable creating videos, I recommend starting with TikTok or YouTube and cross-promoting your videos. Get on screen and work to truly educate your audience about what you're selling and the reasons they should buy it.
Not cool with video? That's OK. Instead, try some Facebook groups, LinkedIn, or even Twitter threads. The key here is to search for people who could benefit from what you sell. Try finding popular posts and add answers or smart comments to them.
For example, let's say you sell a course about building a cabinet. Find the woodworking community by searching for "woodworking," "DIY," "home design," etc. Then find popular posts about building things and say something like "It took me just two days to build my own cabinet. So I made a course on how to do it." (Add a picture of your cabinet and a link to your course.)
No matter how you promote on social media, don't forget that everyone can tell if you're making a sales pitch only. So be authentic, helpful, friendly, and engaging.
Send an email
Whether you have a list of thousands from another venture or just your own personal contact list, you can use email marketing to send people to your sales page. Figure out who on your list will be interested in what you offer, and send a short promotional email letting them know what you're selling.
Pay for an ad
It might seem crazy to pay first before earning any money. But you can actually set up some pretty affordable advertising with Facebook Lead ads. And if you sell something fairly expensive, it can pay off.
Selling an artistic creation like a painting or sculpture for hundreds of dollars? You might want to try just $5-10 in Facebook Lead ads to get your beautiful piece in front of more eyes. It's quite easy to find your audience here, too.
Keep pushing towards your first sale, and track what you learn along the way. When it's time to make sale #2 – or 2,000 – you'll have the information you learned in this challenge to assist you.
Additional resources
How to Sell Online with Ecommerce Landing Pages
Grow Your Income with Subscriptions & Payment Plans
5 Steps to Promote and Sell Online Courses
10 Best Ecommerce Tools to Sell More with Email Marketing
Get started now
The best time to learn to sell online is today. Start now with a free AWeber account. Connect Stripe, pick a template, and make a sale today! Don't forget to tell us how it went in the Facebook community.
The post Join the 2022 Sell Something Challenge appeared first on AWeber.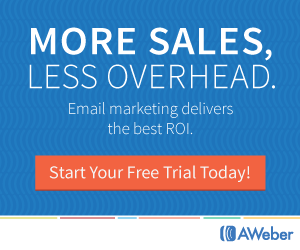 Article link