Donations are the lifeblood of nonprofit organizations. But to secure them, you need a solid fundraising strategy.
Maybe you're looking to start a nonprofit. Or perhaps you're an established organization or business looking to raise funds on their behalf. Whatever your situation, there are many ways you can encourage people to donate. In this post, we'll show you how to raise money for nonprofits while building lasting donor relationships.
First, let's look at what nonprofit fundraising is and why it's so important.
What is nonprofit fundraising?
Nonprofit fundraising is the process of raising money for charitable organizations. It involves a range of activities, such as:
Sending donation requests to individuals or corporations
Engaging with prospective donors through online and offline channels
Holding a charity auction
Starting a crowdfunding campaign
Hosting a fundraising event
Fundraising is the primary source of income for most nonprofits. It's also the main way nonprofits foster relationships with the public. These relationships can create a dedicated and passionate donor base to keep the organization afloat. So, nonprofit fundraising is vital for keeping the donations flowing and expanding your charity to help more people.
7 Ways to raise money for nonprofits
There are several ways to raise money for nonprofits, but you can group most of them into three categories:
Individual fundraising
Peer-to-peer fundraising
Corporate fundraising
Each of the following strategies falls into one or more of these categories. Together, they form an effective multi-channel approach to help you achieve your fundraising goals.
1. Corporate sponsorship and involvement
Corporate sponsorships are when companies give funding to and promote a nonprofit. They're effective ways to raise money for nonprofits that also benefit the sponsors. Nonprofits get greater reach, while sponsors boost their public image and customer appeal.
Be sure to research potential donors to ensure they align with your values and are relevant to your supporters. Also, look into IRS (or HMRC) rules around sponsorship in case there are any tax implications for your charity.
If you do secure a sponsor, it's worth investing in invoice software. That way, you can send invoices to your sponsor to receive donations. This helps you track your funds and ensures you follow the relevant tax rules. You can also set up automated invoices for regular donations, letting you focus on more important tasks.
2. Start a 'support a cause' option at checkout counters
Many companies have donation buckets for their favorite nonprofits at checkout counters. Staff may ask customers if they'd like to donate a dollar or two. Others ask customers to "round up" to the nearest dollar and donate the difference to charity.
This type of campaign is cheaper than other forms of fundraising, like events, advertising, and direct mailing. People are also more likely to give when they're already spending money.
The best "support a cause" campaigns align with the company's mission and customers. Shorter campaigns work best, as customers may get tired of being asked to donate every time they go into a store.
Companies can also add a "Donate" button to their website's checkout page so customers can donate online. Studies show that this can lead to a 190% increase in donations.
3. Product for a cause
Another popular option is to sell fundraising products. Badges, chocolate/candy, ribbons, and other branded merchandise are popular with consumers and make them feel rewarded for their generosity. An appealing product can also encourage people to donate who otherwise wouldn't.
It's important to choose a product that appeals to your supporters. Fundraising software can give you insights into your donors' demographics and preferences. Or, you could send a survey asking your supporters what kind of products most appeal to them.
Use their feedback to create a customer-driven marketing strategy that appeals to all your supporters.
4. Social media donations
Social media is becoming a popular fundraising platform for nonprofits and their supporters. Why? Besides its popularity with consumers, it offers many tools to request donations.
For example, you can add a "Donate" button to your charity's Facebook page and fundraise in real time with Facebook Live. Plus, Facebook's birthday fundraisers let people ask their friends and family to donate to charity rather than buy a present.
No matter the platform, social media is a great way to increase your reach, share information about your cause, and encourage people to get involved.
5. Direct mail marketing
Fundraising letters are still one of the best ways to raise money for nonprofits. As well as an envelope and a compelling letter, you can include supporting materials like a brochure explaining your work and its impact. You can also include an address where people can donate online.
You can print fundraising letters in-house or outsource them to a third party. Either way, be sure to track your campaign's success. Compare your printing and postage costs to the amount raised to see if it's cost-effective. You can do this manually or use software to speed up the process.
For the biggest impact, pair direct mail marketing with a digital campaign一for instance, a social media campaign, or a Google ad.
6. Host fundraising events
Fundraising events give prospective donors a chance to engage with your charity. Done well, they can foster a sense of community and help people make an emotional connection to your cause.
Make sure your event reflects your supporters and their interests. For example, if you're an animal charity, holding an event at a park or farm will resonate more than a dinner at an upmarket hotel.
Here are some low-cost fundraising event ideas:
A community garage sale
A bake sale
An activity workshop
A charity sports event
A marathon or fun run
A charity auction
A craft stall
7. Set up a branded donation website
Create a branded donation page on your website where supporters can donate securely online. Make sure the page is easy to navigate and that the donation process is simple. People should also have the flexibility to give what they want and to make a one-off or a regular donation.
If you don't yet have a website, you can still secure donations online by using a landing page builder. It's easy to find tools online to help you create everything from a donation page to a crowdfunder. You can even include a thank you page to show appreciation to your donors.
Add a donation tracker to create a sense of achievement among your supporters and encourage more people to donate. Also, add sharing options for social media and email so supporters can spread the word and ask others to donate.
Nonprofit fundraising strategies
In the final part of this post, we'll look at nonprofit fundraising strategies to manage donations and cultivate long-term relationships with your supporters.
Utilize automation to keep track of funds
Tracking donations is vital for accurate budgeting and for ensuring you meet your tax obligations. The easiest way to keep track of funds is with automated accounting for charities.
Automated accounting software offers a range of features to track and manage your nonprofit's funds, such as:
Automatic reconciliation of transactions and donations
Dashboards to view weekly and monthly budgets, incoming donations, and quarterly summaries
Automatic invoices and donation receipts
Real-time collaboration with board members
Some software providers also offer discounts for nonprofits一sometimes up to 50 percent!
Build trust signals through content
Content marketing helps you reach new donors and cultivate relationships with existing donors. Content also builds trust signals that boost your credibility and encourage more people to donate.
Try to use a mixture of content as part of your campaign, such as:
Email newsletters
Social media posts
Direct mail
Paid advertising
Blog posts
Case studies
Graphics
Track how much engagement each type of content receives to find what resonates best with your supporters. Then, make more of it.
You can also create subscription content like a paid newsletter to raise extra money and keep supporters updated on your work.
Create and send fundraising updates
It's important to keep supporters updated on your progress and show them how you're using their donations. This makes your donors feel appreciated and involved in your work. In turn, this builds an emotional connection that's vital for keeping your supporters long-term.
Consider sending a newsletter with updates monthly or quarterly, and share stories to show the real-world impact of their support.
For instance, WWF sends quarterly updates to its animal sponsors to tell them how they've used the money and to show their appreciation. They also include a fun activity sheet for sponsors who have children, further building a connection.
Show appreciation to supporters
Thanking your supporters is a simple but effective way to create a positive feeling about your nonprofit.
For individual donors, you could send a thank you email or post a thank you video on your website and social media channels. For major gift donors, you could send a gift basket or make a personal phone call.
Think about what would resonate best with your donors, and show appreciation every time they donate.
Establish a donor-support channel
Finally, be sure to establish a donor-support channel to address any questions or issues your donors have. For instance, you could set up a helpline, an email address dedicated to inquiries, or a form on your website.
You could also create an FAQ page on your website so donors can find answers to questions themselves. This will also free up your donor support agents for more urgent inquiries.
By giving your donors a great experience with your charity, you'll foster relationships that keep supporters coming back to your cause for years to come.
The importance of fundraising for nonprofits
Fundraising is vital if nonprofits are to keep helping people. The right strategy can supercharge your fundraising efforts and secure more charitable donations.
By following the tips and strategies outlined in this post, you can create a fundraising strategy to raise money for nonprofits effectively. You can also form long-term relationships with supporters, which is vital for securing your charity's future.
The post From awareness to action: how to raise money for nonprofits appeared first on AWeber.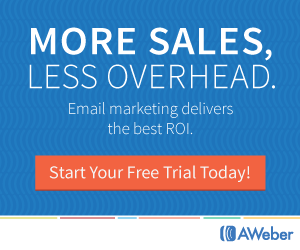 Article link