Have you ever dreamed of turning your expertise and passion into a successful coaching business?
You've probably heard of people earning $100 – $300 an hour coaching. Or of ambitious coaches who've built 7-figure businesses over the course of several years.
But time constraints, startup costs, and the idea of drumming up clients for a new business can be daunting and easily overwhelm your desire to coach.
Yet, the rewards—like flexible work schedules, personal fulfillment, and the potential for growth—are too compelling to ignore. And the opportunity to get in on a quickly growing industry that has a high demand for people like you presents a golden opportunity.
Overcome your hesitations and fears with a coaching business blueprint that coaches you through the entire process.
We've answered your questions, created to-do lists, and provided examples, resources, tips, and coaching FAQs to guide you through starting a coaching business from scratch.
Pressed for time? On a budget? Unsure where to start? This guide was written with you in mind, and we've got you covered!
Ready coach? Let's go!
What is a coaching business?
A coaching business is a professional service that provides goal-based guidance to clients. Good coaches are excited and passionate about helping their clients, which often leads to impressive results.
Business coach Luisa Zhou encourages her clients to think of her as the "cool big sister" who has your back and will help you build your business.
Some of the most popular coaching services include:
Financial
Business
Health & Wellness
Fitness
Executive
Relationship
Mindset And Confidence
If you have a skill or experience that can improve people's lives (or businesses), consider launching a career as a coach. You can work with clients online or in person, full-time or part-time. You can get started on a budget. And, depending on your niche, you probably won't need a certification to get started coaching.
Benefits of starting a coaching business
Coaching is a $1.5 billion dollar industry projected to grow by at least 4.9% over the next five years. Top coaches enjoy high profits, and the growing demand for services means this may be an excellent time for you to get started.
Starting your own coaching business can generate big profits over time. It's not unusual for independent coaches to earn between $100 – $300 per hour and collect additional streams of income from book sales and speaking engagements.
Profits aren't the only reason people love coaching. The benefits extend far beyond a sweet salary.
Many top coaches love their jobs for three main reasons:
The connection and relationships you form with clients
The accelerated rate of personal development you experience in yourself
The satisfaction of helping people uncover their true potential
For example, Zhou helps entrepreneurs build six and seven-figure businesses. In one instance, she helped a client build her business while working a 9 – 5 job and the client earned $10,000 in sales within the first eight weeks.
Life coach Lynda Hoffman is highly motivated by her clients' success.
"It inspires me every time a client has a breakthrough. It's a privilege to witness how life coaching transforms a client's perception of themselves."

– Lynda Hoffman, Life coach
Whether your niche is finance, fitness, or life, starting a coaching business provides an opportunity for both profit and personal rewards.
Step-by-step guide to starting a coaching business
Follow these six steps to develop your coaching services in a way that sets your new business up for success.
Step 1: Choose your niche
The more experience you have in your niche, the more earning potential you'll enjoy in the beginning.
However, niching in something you're passionate about will provide you with even better long-term potential for success and earnings.
For example, if you have ten years of finance experience, you can probably find good-paying clients quickly. But if it's not something you love doing, you may not have the energy and drive it takes to excel at coaching over the long term.
Your past experience may help you get started with a coaching business. But ultimately, your drive and pursuit of mastery will play an even greater role in your long-term success. That's why choosing a niche you truly enjoy is important.
Step 2: Define your coaching style
To define your coaching style, write down the answers to the following questions:
Will you coach one-on-one or in groups?
Will you work with individuals or businesses?
Will you coach by video, phone, face-to-face, or another method of communication?
Will you provide additional coaching materials such as workbooks, webinars, or chat support?
If you're a solopreneur (one person), don't overwhelm yourself with a long list of things to do or services to create. Instead, keep your business model simple and expand your offerings as you grow.
Step 3: Set your pricing
Set your hourly pricing by balancing industry standards with your financial goals.
Consider these three points when determining your hourly rate:
Competitors' pricing
Demand for services in your niche
Desired annual income
Once you determine your hourly pricing, you can set your session and package pricing using your hourly rates as a guide.
Step 4: Lay down your business infrastructure
Congratulations! You've chosen your niche, defined your coaching style, and set your prices. Now, it's time to turn your coaching business into a reality.
Follow the checklist below to lay down the business basics for your new coaching service.
Register your business
Obtain State and federal tax ID numbers
Obtain licenses/permits
Open a business bank account
Purchase business or liability insurance
You may not need to do all of the above to get started. Requirements change according to what type of coaching you do and where you do it (in person or online).
Step 5: Sketch out a business plan
Developing a business plan provides a roadmap to guide you through the different stages of growth your business will experience.
If you're one person intending to work with a small handful of clients, then your business plan should reflect that. Keep it simple!
Are you hoping to work with dozens of clients and hire some people to help run your business? Consider developing a comprehensive business plan.
Include the following elements in your business plan:
Executive summary
Company description and mission statement
Your business goals
Market and competitive research
List of services you will offer
Financial plan
Put a plan in writing — before you get started — to boost the chances of success for your coaching business.
Step 6: Sketch out a marketing plan
Today's content creation tools make marketing easy, even if you're on a budget.
But when faced with endless choices and opportunities, it's easy to get sidetracked. As a coach, you can't afford the time and expense of getting sidetracked!
Launching your new business will take less time and prove more successful when you write out a marketing plan in advance.
Include the following in your marketing plan:
Description of your target audience and ideal client
3, 6, and 12-month goals
Outline of how you'll promote your services
Short, medium, and long version descriptions of your business to use for social and other media
Short, medium, and long versions of your personal profile to use for social and other media
Formal mission statement
List of the platforms, tools, apps, and software you'll use
Content marketing plan (for social media, email marketing, etc.) that outlines what type of content you'll publish, where you'll publish it, and how often you'll create new content.
Planning is a business's best friend, but keeping it simple is critical when running a business independently. You can lose months of precious time to over-preparation. Or, you can keep it simple and complete your planning in a day or two.
Following the above six steps will help lay down a solid business foundation for your coaching business. For more help and guidance, check out the coaching business resources section below.
9 Tips to grow your coaching business
Find out how to get your first clients and build a steady stream of business for your coaching services.
1: Tell everyone you know!
Word of mouth is a powerful marketing practice. Tell everyone you know and everyone you meet about your coaching services.
Certified master life coach Stacey Brass-Russell runs multiple six-figure coaching businesses. Her popular weekly podcast, "Passionate & Prosperous," teaches coaches and creative people how to succeed in business.
From finding the right audience to attracting clients, Stacey makes it her business to help other coaches succeed. And she swears by word-of-mouth marketing.
"The most effective client-attracting strategy is talking to as many people as possible and telling everyone what you do." Brass-Russell explains, "Coaching businesses are built through relationships and conversations!"

"Coaching Businesses are built through relationships and conversations!"

– Stacey Brass-Russell, Life & business coach, host of "Passionate & Prosperous" podcast
2: Network
Online and offline networking is an excellent way to generate new clients for your coaching business.
Consider joining Facebook and LinkedIn groups and forums. Check out associations and organizations related to your industry.
Focus on cultivating relationships and supporting others in these groups (not promoting yourself), and business will follow naturally.
3: Choose one social media channel and post consistently
So many social media channels, so little time!
Starting with one social media channel (only) is a good policy for any business.
Limiting yourself to one social platform gives you the chance to learn about your audience and build a successful channel. It also helps you avoid spending too much time on marketing.
4: Send an email newsletter
Encourage people to sign up for your email list, then send a weekly "how to" or "tips" style newsletter that includes a call-to-action.
5: Create a landing page
You don't need a website to start a coaching business!
If you're a busy person looking to start your coaching business on a budget, you can skip the time and expense of building and maintaining a full website. In its place, you can send people to your landing page, an effective sales tool designed to convert visitors to subscribers or clients.
For example, Alycia, a Zumba instructor and fitness coach, replaced her Facebook signup link with her landing page link — which resulted in a signup increase of 100%.
Landing pages allow you to include more details about your services without having to invest the time and expense of building a full website.
Try using a landing page on your social media sites to find out if it increases your conversion rates, too!
6: Get a coaching certification
Obtaining a coaching certification can improve your credibility and expand your network.
You may not need a certification to run your coaching business. However, training and certification is an excellent way to expand your knowledge, network, and credibility.
7: Publish an ebook
Publishing an ebook allows you to help more people with your expertise. It can also validate your expertise as a coach, which leads to more clients.
Not sure where to begin? Try using Chat GPT or another AI tool to help you generate topic ideas for your coaching niche.
8: Book speaking engagements
Coaching and public speaking go hand-in-hand. Delivering your message live to a large audience can drive clients, book sales, and increase your notoriety.
If you have a knack for public speaking, consider using non-paid and paid speaking opportunities to market your business.
9: Start a podcast
Reach a wider audience by creating a podcast that's valuable to your target audience. Broadcast consistently and invite special guests to join you. Doing so will widen your audience, help establish your reputation, and drive more client signups.
Coaching business resources
Below is a list of resources to help you get started with your new coaching business.
Coaching business FAQs
Do I need a certification to start a coaching business?
In most cases, you do not need a certification to become a coach unless you're in the health or mental health field. Check with your local and state laws and your insurance company to confirm whether a certification is required.
Do I need insurance for my coaching business?
Whether you need insurance depends on your niche and your desire to insure. Check coaching organizations and blogs in your industry to find out whether coaches in your niche typically purchase liability insurance.
How profitable is a coaching business?
How much money you make coaching depends on your niche, experience, and success with clients. For some, coaching generates six or seven figures a year. Others may start as low as $25 – 35 an hour and work their way to better pay.
How do I get my first coaching clients?
Word of mouth and networking are the quickest ways to find new clients. Tell everyone you know about your coaching business!
Starting your first coaching business
Do you have a skill, training, or experience that can improve or transform people's lives? If so, consider coaching.
In this guide, we've outlined the steps you need to take to start a coaching business.
From choosing your niche to developing business and marketing plans, this blueprint will guide you along the entire process.
Email marketing is an essential tool for any marketing plan. When you're choosing email software for your coaching business, consider AWeber!
The post How to start a coaching business: A blueprint for success appeared first on AWeber.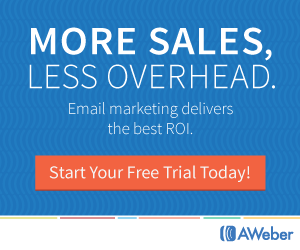 Article link