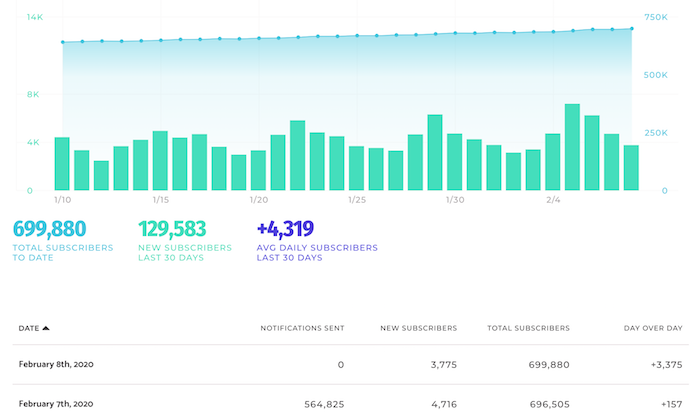 Just like any marketer, we all fear what we can't control.
And sadly, for years, a lot of our future is being determined by algorithms.
From social sites to search engines… they all have algorithms. Heck, you even have to deal with them with things like email.
When you send marketing emails, you can bet that there is a good chance that they will end up in the "Promotions tab."
Now sometimes these algorithms do adjust in your favor, but
we all know that's rare in the long run.
But what if there was a way you could drive consistent traffic, not have to deal with algorithms, and not have to spend money on ads?
There actually is. And I bet you've never used it before.
Here's the best part, it's generated me more than 231,608 visitors and it automated and free. 🙂
How so?
Alright, check this out.
Every time I publish a blog post or anytime I want to drive
traffic to any page on my site, all I have to do is click a few buttons and instantly
I am able to get more traffic.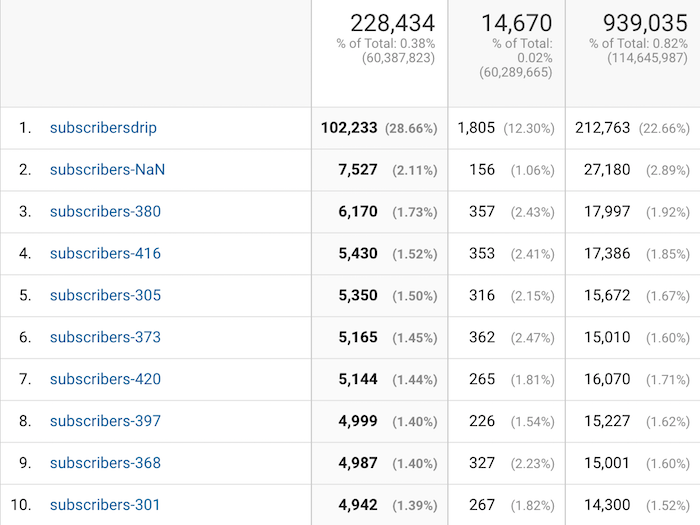 So how do I do this?
It's with a free tool I built called Subscribers.
It leverages something that you are familiar with but probably don't know what it is.
It's called push notifications.
What's a push notification?
Does this look familiar to you?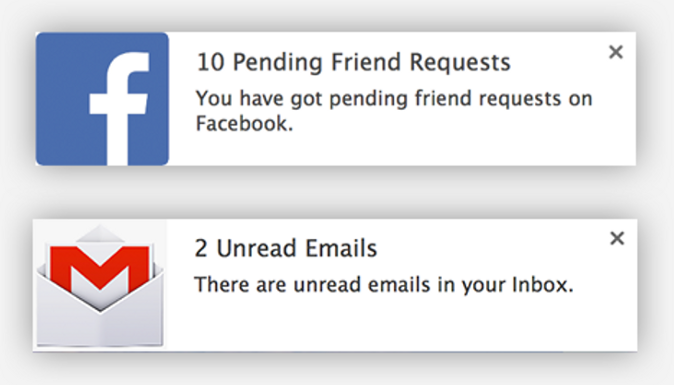 You can receive messages through your browsers. This is
called a push notification.
What's cool about push notifications is that anytime someone
visits your website you can ask them to subscribe to your site.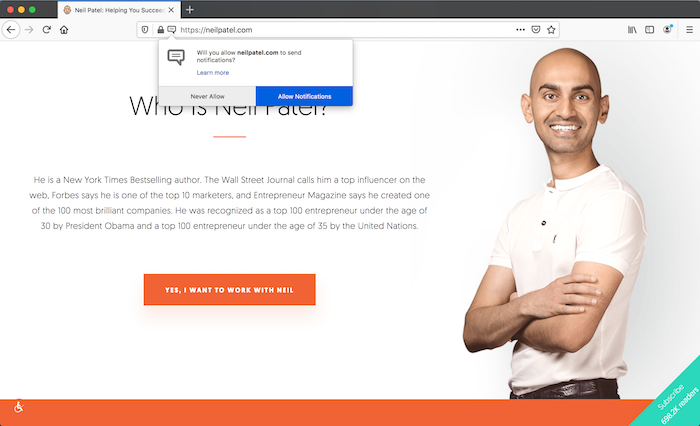 And at any time, you can send them a message promoting your
website.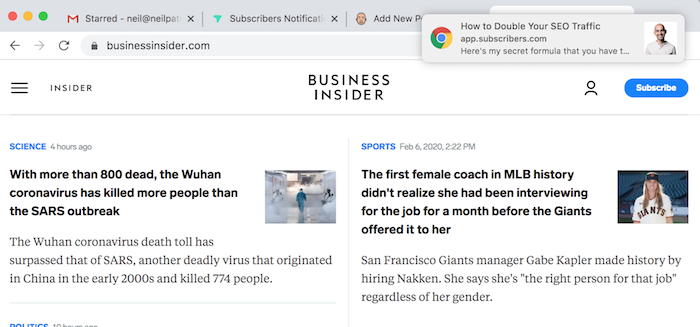 Each time someone clicks on it, you get traffic to your
site.
But here is the best part: not only do you not have to deal with any algorithms, but you also don't have to worry about people missing your push notification either.
See, unlike email, if you send someone a push notification while they are on vacation or sleeping, the next time they log onto their computer and pull up their web browser (Chrome, Safari, Firefox), they'll see the push notification.
Here are my stats from some of my most recent push notifications: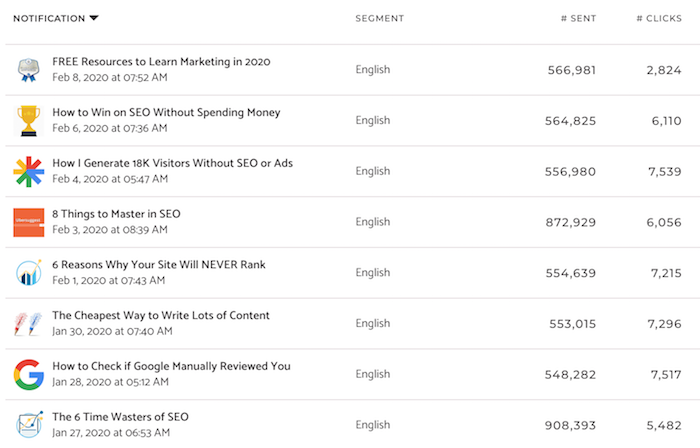 How to grow your traffic through push notifications
Head over to Subscribers and sign up for a free account.
Once you add your site and sign up, you'll need to either
add a piece of javascript to your site or you'll have to install a plugin.
Whether you are on Shopify or WordPress, Subscribers has a good amount of options for you.
Once you are up and running, you'll want to head to the
"prompt settings" navigation option in the sidebar of Subscribers.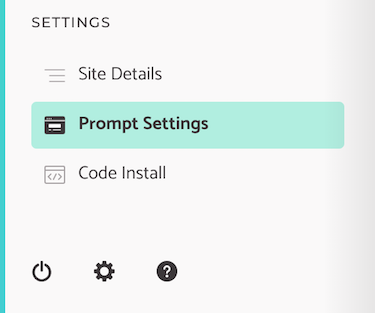 This is where you control what people see when they come to
your website so they can subscribe.
You'll want to make sure you have turned on "prompt enabled." Then select "use custom popup prompt by default" as this will allow you to select what message you show your users.
Here's what my page looks like.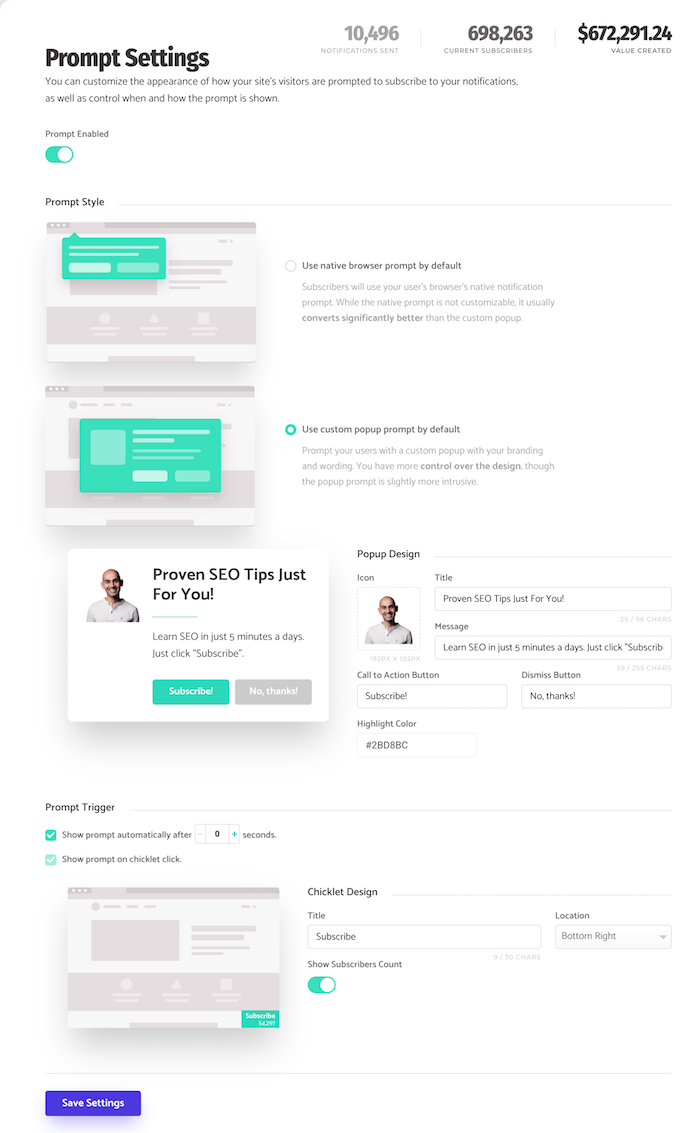 In my prompt settings, you'll notice I did a few things:
I uploaded my own image. My site is NeilPatel.com so it makes sense for me to use my own image. For you, it could be your face or your company logo.
For the title and description, you'll want to clearly state the benefit. I let you know that I am going to send you proven SEO tips and how easy it will be.
You can then test the "subscribe" and "no thanks" button text. I've found that text to work well on my site.
As for timing, I like showing the prompt right away as well as showcasing my "subscriber count." I've found that the bottom-right corner converts well for me.
Once everything is set up the way you want, just click "save settings" and you'll see your prompt on your site.
Here's what it looks like on the NeilPatel.com site.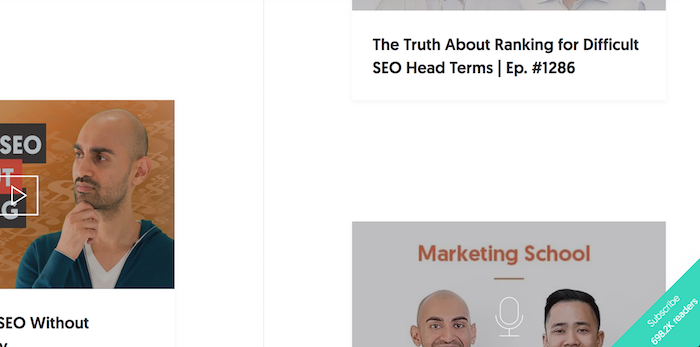 When someone clicks on "subscribe" they will see a prompt
box that looks something like this…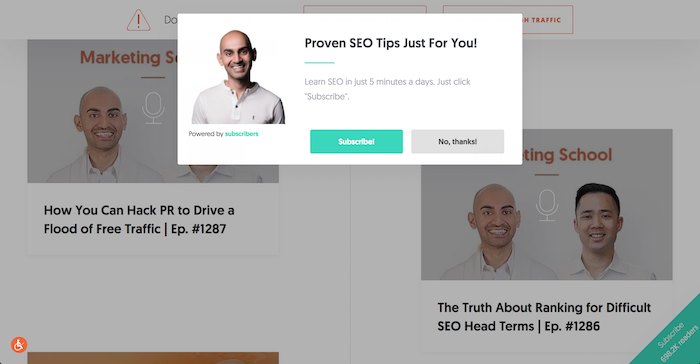 And then when they click to subscribe in the prompt box their browser will ask them if they want to subscribe to your site.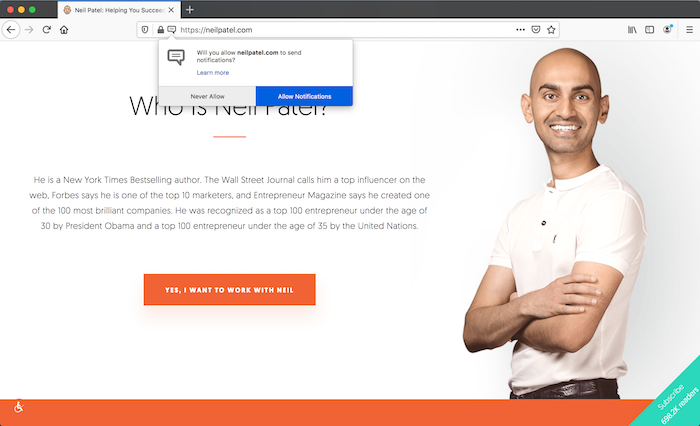 It's so effective I have over 600,000 subscribers. It's a
lot!
It may take time for your subscriber numbers to build up, but the longer you do it the easier it is. Keep in mind I've been doing this for a few years now, that's how I have been able to build up such a large following.
So, once you have subscribers, what's next?
How to generate traffic through subscribers
What I like doing is promoting my blog posts through Subscribers.
Just click on the "New Notifications" navigation link.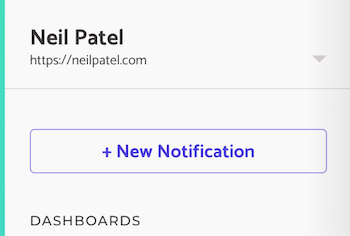 You'll now be able to send a message to all of your subscribers. More importantly, you'll be able to promote a URL or a service or product you are selling.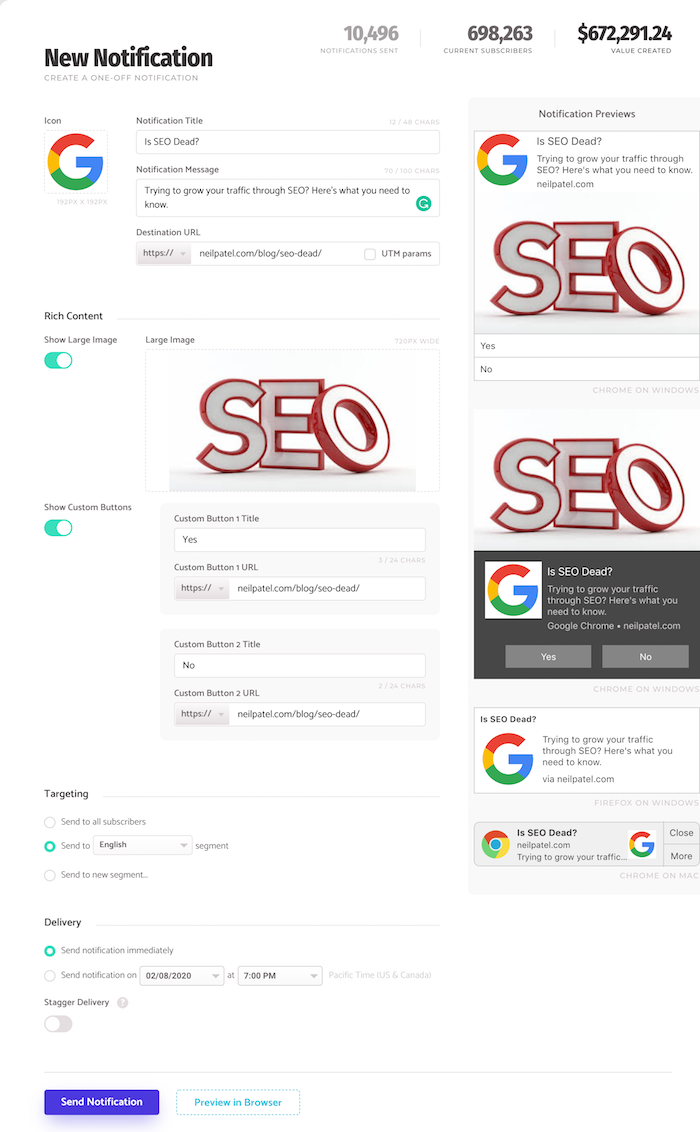 There are a few key things you'll want to do on this page if
you want the maximum amount of traffic.
Evoke curiosity – with your headline and description try to pique peoples' curiosity. This is a simple way to get a ton of clicks. Just like how I asked, "Is SEO Dead?"
Show a large image – when you use a large image, you'll find that you will get more clicks. Large images don't show up on all push notifications, it only shows up for users who are on a PC. If you don't know where to find images, you can use this free stock photography site.
Show custom buttons – this feature also only shows up on PCs and not Macs. But it is still worth using. I've found that if I can ask a "yes or no" type of question with my headline, such as "Is SEO Dead?" then when I use "yes" and "no" as the two options in the custom buttons, I get a ton of clicks.
If you follow those 3 tips, you'll find that you'll be able
to maximize how much traffic you get from push notifications.

Just look at the push I did on the post about SEO being dead… it drove 16,263 visitors to my blog. That's a lot of traffic for one push notification.
Don't forget to set up a Welcome Campaign
Now the best way to generate traffic from Subscribers isn't to manually send out
notifications.
Yes, manual notifications generate traffic but there is a better way.
Through a Welcome Campaign, you can generate even more traffic.
Think of a "welcome campaign" as a drip sequence like you
would have in email. But this is through push notifications.
So, in the navigation click on "Welcome Campaign."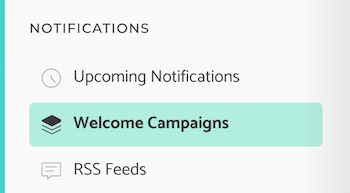 From there, you'll want to click on "create a new campaign." From there you will see a page that looks like this:

Similar to sending a normal push notification, you'll want
to use a larger image and use custom buttons as this increases how many clicks
you'll get to your site.
The other thing you'll want to do is be careful and not spam.
Don't send them a message every 30 minutes or anything annoying like that. I
spread out my messages in my drip by at least a few days.
The first notification goes out instantly, but the rest are
spread out.
Once you set up your welcome campaign, just hit save and you'll be good to go.
As new people subscribe to your site, they will
automatically receive notifications which will increase your traffic.
Just like at my welcome campaign stats, it drives more traffic than manual pushes.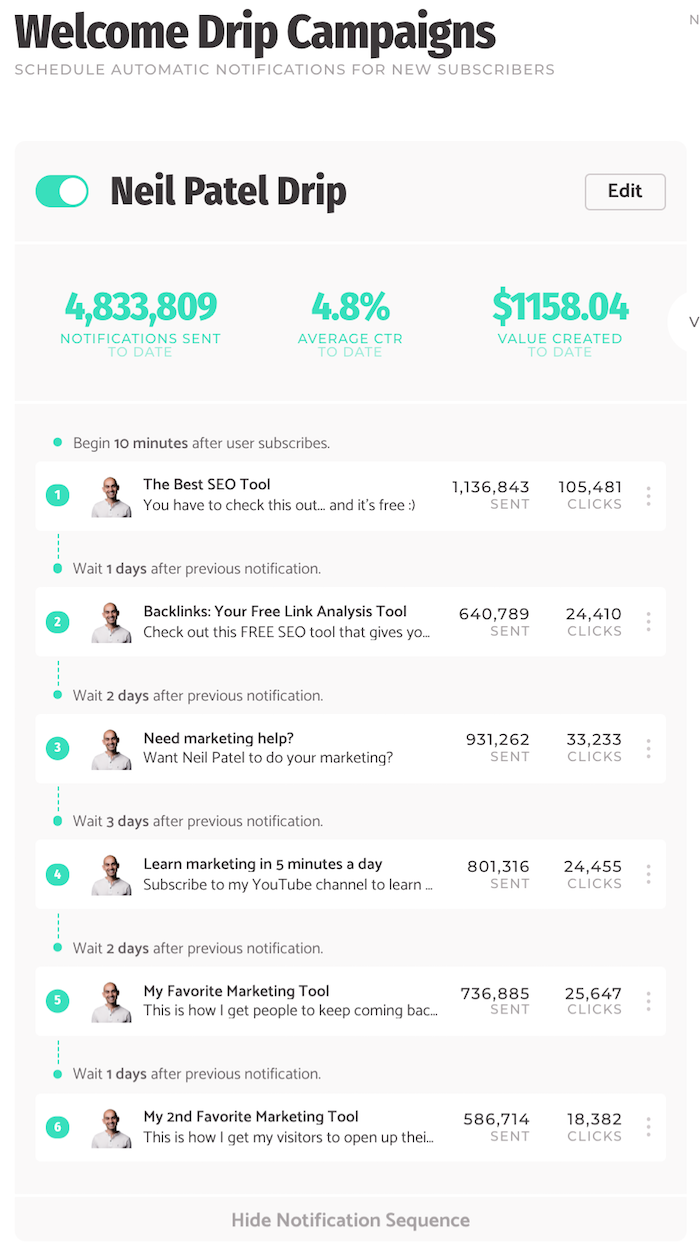 231,608!
That's how much traffic I've gotten just from my welcome campaign and that number continually climbs each day.
Conclusion
Although most of the popular platforms have algorithms that
are hard to crack, it doesn't mean that all hope is lost.
There are still other ways to get consistent traffic to your
site.
What's beautiful about Subscribers is that it drives traffic
without you having to deal with algorithms or filters. But it does take time to
see results, just like email marketing, the longer you use it the more traffic
you'll see.
So, have you tried push notifications or Subscribers before?
The post How I Drove 231,608 Visitors to My Site Using This New Channel appeared first on Neil Patel.