Personalization makes all the difference when it comes to email marketing. A recent study by Smarter HQ found that 72% of consumers in 2019 only engage with marketing messages customized to their specific interests.
This quick two-minute video introduces you to the power of personalization and how easy it is to implement using the new updates to AWeber's subscriber management tools. Click below to watch it!
Always send the message that matters most!
AWeber helps your list work harder, delivering more personalized and relevant content to your audience.
Gain insight into your audience. Updates to subscriber management allow you to sync your AWeber data with other third-party sources, consolidate lists, and create segments using tags.
Update existing customers' information on import. The enhanced import process now updates contact information, tags, and custom fields for both new and existing customers in your account.
Send the right content to the right people. Sending relevant content that matters to your audience has never been easier. The updated bulk import process gives you more control over your list so you can better connect with your audience.
Automate messages and campaigns. Tag management and custom fields allow you to easily identify and automatically send relevant content to customers based on their unique interests, preferences, and behaviors.
At AWeber, we're always working to deliver powerfully-simple features to help you grow your business through email marketing. We hope you're as excited as we are about this awesome update to our subscriber management tools.
The post It's Easier Than Ever Before to Send Super-Personalized Content to Your Subscribers Using AWeber appeared first on Email Marketing Tips.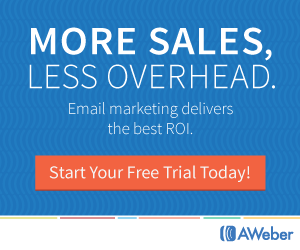 Article link