Businesses battle to appear on page 1 of Google search results. Their goal: Get consumers to visit their website and buy.
But, according to a study by Forbes and Yext, only half of consumers believe brands give accurate information in search results.
And 68% of adults in the U.S. say that trust in a brand has "a great deal" or "a lot" of influence on their decision when making a big purchase, according to another study by SurveyMonkey.
Ranking in Google search results isn't enough. Your content also needs to quickly create trust.
Lee Odden — international speaker, B2B marketing strategist, and CEO of digital marketing agency Top Rank Marketing — joined AWeber's FWD: Thinking Show to explain how to earn trust and website traffic with SEO and content marketing.
His approach: Connect with influential people who have attention, credibility, and authority. These influencers should be able to produce and promote content their fans — and your potential customers — will love.
"Consumers trust content from influencers more than content that ranks in search. They even trust influencers more than they trust friends' opinions," shares Odden.
Collaborating with influencers on content not only makes your brand easier to find, it increases your credibility. And it's easy to start, says Odden. "The search terms you want to rank for will be the same keywords you use to find influential partners."
Watch the episode on-demand to hear more of Lee's thoughts on earning trust through optimizing your marketing channels. 
For more than 20 years, AWeber has supported entrepreneurs and small businesses with powerfully-simple email marketing solutions. Get your free trial today.

The post How to Create Trustworthy Content That People Want to Read appeared first on Email Marketing Tips.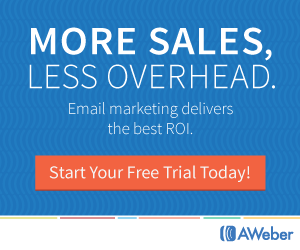 Article link