As the COVID-19 pandemic continues, many schools, businesses, and stores have temporarily closed. People around the world are encouraged to stay at home as public health and safety remains the number one priority. It's clear that the global pandemic has had an impact on all of us.
That's why communicating with your audience is key. Being compassionate and doing what you can to help shows your audience you genuinely care.
But once you've addressed the Coronavirus pandemic with your subscribers, what's next?
Here are 6 ideas.
1. Offer discounts on products or services your audience needs during or after the crisis.
Be empathetic and show your audience that you're in it together.
Snap Kitchen is a great example. A healthy meal delivery service, Snap Kitchen solved a problem many people are facing by making meal delivery more affordable and accessible.
2. Help your subscribers learn something new.
Many people are currently at home. Now's a great time to offer courses or webinars to help people take advantage of the extra time. 
For instance, MarketingProfs is offering its community of marketers a free educational webinar with their Chief Content Officer (and AWeber customer) Ann Handley.
3. Be available to answer questions
Speak with your audience directly through live video. Set aside some time to answer questions and brainstorm solutions to their problems.
AWeber is holding Virtual Office Hours every weekday from 1 to 2 p.m. ET. The office hours will be streaming to all our social channels and our team will be answering email marketing best practices questions as a community.
4. Get creative with your products.
Help entertain your audience by giving them fun or educational activities to do at home.
Michael's, a popular craft store, is sharing a fun family activity on Facebook live every week.
5. Make your services available online.
Whether you own a gym, yoga studio, or coaching business, video can help you avoid missing a beat. Set up a conference call or live stream workouts to your social channels.
Or, offer exercises that your customers can do at home without equipment, like Comptrain did.
6. Extend your free trial.
If your services solve a problem for people during this time, consider extending your free trial.  
At-home workout company Peloton extended its free trial to 90 days to help people access workouts from home.
Have questions? Our team is available 24/7.
Reach out to us at help@aweber.com for guidance on communicating with your audience during the Coronavirus crisis.
The post 6 Ways to Keep Your Audience Engaged During These Unprecedented Times appeared first on Email Marketing Tips.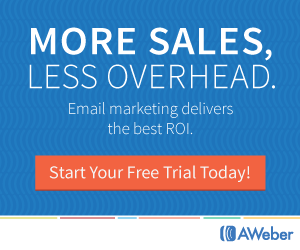 Article link