With COVID-19 posing challenges we never imagined, the future may feel uncertain right now. But that doesn't mean you need to put your dreams on hold.
Whether you're looking to grow or launch your online business, now's the perfect time to set yourself up for success.
Make the most of this extra time at home by following these 4 steps:
1. Build a landing page.
You don't need a website to begin collecting email subscribers. With AWeber's new Landing Page Builder, you can easily create a landing page that gets your business online fast.
When creating your landing page, use a lead magnet to convince more visitors to subscribe to your content.
Related: This Zumba Instructor Increased Profitability by 200% with Landing Pages
Bonus tip: Tag subscribers who complete your landing page sign up form so you can identify which subscribers filled out each landing page. You'll also be able to send personalized, automated emails to subscribers based on the tags they have. (We'll get to that in step 4.)
2. Create a branded email template.
A consistent brand look and feel in your emails creates a sense of familiarity. Your subscribers will quickly know who sent the email — allowing them to focus on your email content.
Include your brand colors, fonts, and logo. Consider using call-to-action buttons and bold featured images to make emails more scannable and appealing to the eye.
Bonus tip: Email template design doesn't have to be complicated. Try out the AWeber Smart Designer. It will create branded email templates for you in seconds using your website or social media profiles.
3. Write a welcome email.
A welcome email is your chance to leave an awesome first impression on your new subscribers. Introduce yourself, and make sure you deliver whatever you promised subscribers on your landing page — like your lead magnet or incentive.
Bonus tip: Writing your welcome email is simple. We put together a checklist to help you get started.
4. Set up an automated email series.
With an automated email series, you can deliver customized messages to the right people at the right time. Plus, you can save time in the long run.
Bonus tip: Trigger an automated campaign when a new subscriber joins your list or when a tag is applied to your subscribers. For instance, if you tagged subscribers that joined your list via the landing page form in step 1, set up an automated campaign that delivers content that's relevant to your landing page or lead magnet.
Launch your business this week.
Take advantage of any extra downtime you may have right now and build your online presence.
Start your free trial of AWeber and get access to AWeber's Landing Page Builder, unlimited emails, automated campaigns and 24/7 customer solutions.
The post The 4-Step Marketing Plan to Start Your Online Business appeared first on Email Marketing Tips.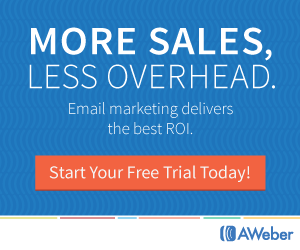 Article link