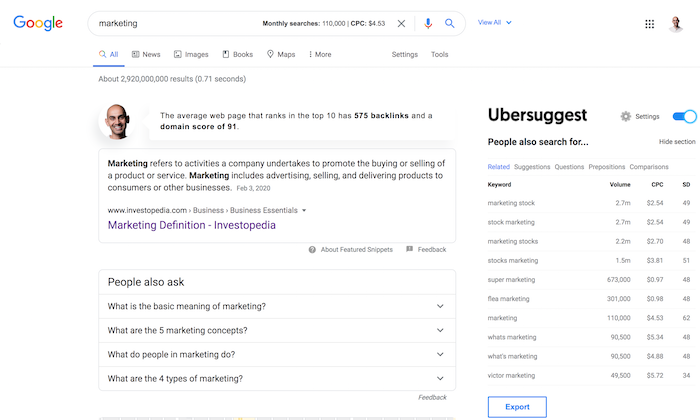 Please note: Once you install the extension all you have to do is go to Google and perform a search. That is where you'll see data.
It's been a long time coming. And now, it is finally here.
Today, I want to introduce you to the Ubersuggest Chrome Extension.
From being in the SEO industry for over 21 years now, I know that it would be more convenient to do your SEO research while you are browsing the web or searching Google than constantly having to come back to Ubersuggest.
That's why I created this Chrome extension.
So, what's inside the Chrome extension?
Well, the easiest way to know what's included (it's free), is to just go and install it and test it out.
But here's what's included…
Keyword overview
When you are searching Google, you'll see an overview within the search bar.

You'll see the monthly search volume and the cost per click for that keyword.
When you click the "view all" link, you'll see a detailed overview for that keyword.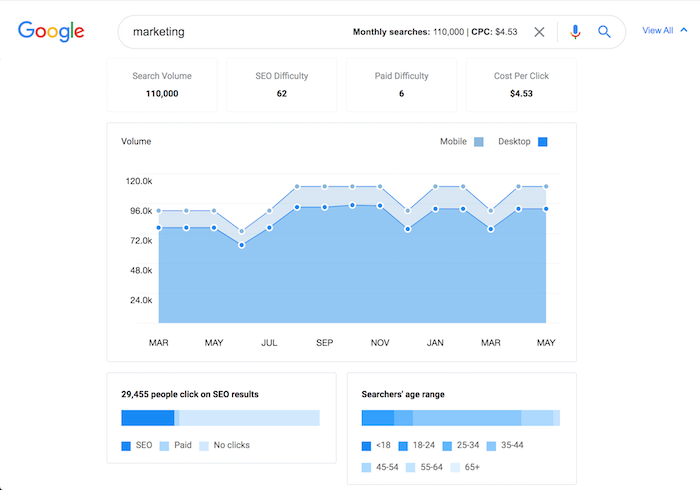 The graph breaks down the total monthly search volume. What's cool about the chart is that it shows you both the monthly mobile searches and desktop searches.
And above the graph, you'll get metrics on how hard that keyword is to rank for (SEO Difficulty) and how competitive that keyword is from a paid advertising (Paid Difficulty) standpoint.
Under the graph, you'll also see 2 bar graphs. The first one breaks down whether or not people are clicking on the SEO results, paid results, or not clicking anywhere at all.
The second one shows data on the age range of all of the searchers.
Link overview
Above the organic results, you'll see a speech bubble that breaks the average authority of the sites that are ranking (domain score) and the average number of referring domains the top 10 results have (backlinks).

If you want a more detailed overview, you'll see a graph in the sidebar that breaks down how many referring links each of the top 10 listings have.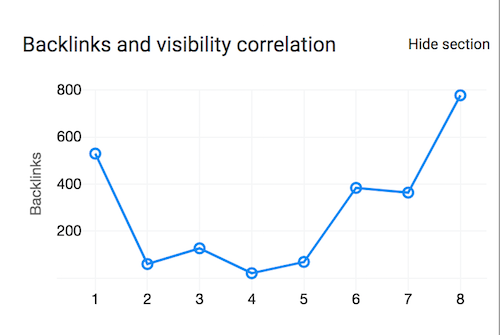 Keep in mind the link metrics are based on referring domains. So, if a website has 100 links from the same domain name, it will only count as 1. Because what really matters when it comes to SEO is how many unique, relevant sites you can get to link to you as opposed to having the same site linking to you over and over again.
Even more keyword data
In the sidebar, you'll also find even more keyword data.
You'll see a list of other popular keywords that are similar. You'll also get metrics on each keyword… from how often it is searched (volume), to what it would cost to bid on that keyword (CPC), to how difficult the keyword is from an SEO standpoint (SD).
And if you scroll to the very bottom of the screen, you'll see a list of related keywords that Google provides.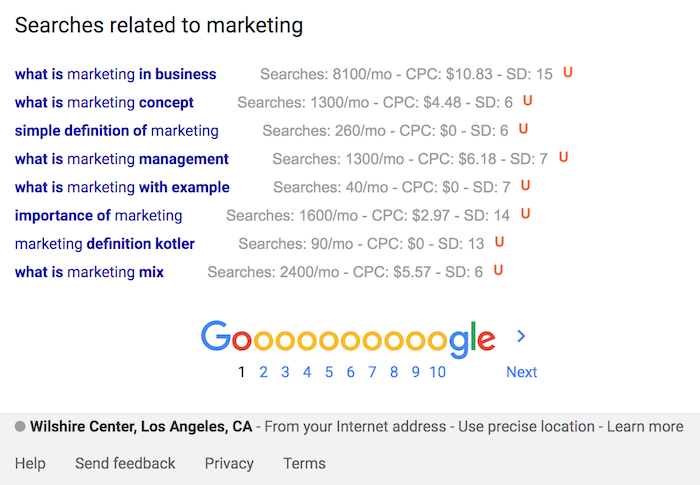 Again, you'll be provided with data like search volume, cost per click, and SEO difficulty data.
URL metrics
Whenever you perform a search on Google, you, of course, see a list of websites that rank for that keyword.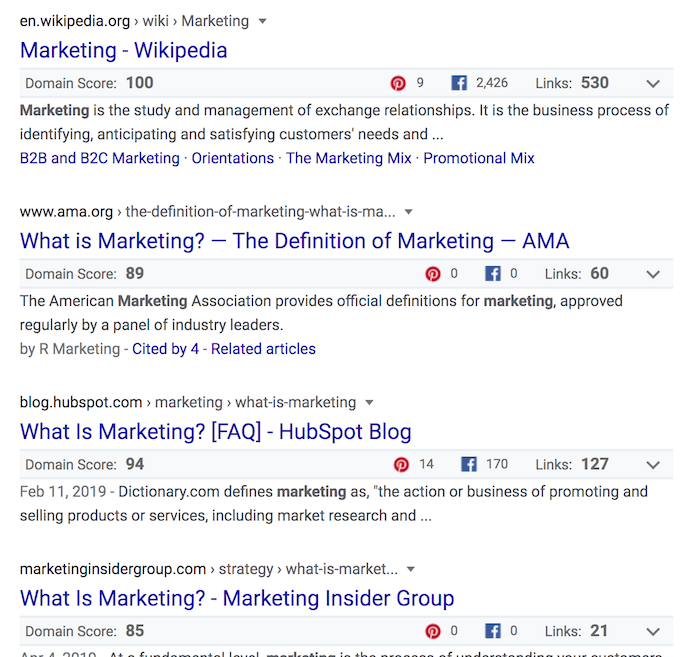 As you can see, under URL you see the authority of the website (domain score), how many Pinterest and Facebook shares the URL has, and how many unique domains are linking to that result.
What's cool is you can click on the "down arrow" next to the link count and see the exact list of sites linking as well as their domain score and anchor text they used for the link.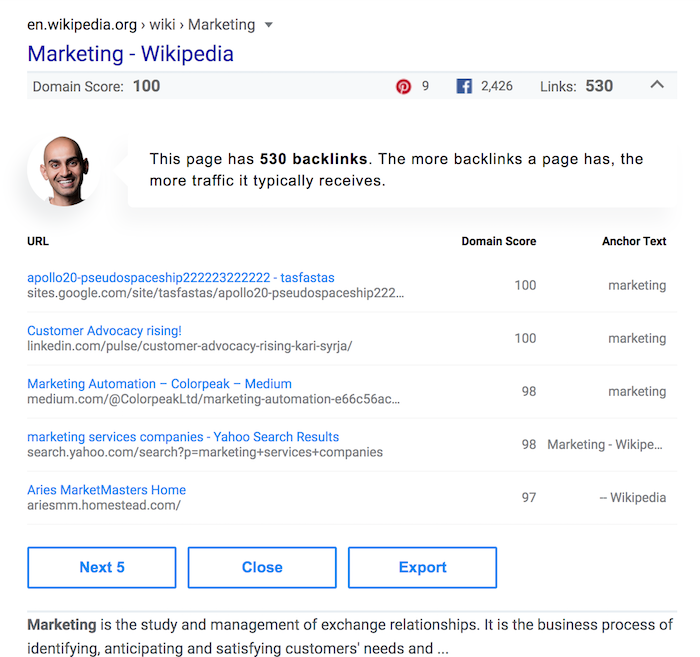 Pick your country and language
The last feature in the extension is that you can change your location and language.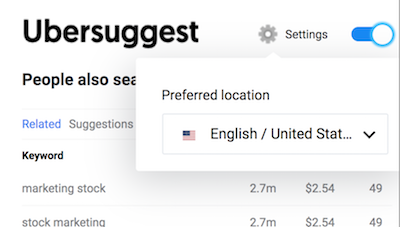 All you have to do is click the "Settings" link in the sidebar.
You'll see a long list of languages and countries that you can choose from.
No matter what version of Google you are using, such as Google.com.br or even Google.co.in, you'll see SEO data whenever you perform a search.
Conclusion
I have some more big changes coming to the extension in the near future but I would love to hear what you think about it so far.
And if you have any feature requests, just leave a comment below. That way we can prioritize what we add to the extension next.
So go checkout the Ubersuggest extension and give it a try.
What do you think of the extension? What other features would you like me to add?
The post Ubersuggest Chrome Extension appeared first on Neil Patel.