James Maher is a New York Photographer, a huge Knicks fan, and a lifelong New Yorker who got his driver's license at 30 years old — as any true Manhattanite should. Maher never took the conventional route. His love of photography started with using Photoshop to make fake driver license IDs at the University of Madison with his college roommates.
Over time, he grew his business to offer an eclectic mix of products and services — including photography print sales, a portrait business, conducting workshops, creating online content, and authoring three books. Despite having a diverse business, COVID-19 still shut down his business along with the rest of New York.
He knew he had to transition some of his business online, so he took some time to look at short-term revenue options that could set him up for long-term growth. He began brainstorming how he could re-create traditional in-person experiences into new online opportunities.
In order to do so, he followed 5 essential steps to grow his email list and pivot his business to an online format.
The 5 essential steps to growing your list
Step 1: Search Engine Optimization (SEO)
SEO is a process of optimizing your website to get organic (or unpaid) traffic. Maher drives traffic by regularly providing unique, engaging, and free content on his site for people interested in learning about photography.
For example, he gives away a free New York travel photography guide on his website. This free guide is an essential part of Maher's SEO and content marketing strategy.
"Email and SEO together are the two backbones of my business. It is a vital way to reach my fans. I don't think I could have as diverse of a business without it," said Maher.
He also guest blogs on other photography websites that link back to a sign up form on his website to help drive traffic.
Step 2: Unique sign up forms
Each piece of content on Maher's website is downloadable when a user enters their email address. Maher uses different signup forms for the various pages of his website that hosts unique content. The sign up forms connect directly to a list in Maher's AWeber account.
Step 3: Automated email series
Depending on the content users download, Maher sends more in-depth information in an automated email series, which allows him to share information and tips, build relationships with new subscribers, and promote paid products.
Although each audience member will receive multiple emails in the sequence, Maher reminds them at the top of each email of the content they may have missed or that will be coming in a future email.
Each email includes thought-provoking images and step-by-step instructions for other photographers.
"My email list was always vital and incredibly important to my business, but it's even more important now because I have started to transition to more online content," says Maher.
Step 4: Let analytics be your content compass
AWeber's analytics help guide Maher determine the type of content he sends and when. "It gives me a lot of information about how my information is perceived, and if the content is engaging," says Maher.
Maher reviews regularly both the open and the click-through rate on the content that he sends. Sending engaging content has allowed him to attract new audiences to his email list.
Step 5: Expand your reach
Maher uses his downtime to set himself up for long-term success by creating content and online products to grow his email list.
His latest online product, "Editing and Putting Together a Portfolio in Street Photography," drove revenue and allowed him to promote some of his other services like individual portfolio reviews.
While social distancing is still in place in New York City, Maher takes time to introduce himself to as many new groups of people as possible. For example, he gives photography zoom presentations to groups and camera clubs around the country. Most people who attend the presentation visit his website and join his email list.
Promote to your own email list
Maher also promotes the new online course to his email audience.
During this time, when many members of his audience have reduced income, Maher has adjusted his payment model to "pay what you can."
The suggested price for the online class is $25. The average payment turned out to be about $25 because some people were getting it for free or $5, but some people paid $50 or $100.
"I'm going to do that going forward for more of my products now. It provides me some income and builds my emails list, so it is a win-win for everyone." says Maher.
Take advantage of lower advertising rates to promote on social media
The rates for advertising are much lower than usual due to COVID-19, so it is a great time to promote posts on social media to stand out from the crowd.
Maher uses Facebook ads to target local photographers in the Northeast. They see the ad, download the photography travel guide, and are added to his AWeber list.
AWeber then sends an automated email sequence that lets them get to know Maher, learn photography tips, and get a sense of the type of content they will receive from going forward.
"I'm testing and tweaking the Facebook ad a bit now given that people aren't really traveling to New York with COVID-19 going on. But I'm finding that it's still doing very well at converting photographers, particularly with the cheaper ad pricing. If you provide them with good, interesting content, you can grow your list," says Maher.
Short term cash needs can translate into long term growth
Maher has shifted his business's focus toward creating online experiences that provide short-term revenue that keeps his business going. He created online classes about photo editing and online photography portfolio reviews. He even started working with photographers to help them create portfolio websites.
Every post, promotion, or email drives people to his sign up forms with the end goal of growing his email list.
The creation of each online product is just the first phase of its product life. "Each online product will eventually integrate into a bigger package in the long term. I've been building this business for about 17 years, and I had the formula down — but COVID-19 broke the formula," says Maher.
"The silver lining is COVID-19 gave me the time to execute on ideas I always had in the back of my head. I believe my business is going to come out of COVID-19 stronger and more prepared for the future."
Connect with your audience and start growing your email list today!
With AWeber, you'll get everything you need to grow your own business online — including sign up forms, newsletters, landing pages, and access to our award-winning customer solutions team.
Start your 30-day free trial today.
The post Want to Grow Your Email List? See How This Photographer Grew His List by 300 percent appeared first on Email Marketing Tips.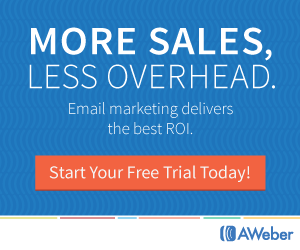 Article link