Eric R. Asher is a former bookseller and cellist living in Saint Louis, Missouri. When he is not writing, you can usually find him reading, gaming, or buried beneath a small avalanche of Transformers. He is a successful author who self-publishes on Amazon.
But that was not always the case. Asher had to navigate through the world of publishing to learn that writing the book is only the first step.
Successful authors today need to cultivate an audience to sell books. Having the right tools to create an authentic connection with your audience can make all the difference.
Asher discovered that email marketing was his most valuable resource. If you have an email list, you have a built-in audience to sell your books too. If you don't, you might not.
With the help of email marketing, Asher built a fantastic system to promote his book series. Today, Asher is the author of over 20 books available through Amazon, Audible, Apple Books, and Barnes & Noble.
Amazon is a platform to distribute books, not a sales strategy.
Asher's career hit a crossroads when his agent told him one of his books was unpublishable.
"I told my agent, 'I'm pretty sure you're wrong. I'm going to take the rights back and do it myself.' And it ended up being one of my most successful projects," says Asher.
He turned to self-publishing on Amazon, which he discovered works well for an audience of young adults.
The royalties that you make with self-publishing are very enticing. "I have friends who sell more books than I do, but because they're publishing in the traditional manner, many are earning less," says Asher.
Amazon allows Asher to harvest demand, not create it. As an author, you need to create your own demand. Email marketing not only helps authors to create demand, but it can be the difference between a published author and a published author with income.
Email — the ultimate book marketing channel.
Email guarantees that Asher has a built-in audience of people who know, like, and trust him, no matter the publishing outlet. It also gives an author the ability to walk away from a publisher because you have a built-in audience to reach out to yourself.
Email allows Asher to continue building relationships with people who are interested in his work even after they finish reading one of his books.
No other service — not even social media — is as personal, powerful, and cost-effective. Email marketing is 40 times more effective at acquiring customers than Twitter and Facebook combined.
But not all email service providers are the same. AWeber's positive reputation for delivering messages to subscribers' inboxes — and avoiding the spam folder — was one of the main reasons Asher became an AWeber customer.
"My author friends have had nightmares with other platforms that had deliverability issues. One even lost an entire mailing list. I'd rather pay a few extra dollars a month to have my mailing list on a stable platform," says Asher.
Create a compelling free gift to entice readers to opt-in.
One of the easiest ways to start building an email list is to create a compelling opt-in gift for your new subscribers.
Eric provides free content in the form of a free novella book, "Whispers of War." Visitors receive a free book through a link delivered in an email after they submit their email address.
While not everyone is going to sign up for your free gift, the ones who do are more likely to purchase future books. Build the relationship early by sending them a welcome email campaign immediately to keep them engaged.
Landing pages and sign up forms make audience segmentation easy.
Asher uses dedicated landing pages and sign up forms to segment his audience by their interests.
"I write for multiple genres, and there's not really a lot of crossover in readership between those genres. I like to segment my list based on what genre book the reader found me in, "says Asher.
By segmenting his audience this way, he is able to create newsletter content based on what genre his audience is interested in.
Build a relationship with your audience with automated email sequences.
After someone enters their email address in a sign up form, Asher sends them a series of emails with free content to expose them to both of his genres. The first email has a link to download a free urban fantasy novella.
The second email in the series includes another free content download that will introduce readers to his other genre, Steampunk.
When someone clicks on a link in a newsletter, that user is tagged by their interest. "For retargeting, tagging is priceless. If somebody clicks on a link, then the next time I have a new book in that series, I make sure they get a notification about something new coming out," says Asher.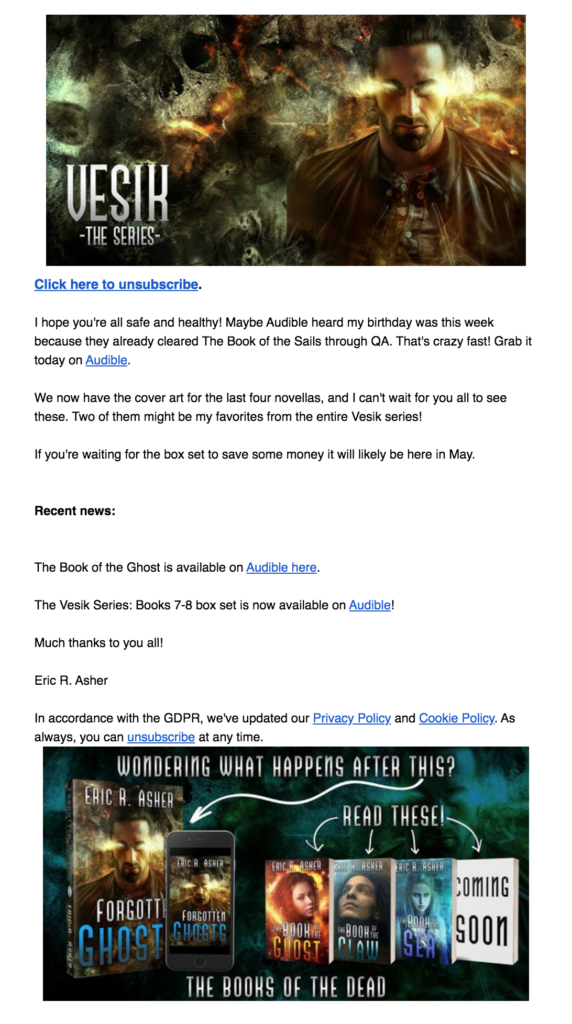 No matter how readers consume his books — whether through audio, ebook, or print —Asher keeps in touch with his audience through his newsletters.
"I used to think that the newsletter was a nice supplement for social media. But over the years, social media's algorithms have changed. I think it's more important to have that newsletter as your core. I have found email pretty invaluable," says Asher.
Build super fans through email.
When it comes to launching a successful book on Amazon, having the right group of people advocating for your work is critical.
Asher's group of super fans help him expand his reach. They receive early copies of his books, and leave honest reviews on book distributor sites.
Asher keeps in touch with this group via email, which ultimately helps him create stronger relationships with them.
Reviews matter.
"One of the biggest things that I think a lot of authors don't do is ask for reviews. After sending subscribers a link to download engaging content, I send an email: 'Hey, my new book is out. If you have three minutes, please consider leaving me a review on Amazon.' Many authors don't realize how beneficial a review can be. Reviews are fantastic," says Asher.
Reviews help convince browsers to buy. It is the best social proof that your book is getting read, and people have an interest in the content. Amazon also takes notice of reviews in the ranking. Asher repurposes reviews to then generate more sales through email.
Connect with your audience and start growing your email list today!
In your AWeber account, you'll get everything you need to grow your own business online — including sign up forms, newsletters, landing pages, and access to our award-winning customer solutions team.
Start your 30-day free trial today.
The post How this author turns subscribers into super fans with email marketing and Amazon appeared first on Email Marketing Tips.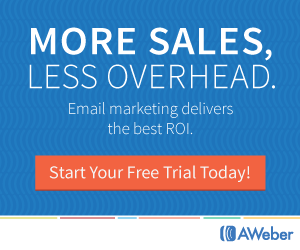 Article link