You know that an awesome landing page is the first step to growing your list, selling more, and building relationships with your audience.
So, you built one. You took time to write convincing landing page copy. You're ready to send your new subscribers value-packed emails. But there's one problem.
How do you actually get people to your landing page to sign up?
That's why we asked three experts to share how they drive traffic to their landing pages, and they shared some of the best strategies to help you begin promoting your own landing page. Read on to learn what they had to say.
Social media is a great way to promote your landing page — as long as you've built credibility first.
Sam Flynn, Social Media Trainer & Speaker, Managing Director, Planet Social Media
Social media is a perfect driver of traffic to your landing page.
The first step is to make sure you are clear on who your social media audience is. Once you have a good idea, think about what would drive them to want to go to your landing page. Is there a lead magnet that is highly relevant ? And, how can you get this across to them?
In terms of your call-to-action (CTA), you will need more than a simple "click here to get x." Be more descriptive of the benefits behind this particular lead magnet. Give them value in the post itself, such as one of the points covered on your lead magnet, then direct them to your landing page for more.
You could also use video as part of your strategy, sharing a short video elaborating on one point covered in your lead magnet, then directing them to your lead magnet to get the remaining points. If you are speaking to a camera, be sure to include subtitles, for accessibility for all and to cater for those who will listen without audio.
Finally, make sure you build up your credibility with your audience by sharing a range of posts, especially those that demonstrate your expertise. They'll be far more likely to click through to your landing page if they think they are going to get results from doing so!
When done right, Search Engine Optimization (SEO) is the best way to drive traffic to your landing page.
Sean Tinney, Demand Generation Manager, AWeber
The most highly engaged, highest converting customers come from SEO, in my experience. These are potential customers who are actively searching for a specific product or service. But in order for SEO to be effective, you need to do your research and add keywords to your landing page that provide the answer to what people are searching for.
Here at AWeber, we are providing marketing services to help our customers grow their business. So when I build a landing page using our AWeber landing page builder, I make sure I'm using keywords that potential customers might be searching for.
The more targeted or specific your keywords, the greater the likelihood of success. Very popular terms and keywords tend to be highly competitive, so search terms that are more specific tend to be easier to rank for.
Measure, track results, and adjust course.
Cathy McPhillips, VP of Marketing at Content Marketing Institute
We promote our landing pages a number of ways: blog post calls-to-action (CTAs), banner ads on our website, social media, email promotions, and through our webinar speakers and Content Marketing Institute team members. Each of these tactics has a sourced URL so we're able to evaluate the effectiveness and the timing promotions.
For example, if we're posting on social media four weeks before a webinar, but 90% of our webinar signups through social media happen 28 hours before the event, then we shouldn't be posting on social media so early. We also are able to see our key influencers which helps us fine tune our distribution strategy.
We also use different copy for each of our promotions to the landing page, because this page or webinar will appeal to our personas in different ways. We have found that pulling data, discussing key takeaways, or asking questions that the landing page will answer are the best ways to engage our customers and to get them to take that next step toward conversion.
Build your own landing page today.
AWeber's Landing Page Builder makes creating a landing page for your business easy. Get started with AWeber Free to start building your landing page and growing your list today.
The post How to Promote Your Landing Page and Grow Your Email List appeared first on Email Marketing Tips.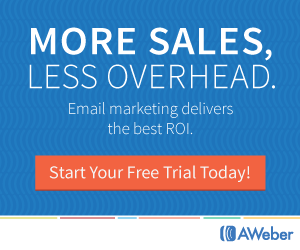 Article link