Want to make your brand more visible to your target audience – so you can attract and convert more customers? Who doesn't! But to get there, you may need to revaluate the ecommerce marketing strategies available to you.
The industry is constantly evolving which means you need dynamic ecommerce marketing ideas to ensure that you always achieve the best ROI (return on investment) on your ecommerce marketing campaigns.
Global retail ecommerce sales are currently estimated at about $5695 billion, and anyone who wants a piece of that needs to have a great ecommerce strategy.
A quick search online will show you that there are tons of marketing strategies to choose from. However, some are more effective than others. If you don't want to waste your time trying to find out what works and what doesn't, simply follow the tips outlined below. These are tested and proven to be the best and most effective ecommerce marketing strategies to help you crush your goals.
1. Leverage the power of email marketing
Email marketing has been proven to provide ample benefits for ecommerce. There are tons of different email marketing strategies that are perfect for ecommerce businesses. However, regardless of the type of strategy you choose, emails will help you reach your target customers directly in their inboxes which gives you the opportunity to nurture leads and increase your sales.
Use your emails to:
Introduce your brand
Inform subscribers of new products
See what messaging and email content your audience responds to
Share brand news
Give discounts and send notifications of sales
… and much more.
Just make sure that you use the right email tools. This will not only make your work easier, allowing you to automate much of your tasks, but it will also ensure high deliverability rates so your emails are read by your recipients as opposed to landing up in their spam folders.
Here are a few more best practices for your ecommerce email marketing strategy:
Automate a thank-you and confirmation message for new subscribers.
Automate abandoned cart messages.
Create an email newsletter to regularly update subscribers about your brand and its offerings.
Create non-commercial emails that are engaging and/or educational (such as online courses, podcasts, blog articles, etc.) to boost brand development.
Integrate clickable social media buttons into an HTML email signature to increase conversions.
Include strategic links to conversion pages at the top and bottom of emails.
Personalize the subject line and greeting with the subscriber's name.
Segment email campaigns based on past user actions.
Include an email signature with a link to all your latest offers.
2. Use SEO for ecommerce
One thing ecommerce business owners know is that the industry is fiercely competitive. Regardless of the types of products you sell, make sure you produce rich, relevant SEO-optimized content as a way to differentiate yourself from all the rest and attract your target customers to your site.
Have a strategy in place for regularly publishing high-quality search-engine optimized content on your ecommerce website to engage current customers and attract new ones to your brand.
High-quality content promotes a great user experience on your site. But when you optimize your ecommerce content for search engines with relevant keywords, it also helps to put you front and center when users are searching for products like yours online.
Most marketers use SEO competitor analysis tools as well. These tools show where their competitors' content strategy andwhich of their pages rank for the most keywords. Good SEO tools also make to easy to find less competitive terms that can bring ina decent amount of search volume for less work than more competitive terms.
Here are some additional tips for making the most of your ecommerce SEO strategy:
Publish original content: The more you can make customers interact with you, the higher the likelihood that you'll be able to convince them to make a purchase from you. And the best way to increase customer interaction and engagement is to be creative and original. While landing pages and sales pages may be a good place to start, creating a blog to post more engaging and less salesy content is a great way to build your brand culture, increase your reach, and create high-ranking content that drives traffic to your site.
User-generated content (UGC): Getting your audience to create content for you is a powerful social media strategy. Other users tend to trust user-generated content more than brand content. Also, users will share that content with their own networks which will give you exposure to brand-new customers with no additional effort on your part.



Encourage customers to post videos like reviews or testimonial videos or images of themselves using your products or interacting with your brand. You can then use this content on your site or as part of your social media marketing strategy. Just make sure that you copyright your logo before using it on any images, videos, on-site, in emails, or anywhere else.
3. Optimize your ecommerce website
Next on our list of essential ecommerce marketing strategies is website optimization. Your website layout plays a huge role in the number of conversions you achieve on your ecommerce site.
There are a variety of factors that you should test out and optimize according to how they perform with your target audience.
For example, you can test out your website's language, layout, and placement of different conversion elements, such as your checkout page, banners, calls to action, etc.
Put yourself in your customers' shoes to determine what kind of experience they have when they visit your website.
Make sure it is easy for them to navigate through your pages to find what they need.
Test your checkout to make sure that it's simple, fast, and seamless so you can reduce cart abandonment.
Test as many conversion elements as you can, including the strategic placement of icons, images, text, etc.
You can also use a conversion optimization tool that has heatmap features to help you see patterns in user behavior on your ecommerce site.
For example, you can use the movement heatmap to see which are the most attractive parts of your site. You may find that customers spend the majority of the time on one specific area of the page while they completely ignore another part.
This will help you determine what works and what needs optimization, and in such a case, you might consider moving your conversion elements to the areas that receive more attention in order to increase your click-through rates.
The most important thing you can do is to use the best website builder for your particular needs. Just make sure the website builder you select includes ecommerce functionality, SEO tools, a variety of web design features, customizable templates, features to increase conversions, and email marketing, and social media marketing integrations
4. Use social media marketing
Another powerful ecommerce marketing strategy social media marketing. It can be hard to track, but overall social media works so well because it's a very personal and public way of communicating with your industry, market, and customers. It also comes with a ton of additional benefits, such as:
Increased brand awareness
Higher engagement rates
A boost in customer interaction
More traffic to your website
Exposure to a larger base of customers
…and much more.
To save time, you can use social media marketing tools to automate some of your work.
A well-designed social media ecommerce marketing strategy will allow you to use different social media accounts to achieve different objectives for your campaigns.
The best part is that you'll not only be able to diversify your efforts and abilities, but also create a rich presence for your company online and be able to cater to your customers' needs in more effective ways.
If you can define a clear strategy for your social media work and be consistent in your efforts, over time, you'll find it easier to increase brand recognition, build trust with your audience, and ultimately grow your business.
Here are a few best practices for building an effective social strategy:
Monitor the performance of each social media platform and how much you're spending on each platform using web analytics tools.
Keep track of the performance of your social referral journey on-site using a funnel optimization tool like Google Analytics.
Analyze the behavior of each social segment using heatmaps to see where their interests lie.
Review user session recordings to gain a better understanding of why customers abandon your website before converting.
Use pop-up chat tools on your website to ask your audience for user feedback to help you improve your sales funnels and marketing campaigns.
5. Create a strong PPC (pay-per-click) strategy
PPC for ecommerce isn't a new concept, but not everyone is doing it the right way. You need a strategy that allows you to maximize returns on your investment, and in order to create one, you first need to get the following three things right:
Your ad copy
Your offer
Your landing page
Your ad should be targeted at the right segment of people to make it more likely that you'll get the conversions you want. The last thing you want is someone clicking on your ad only to discover that what you're offering is not at all what they need.
Make sure to include a relevant and compelling offer that will entice your target customers to take the desired action (i.e. click on your ad).
Once someone clicks on the ad, the landing page should be a seamless continuation of the ad, with the sole aim of delivering what was promised to the visitor as a reward for clicking on the ad. You can then guide your visitor through the conversion funnel.
The bottom line is your landing page must be well designed according to current best practices so you can maintain the interest of your visitor – and with these basic elements in place, you're well on your way to building a successful pay-per-click campaign.
Now it's your turn
There you have it. Five highly effective ecommerce marketing strategies that still work in 2022, and that you can implement right away.
Which of these strategies do you think will move the needle for your ecommerce business? Share your thoughts below!
The post 5 Essential Ecommerce Marketing Strategies for 2022 appeared first on AWeber.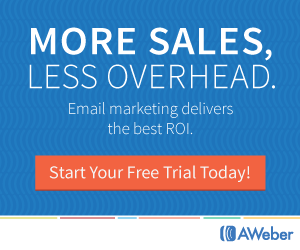 Article link