Social media and email marketing… are they two competing channels, completely separate? Or complementary channels that can amplify each other?
We say they can amplify each other. Big time. And so do ten of the top social media experts.
We reached out to each of these influencers because they are experts in a specific social media platform. They know their stuff, cold. We asked them for their best tip on how to grow an email list with social media right now.
These aren't the general, tired tips you've heard so many times before. These are the proven, under-the-radar stuff that actually works – the same tactics these influencers have used to grow their audiences to hundreds of thousands of followers and email subscribers.

Keep reading for email list growth tips from:
Mari Smith on how to grow a list with Facebook groups
261K followers on Facebook
Use a Facebook group, linked to your Facebook business Page, and ask for email addresses before allowing members to join.
While this strategy doesn't create 100% conversion, you can certainly generate a solid number of qualified opt-ins. (Some group owners do make the email question required before entry). I like to ask three questions to better gauge people's interest in joining my group and how I can best serve them.
These are the questions for joining my popular Mari Smith's Social Scoop Facebook group with 20k members. You're welcome to make your own version of the questions!
On a scale of 0-10, how much do you struggle with marketing on Facebook? [0 = not at all, 10 = constant struggle]
If you could win a 30-minute consult with Mari, what would you ask?
Would you like to receive my *free* Facebook marketing guides to help boost your business? Please write your email below. You'll be added to my weekly Social Scoop e-zine as well.
Then, I use a third-party software called Group Funnels, coupled with Zapier, to automatically add member details to my marketing platform. Group Funnels is a Chrome extension that populates Facebook Group Membership Questions into a Google Sheet. And, just in case you're concerned that Group Funnels is GDPR compliant, it is.
Of course, you'll need to promote your Facebook Group at every opportunity and ensure there's plenty of value and engagement. But, this group also serves as your powerful top of funnel component!
Want more ideas on how to grow your email list with social media, including Facebook? Check out our recent video and blog post, How to Build (and Grow) Your Email List with Facebook.
Andrea Vahl on how to get more subscribers with Facebook ads
If you are trying to grow your email list with targeted leads then Facebook and Instagram ads are the PERFECT way to do it. But I have found that you really need to test several things in order to get the best cost per lead.
Here are some of the things you can test to get better results from your Ad Campaigns.
1. The type of lead magnet. A checklist, an ebook, a webinar, or recorded training can all be great lead magnets and deliver very different cost per lead.
2. The audience targeting. Test different keywords, as well as Lookalike Audiences (an audience like one you already have such as your current email subscribers).
3. Images. Images are what catch people's eye and a good image should give you at least a 1% Link Click Thru rate to get people over to your website to sign up for your list.
You can see in these results that the Checklist gave us the best cost per result and the free Magazine and Script webinars were a little more expensive.
Testing is how you get your lead cost down and when you know how to effectively grow your list consistently, your business will grow, too!
Not sure what your lead magnet should be about? Find out How to Create a Lead Magnet in Less Than a Day (That Actually Works).
Sue B. Zimmerman on how to build a list with Instagram bios
To grow your email list with Instagram, consider it in your everyday account strategy and make subscribing as easy for users as possible with automation tools.
Start with using a clear call to action in your Instagram bio. Your bio, when crafted right, can eliminate the need to build or maintain a website – which is a major win for small businesses. Make your CTA short and sweet because there are a limited number of characters allowed. Use compelling language that inspires a viewer to take action. Consider including the problem you solve or the desire you fulfill with your product or service in the call to action statement. This will help spark their excitement and get them to take the next step.
Here's an example that is in my bio right now: "Free Copy + Paste Resource: Create 10+ Days of Posts".
Consider using a tracked link through Google Analytics or bit.ly in the bio so you have a strong understanding of where your traffic is coming from. These metrics help you understand the results of your efforts.
I find many business owners shy away from marketing their email list consistently, but this is a mistake. Speak about free resources to entice people to join your list weekly. Post about it all of "The Instagram Expert Neighborhoods". This is a phrase I've coined that speaks to the different areas of Instagram; Posts, Stories, Live, and Reels.
Different users will have different content preferences and hang out in different "neighborhoods," so consider posting in all of them to get the greatest exposure.
Finally, consider trying out automation tools to make subscribing easier for your community. We use Manychat's Instagram Direct Message automation so a viewer can become a subscriber with more ease. Direct Message automation can be triggered by comments on Posts, Lives, in Stories, and more. It offers a unique experience and sparks increased engagement on the platform, which helps account reach and performance overall.
Jenn Herman on how to do list building with Instagram direct messages
One of my favorite tactics for email list building on Instagram is to tease an upcoming newsletter in a post and then ask for a DM to get the link to subscribe.
For example, if you have a news section in your newsletter and there were five news updates, you could list two of these in your Instagram post and say: "Get more on these updates plus the other three big news updates in this week's newsletter. Not subscribed yet? Shoot us a DM here on IG and we'll give you the link to quickly subscribe and you won't miss any of these updates."
This works because you're still giving news, updates, or valuable information to your audience but you're inviting them to sign up if they want it "all". And because the link in bio tactic is so common, and most people still have to navigate there and around your site to sign up, the direct message (DM) approach is fresh and personalized.
Once they DM you asking for the link, you can personalize with a quick hello and even mention their name before dropping the subscribe link.
I've been using this tactic in my business for the last few months and seen a big uptick in newsletter signups as a result. And my audience loves the chance to say hi and have a quick conversation in the messages which helps build the loyalty around their signup too.
See how to get started with personalization fast with this 2-minute video.

Estelle Keeber on to grow your email list with social media and Instagram Stories
Stories are a really untapped feature that are also a great tool for building your email list through creating groups of warm leads.
Stories are only visible for 24 hours so these are the perfect opportunity for you to be casually throwing in your opt in and making it fun with some stickers or gifs.
Using the polls sticker: Think about the problem that your freebie or opt in solves. Think about the pain points that your audience has and then talk about it across a few daily stories. At the end of your stories use the polls sticker to ask if anyone feels the same or if anyone needs help with x,y,z.
The people who engage with your polls will then become your warm leads. Look at your results and send a direct message to each person saying "Thank you" for voting in the poll, "here is your free…" and add the link to your opt in.
Obviously each person, business, and audience are different so it's about tailoring your opt in to serve them. But regardless of what business or niche you are in…creating warm leads and sign ups via stories is a no-brainer and one of the easiest ways to grow your email list.
Instagram is currently working on even more cool story features and stickers that are about to drop to help with engagement so there has never been a better time to be sharing your brand message and building your list via Instagram.
Kate Hore-Lacy on how to get more subscribers with LinkedIn events
It's sooo easy to create (or promote) your event using "LinkedIn events", enabling you to increase your email list and fill your webinar (free).
My first LinkedIn Masterclass I had 754 people say YES to attending and I increased my list by over 500 people in just over 2 weeks. Here's how you can do it too:
Create an event by clicking on the "Create an event" button which is located on the left-hand side of the "home page".
Upload a banner with the 'benefit rich' title of your Masterclass. Then, simply fill out the details on the event page. Importantly make sure to add your landing page URL in the "ticketing website" section, this allows you to collect peoples' emails.
Once the event is live, you'll see you have the option to "invite connections". You can filter who you want to invite by location, job title or industry (allowing you to get really targeted)! LinkedIn allows you to invite 1000 of your contacts per week.
Once people have clicked YES to attend, (if they haven't signed up on the ticketing website.) Send a direct message to attendees letting them know, their next step is to register (at the ticketing page URL), so they can receive masterclass reminders, attendee bonuses, and the replay." This step ensures you get the most signups off LinkedIn and into your email list!
"LinkedIn Events" offers a simple, effective way to build a targeted email list – that's also… FREE! 🙂
Like events? Want to learn even more about how to grow your list with social media? Then you should sign up for our premiere list-building event, happening now: The List Building Challenge.
Mandy McEwen on how to build a list with LinkedIn featured links
LinkedIn is an excellent place to grow your email list. In fact, it's one of the main channels I've used to grow my LinkedIn Insiders newsletter. There are a variety of ways that you can leverage LinkedIn to grow your subscriber base.
The first way is really simple, yet hardly anyone is taking advantage of it — The featured links section in your LinkedIn profile. LinkedIn allows you to add multiple featured links to your profile, within your About section and also your Experience section.
When you add a link to your newsletter sign-up page to your Featured Links in your About section, it shows up prominently on your profile. This allows all of your profile visitors to quickly learn about your newsletter where they can easily click through to sign up.
Here's what it looks like on my profile:
In addition to adding your newsletter sign-up page to your Featured Links section, you can also add a hyperlink to the very top of your profile thanks to this brand new feature LinkedIn just rolled out.
Right below your location at the top of your profile, LinkedIn allows you to add one external hyperlink. Use this hyperlink to direct people to your newsletter sign-up page. It looks like this:
Simply click the pencil button to edit your profile, scroll down, and you'll see where you can add a link.
You can also mention your newsletter in your Cover Story video.
LinkedIn allows you to record a 30-second Cover Story video that anyone can access by hovering over and clicking your profile photo. This is a prime opportunity to introduce yourself, your services, and entice people to sign up for your newsletter.
This is one of my favorite LinkedIn profile features, yet very few people are taking advantage of it. Mainly because they don't know it exists! Or it could be that they are camera shy. So when you do this, you are going to instantly stand out.
Simply go to your LinkedIn mobile app, head to your profile, click on your profile photo, and you will see an option to add your Cover Story video.
Leah Neaderthal on how to get more subscribers on LinkedIn with multiple calls to action
One of the easiest ways to grow your list with social media is by including more than one way for people to take action depending on their level of familiarity with you.
We often forget that everyone who sees you in their feed is at a different stage. Some are seeing your name for the first time, and for those people, offering a lead magnet is the right next step. Others may have seen your posts for months and may be ready for a conversation.
Offering multiple calls to action is a way to meet people where they are on LinkedIn and build your list consistently.
Madalyn Sklar on how to get more email subscribers with Twitter's Media Studio
97.1K followers on Twitter
Twitter is a fantastic platform for building your email list. The key to making it successful at generating subscribers is to actually PROMOTE your list regularly. You can't just assume people will find your email list sign-up on their own and join. You need to actively communicate the value of being on your list and provide them with an easy way to sign up. And one of the best ways to do that is through Twitter's little-known secret, Media Studio.
Media Studio allows you to post a video tweet that has metadata and a call-to-action opt-in link. This is one of my favorite strategies for getting more people to sign up for my email list.
The metadata is in the form of a bolded title of up to 70 characters and a description of up to 200 characters. This is in addition to your regular 280-character tweet. This extra content is located below the video and is a great feature that gives you the ability to really pack a punch and help you build your email list. This extra copy allows you to entice other Twitter users, giving them the chance to see why your email list is the place to be.
I share this tweet every week during my popular #TwitterSmarter Twitter chat. It's been a great way for me to increase my email list through a free opt-in training.
Here's how it works.
You need access to Twitter's Media Studio. Go to Twitter.com on a browser, click on "More" in the navigation, and then "Media Studio."
Some people report they do not see Media Studio in the navigation. If that's the case, you should be able to access it through Twitter's Ad platform. Once in, go to "Creatives" in the navigation to access. If you do not have an ads account, you can easily set one up. You will be required to put a credit card on file but the beauty is you do not have to purchase ads in order to use this feature.
Once you're in Media Studio, click "Upload Media" to add a video, and then go to the settings and add a title, description, and call to action link. Now it's ready to go. Click on "Tweet," type up to 280 characters, and then either schedule for later or tweet now. That's it!
Meagan Williamson on how to get more email subscribers with Pinterest image pins
Tapping into the hidden gem that Pinterest is as a passive email list builder is not something you want to neglect. As a search engine, Pinterest has the ability to help you grow your email list passively for weeks, months, even years to come if you optimize your content for your audience.
Here's how to get started today:
Update your landing page for your lead magnet offer to be a medium to long form "sales page" – assume visitors don't know your offer or who you are.
This helps convert Pinterest users who aren't sure if they will sign up [yet!]. Create standard, static image Pins that have a clear mockup of your freebie and have a clear text overlay that speaks to your audience. Remember, your copy should clarify your message. Who is it for? What will they get? How will it help? Have a clear call to action or call to value 'button' on your Pin.
To grow your audience and therefore get more eyes on your lead magnet, create regular new idea Pins that address problems that your lead magnet solves. Leverage video, add copy for clarity and ensure you are optimizing for keywords on all your Pins. This will help you tap into this magic email list growing platform.
Here's an example:
Ready to grow your email list with social media?
If you can try out even a couple of these tactics to grow your email list with social media, you'll start seeing results. So which one will you start with first? Leave a comment below and tell us how it goes.
Want to join a community of people who are also growing their list with social media? Sign up for AWeber's free List Building Challenge. (You'll need an AWeber account to join, but that's free, too!)
The post How To Grow Your Email List With Social Media: 10 Experts Share Their Best Tip appeared first on AWeber.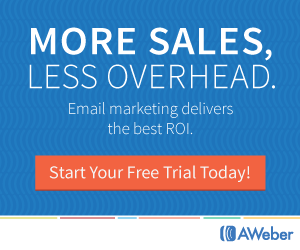 Article link