Being at the head of a small business is both exhilarating and stressful. On one hand, you're hoping to expand, achieve your business goals and get financially compensated for it. On the other hand, you're entering a huge and highly competitive market, which, for a business with limited scope, means you'll have to carry the brunt of the burden of scaling the business at hand.  
In this day and age, a business is only as successful as its proper marketing campaign. And, the best way to ensure that you have constant exposure, especially if you're primarily stationed online, is to know how to monopolize SEO. SEO represents the leading scaling tactic for online businesses, so you need to know exactly what the biggest small business pain points are and the right way to avoid or manage them when faced with one. 
Read on as we elaborate on the key small business hurdles you can expect to come across when managing its SEO aspects. 
Fierce Competition
The first obstacle has to do with fierce market competition. And we're not just talking about companies similar to yours, fighting to make a name for themselves and break out into the market. We're also referring to the giants, huge brand names, and mogul corporations, which are usually the first ones to pop up in people's search feed whenever they Google something – these are your biggest threat in terms of nailing your SEO efforts.
Since most competitors of this sort are well-established, you are essentially a single soldier fighting a whole army by yourself. And if you start thinking about other smaller businesses, you realize that the whole thing is a battle royale and that your chances at actually achieving any significant SEO progress without being crazily lucky are quite slim.
Of course, this does not mean that you should just give up – there are many ways to come up as a winner – even with a small business. Remember, every successful business had to start somewhere and walk the same path of challenges to get to the success lane. However, with the right tactics on hand and a well-structured SEO initiative, your small business can, too, witness the merits of online marketing and profit accordingly without being left behind by competitors. 
Lack of Financial Resources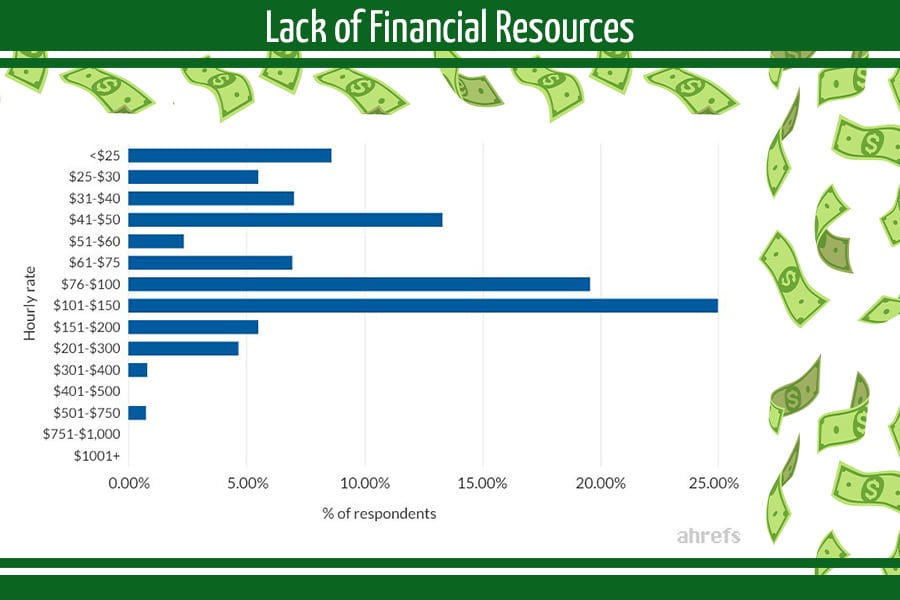 Another very obvious and very real pain point when it comes to all kinds of activities that small businesses want to engage in is profits. In this regard especially, money can be quite problematic, as all successful ventures require sufficient investments which don't always bear fruit. As a small business, you're probably counting every single dollar, and thinking about how much you're able to afford to sustain different branches of the company.
SEO, which is more about marketing and promotion, rather than establishing the product or service that you're selling, demands quite a bit of money in order to lead to proper ROI, which is something you're hoping to achieve. 
This, too, is a solvable issue. But, you need to be aware that quite a bit of time may pass before your business grows enough so as to be able to afford to invest in quality SEO services that will show significant improvements in customer visits. 
Remember, business is all about taking risks and hoping that they payout. Nothing escapes this equation.
Technical SEO Pain Points for Small Businesses to Consider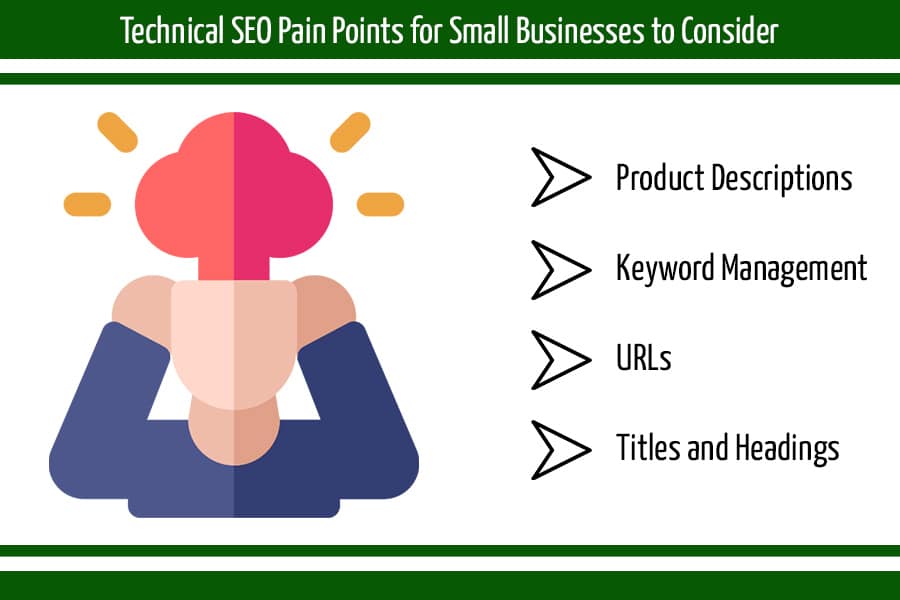 There are some SEO-related aspects of the business which are only learned and optimized through time and experience. The longer you are in the business, the more you learn about them. When it comes to e-commerce specifically, for example, there can be several recurring pain points that you may encounter:
Product Descriptions

: these need to always be short, comprehensible, but also unique enough to catch the reader's eye. 

Keyword Management

: SEO is all about distributing keywords. Writing a good text, which also organically implements keywords can be rather difficult for newcomers.

URLs

: your website's URL may not seem significant at all to begin with, but keeping it short and easy to read – ideally with a relevant keyword in its name – can significantly help search engines classify your website. The longer and more convoluted the URL, the worse the website fares.

Titles and Headings

: Knowing how to effectively distribute the information throughout your text, and divide it into titles, headings, and subheadings, can do wonders for small business SEO. Both your headings and titles ought to feature a relevant keyword related to your small business and be short and concise at the same time. 
Few People – Many Limitations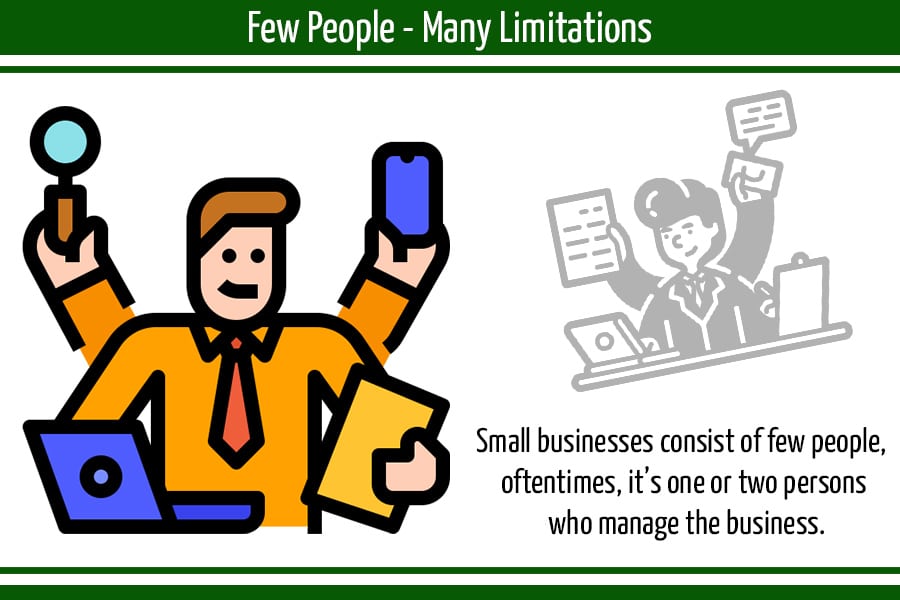 And then, there is the limitation of people running your small business. Small businesses usually consist of a few people, but oftentimes, it's one or two persons who manage the business overall. 
So, how can a single person be responsible for creating the product, organizing the business and the financial aspects, while also focusing on a specific branch and subsection of marketing, SEO, and investing enough money and time in it so that it bears fruit? The answer is – they can, though it's quite difficult to achieve with limited efforts. 
For this reason, it's completely normal that until your business starts to expand and has more employees, each of whom will be devoted to a different aspect of the business, you will have to work with whatever manpower you have in managing your SEO campaigns, resolving business issues and, of course, investing. 
The Question of Priorities
You may decide that you won't compromise on SEO and that you will specifically focus on that aspect as the most important one for the growth of your small business. And you'd be right to do this since SEO is your utmost priority in managing an online business, small or big. However, SEO is just as important to manage as the product or service you're selling. Remember, a business is like a machine – in order to function, several parts need to be moving smoothly and efficiently. 
SEO is important, true, but it's a way to promote your business, not the foundational part that makes your business viable in the first place. This is why many small business owners will be forced to reorganize their priorities at the beginning of their new business endeavor. You can't achieve everything simultaneously. SEO investments will have their momentum as well but you first need a proper grasp on what you'll sell, how you'll sell it, and who your audience will be. 
No Experience and Reputation Safety Mat


From a different point of view, there are other significant SEO pain points that you will encounter. For example, there's the fact that you're a small business trying to make it big in a sea of sharks. You see, bigger businesses usually refer to existing and more experienced ventures. These have faced all sorts of circumstances and issues, and have managed to overcome them and learn from them along the way. 
Big companies have an extremely well-developed reputation, which would make search engines like Google favor them in comparison to other, smaller businesses.
Your small business will initially lack both experience and reputation, and might even miss out on key SEO aspects. Your business also won't have a safety mat to rely on in case a big investment doesn't pay off. Sadly, even a single bad move may be detrimental to the viability of your venture. This makes every single decision you make risky, meaning being calculative and precise is a must before attempting to scale a small business. To avoid making rookie mistakes along the way, refrain from making big or reckless investments, and take the scaling journey one step at a time. 
Adaptability is an Issue
If there's one thing that defines the modern business landscape, it's fluctuation and instability.
In other words, things are constantly changing in the business world, and in order for a business to succeed, you need to keep up with every single change in place. This also alludes to SEO, perhaps even more than other aspects. Since the SEO requirements tend to change monthly or yearly, you will need to be alert and keep up with the latest amends, so as to stay on top of your game. 
Most small businesses are trying to establish themselves in a certain niche, thus building a steady foundation that will help define and expand them. Trying to follow the flimsiness of SEO can be counter-intuitive during this starting phase, as it will prevent the business from acquiring proper footing. Knowing how to balance between these two extremes is the key to success.
Final Thoughts
With that, we've covered the main problematic points that may pose a threat to small businesses when it comes to SEO. So long as you follow the trends SEO imposes and keep your eyes on the journey – not the prize – you will set a steady foundation upon which your small business will function. 
From technical aspects to general pina points, overcoming the complexities of running a small SEO business online is doable – though only with a carefully designed strategy in place.
The post Small Business Pain Points on SEO appeared first on SEOReseller.