It's no secret that an email list is one of the most valuable assets your business can have.
But how do you build a list without spending a fortune on paid ads? And perhaps even more important: how do you get those subscribers to open, click on and forward the messages that you send?

In this post I'm going to cover the specific strategies we used to grow our email list to over 65,000 subscribers and a 50%+ open rate.
Strategy #1: Launch a Dedicated Newsletter Page
If you want to get more customers for your SaaS business, you probably have several dedicated landing pages for different use cases. And if you run an ecommerce site, you likely have hundreds of product pages.
The same rule applies to growing an email list: if you want to get more subscribers, a page dedicated 100% to your email newsletter can definitely help.
In our case, we have a simple page that briefly outlines what subscribers will get from signing up.
[ss: explodingtopics-newsletter.png]
We've tested longer versus shorter pages fairly extensively. We found that shorter pages tend to convert best.
Why? The commitment to sign up for a newsletter is pretty small compared to buying a physical product or signing up for a new SaaS tool. Which means that potential users don't need a ton of info to get them to convert.
And that's all you really need: a straightforward page that gives someone an incentive to hand over their email address.
Another example is the Bloomberg "Money Stuff" newsletter.
This page is essentially a few lines of text and a sign up form. Which I'd imagine converts well.
Strategy #2: Drive Visitors to Your Newsletter Page
Once you have the page ready, the next (and key) step is to funnel traffic to that page.
And the best way to do that?
Include a prominent link in your site's main navigation.
That way, whether a user lands on a blog post (more on that next), about the page or your homepage, they see a link to your newsletter sign up page.
You can also funnel social media traffic directly to this page.
In other words: instead of linking to your homepage from each of your social media profiles, you can link to your newsletter page.
Here's an example of how this looks from James Clear's Twitter profile:
That's all there is to it.
Having a large (growing) list of subscribers is great. But how do you make sure those subscribers open and read your content? And recommend your newsletter to friends and colleagues?

That's what our next strategy is all about.
Strategy #3: Send Out a "Branded Newsletter"
A branded newsletter is just like it sounds:
It's a newsletter with its own brand. Including a name, logo and style.
Despite being literally decades old, a branded newsletter is still one of the biggest marketing trends going right now.
In fact, popular branded newsletter Morning Brew sold to Business Insider in 2020 for a reported $75 million. Which goes to show how valuable a branded newsletter can be.
With that, let's cover exactly how to create one.
First, you want to establish your ideal subscriber. This is basically the same exercise you'd do to identify your ideal customer. But for your newsletter.
For example, let's say that you run an ecommerce site that sells tennis equipment. And you want to start a tennis tips newsletter.
Who exactly will that newsletters be for? Beginner players? Teenagers looking to go pro? Seniors that play doubles twice per week?

As you can see, the branding and content of your newsletter will be entirely different depending on which group you're focused on.

Once you have a group in mind, it's time to design your newsletter.
If you don't have any content ready yet, no worries. You can just use some dummy copy for now. And fill it in with actual copy later on.
We use AWeber's fantastic Email Template Manager to create our newsletter designs. And I think they come out great.
Next, your newsletter needs a name.
Again, the name should be something that appeals directly to your ideal subscriber.
For example, let's say you want your newsletter to help older tennis players improve their game. You could call your newsletter "Tennis Over 50".
You can also just name your newsletter something super straightforward. For example, Tim Ferriss runs a popular newsletter called "5 Bullet Friday".
That newsletter is just like it sounds: 5 bullets of content each Friday. Simple.
Finally, it's time to identify an ideal schedule for your branded newsletter.
This is a sneaky big deal. Why? Because one of the keys to high open rates is sending on a consistent schedule.
Which is why you'll want to pick a schedule that works for you (in terms of content production) and your subscriber.
There's no right or wrong cadence for an email newsletter. But in general, I find that weekly works well for most newsletters.
A daily schedule is tough to keep up with. And you need a compelling reason to send it every day. Which is tough if you're not almost 100% news-focused.
Monthly is fine. But it's hard to build momentum by only sending 12 newsletters each year.
Weekly sort of hits the sweet spot of sending on a regular cadence without being overwhelming for you or your audience.
Strategy #4: Plan Out Your Newsletter Content Format
Next, it's time to figure out how you'll present your newsletter's content.
Specifically, you want to determine whether your content will be:
Bulleted list of tips or strategies
Lists to curated resources
Links to videos or tutorials
Inspiring quotes
A mix of different types of content
Or any other format that will work for you and your subscribers
Note: This format doesn't need to be set in stone. You can and should change it based on feedback. But it's infinitely easier to create content from an outline or format than opening up a blank page each time you need to write your newsletter.
Once you have this format in place, all you need to do is "fill in the blanks" and hit "send".
This significantly speeds up the content creation process.
As a bonus, many readers appreciate a consistent format as well. It reduces the cognitive load each time they get a new message from you. They're already familiar with the format. So it takes much less time and mental energy to consume your newsletters' content.
Strategy #5: Convert Blog Visitors Into Subscribers
Our final strategy is to help push more of your site's visitors to your newsletter.
Specifically, from your blog.
Why is this important?
In most cases, blog traffic is relatively "cold." In other words, they're not super likely to convert into a customer right away. They still need some nurturing.
Of course, there are exceptions to this. Which is why it does make sense to include CTAs that push people to landing pages from your blog.
However, if you don't also have a CTA for your newsletter, you're likely leaving quite a few subscribers on the table.
Here are a few strategies that tend to work well:
First, put a newsletter sign up form in your blog's sidebar.
You don't have a ton of space here. So you want to focus on the benefits someone will get from joining your newsletter.
As opposed to a generic "Join our mailing list!" Call to action.
For example, every post on the AWeber blog has a newsletter sign up form that outlines specific benefits that you'll get by signing up: "build your audience, create relationships and make sales faster."
You can also include a sign up form at the end of each post.
Someone that just read one of your articles all the way to the end is primed to subscribe. So it makes sense to make it easy for them by giving them a form at the bottom of the post.
Conclusion: Plan, build and scale your newsletter
Make no mistake: Building an email newsletter is hard work. It can take months or years to build up a sizable list. And years to hit a cadence where people are consistently looking forward to and opening your newsletters.
But if you follow the strategies in this post, you'll find that the entire process speeds up. And becomes quite a bit more streamlined.
The post How Brian Dean grew his Exploding Topics newsletter to 65,000 subscribers using AWeber appeared first on AWeber.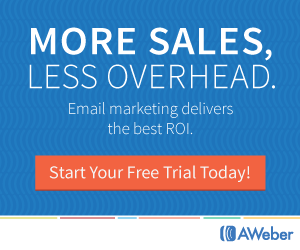 Article link