AJ Hoge teaches English to 1.73 million subscribers on YouTube and through his podcast.
After using AWeber for 15 years for automating his paid course and promoting his book, he decided to try AWeber's new feature, Auto Newsletter.
He was interested in Auto Newsletter because he wanted to let his email subscribers know about his new videos somewhere other than on YouTube itself, where it can be hard to break through the noise of millions of other videos.
Plus, he wanted a way to grow his email list and keep his subscribers engaged, without adding another task to his to-do list.
So he set up an Auto Newsletter. Here's how it went:
How AJ doubled his YouTube views
Step One:
AJ set up a sign-up page, in his AWeber account, where anyone on YouTube could opt in to receive his weekly newsletter.
Step Two:
He set up an automatic campaign to send an email every Wednesday with his newest YouTube and podcast episodes. (He also set these emails to arrive at a specific time for each subscriber, regardless of which timezone they are in.)
Step Three:
He introduced all of his existing subscribers to his new weekly email announcements:
Step Four:
He promoted his Auto Newsletter on YouTube:
From 35K to 73K views on just one video
Within two weeks, AJ was seeing more views on his new videos. A lot more views.
His previous new videos were averaging 35-45K views, but after sending auto newsletters, his new video has over 73K views (and growing).
There are a few reasons Auto Newsletter may have boosted this video's views so much:
The email sends subscribers directly to his YouTube channel to watch the video
Having an email from AJ in their inboxes reminds his subscribers about his channel, prompting them to seek out his newest videos throughout the week
Because his new video got so many views right after he released it on YouTube (thanks to Auto Newsletter), YouTube's algorithm may have been triggered to favor his content in recommended sections and search results
More YouTube views leads to more email subscriber, which leads to more YouTube views. It's a flywheel of growth that can help any content creator thrive.
Plus, AJ's email list is growing quickly. He has seen almost 6,000 new subscribers sign up since he set up the auto newsletter landing page just a few weeks ago.
And the best part? AJ saved tons of time by automating these emails instead of sending them out manually. Now he can email regular new content to subscribers without any extra work. His emails can be going out even as he's recording a new video, or spending time with his family.
Three steps to grow your YouTube views and email list with Auto Newsletter
1. Publish a page where people can sign up for your Auto Newsletter.
Copy the template below or choose one from AWeber's landing page template gallery to start creating your page. Update any text or images if you want.
Then click into the form and add a unique new tag under "form submission" (not one you already use). E.g. "wednesday-youtube-newsletter".
Click "Save and exit" then publish the page.
2. Set up Auto Newsletter to send when you have new content (immediately or on a weekly/monthly basis)
In your AWeber menu on the left, click on "Automations" -> "Campaigns."
Choose "Create a campaign" then "YouTube newsletter" (or "Blog newsletter"). Then give your new campaign a name.
Set your campaign to start when a tag is added. Use the exact tag you added to your landing page form above.
Add your YouTube channel URL to the Feed URL field (e.g. youtube.com/aweber). AWeber will update it with the exact feed as shown below. Set the frequency to "Hourly," "Weekly," "Monthly," or "Yearly."
Click into the message itself to edit it. Click on the example feed to add your YouTube URL. Adjust any feed settings for the number of videos, layout, etc.
Add your logo and text at this point, too.
Preview and test to see what it looks like, then click "Save and exit" then "Activate Campaign."
3. Promote your sign-up page to your current YouTube audience and on social media
Add your sign-up page to your social media bio, promote it in posts, videos, and stories, and make sure you include a link to it on your YouTube homepage, "about" page, video descriptions, and end screens if you use them.
Bonus: If you have an existing list of email subscribers, send your weekly digest to them, too. Just add the same tag from your landing page and campaign to any subscribers you want to receive these emails after you activate the campaign. (They won't receive it if you add the tag before activating the campaign.)
Want to get the same results that AJ got from his Auto Newsletter?
Ready for more YouTube views, more email subscribers, and more free time? Create an Auto Newsletter today, available on all AWeber plans. Sign up for a free account today. Need help with your auto newsletter? Contact our support team.
The post How this YouTuber doubled his views using Auto Newsletter in AWeber appeared first on AWeber.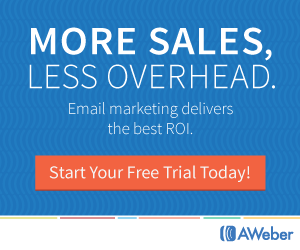 Article link