60% of marketers claim SEO provides them with their highest-quality leads.
When you hear "SEO," you likely think of metadata optimization, keywords, and organizing pages, all things that have to do with your website. However, a successful campaign will also incorporate strategies to optimize for ranking factors outside your website.
Learn about the two main sides of SEO: on-page and off-page and how they help your website rank higher on search results pages (SERP)
On-Page SEO
You're likely somewhat familiar with on-page SEO. It involves improving specific pages on your website, making it more appealing to users and search engines. Depending on your website's needs, you'll need to perform any number of the following activities.
Keyword Selection
Keywords tell Google what a page is about. You must select keywords for your landing pages and other content supporting them. Additionally, they must be semantically relevant to what you discuss and have the potential to help you rank high. You then have to match them to the appropriate URLs.
Silo Structure Creation
Create a structure by grouping and interlinking web pages with common topics. For example, you could group construction services and then further divide them into residential and commercial construction services. This makes your website easy to navigate for users and understand for search engines.
Core Web Vitals Improvement
Core Web Vitals are three website metrics that Google uses to assess user experience. These include:
LCP (largest contentful paint)

: The time it takes to render the largest content element, usually an image or video.

FID (first input delay)

: How long it takes the website to respond to the user clicking on an interactive element like a button.

CLS (cumulative layout shift)

: How much the layout shifts
The lower these metrics are, the better. For example, an LCP of less than 2.5 seconds is considered good, while 4 seconds or longer is considered poor.
Mobile Optimization
Google uses the mobile version of a page for indexing and ranking. Your website should be easy to read and navigate on mobile devices and contain the same information as its desktop counterparts.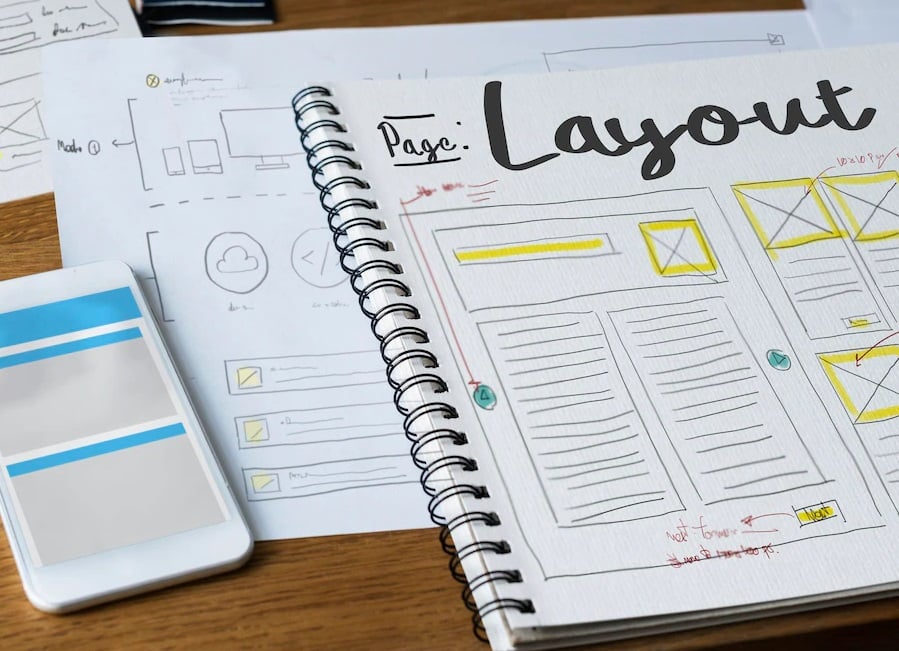 Optimizing Various On-Page Elements
Besides implementing the above on-page SEO activities, you also need to optimize or add various elements to your website:
URL

: Should include a keyword, be human-readable, and be shorter than 2,038 characters.

Breadcrumb

: Useful navigational feature to improve user experience and crawlability.

Keyword Insertion

: Include keywords in the title tag, H1 tag, and the first 100 words of content on a page 

Alt Text

: Include image alt text for increased accessibility.

Schema Markup

: Use either Microformat or LD JSON to implement schema markup and

help search engines understand your content better

.

Multi-Format Content

: Attract a wide audience by using a variety of content formats such as blog, podcast, video, etc.

Internal Links

: Set up internal links between URLs to guide users towards supplemental information and improve crawlability.
Off-Page SEO
Off-page SEO refers to activities you do outside your website to promote it. You do this by link building.
Link building is creating backlinks from other authoritative websites to yours. Google interprets this as a signal of your content's authority, credibility, and relevance. The more high-quality backlinks you have, the more likely you'll rank high on SERPs.
You can divide the links you get into three general categories.
Earned
You get earned links either by having other websites link to your website. These take two forms:
Natural Links

: Someone linked to your website because your content is valuable, meaning you put zero effort into earning it outside your investment into content creation.

Outreach Links

: You submit a blog to an authoritative website or ask them to link to your website through one of their existing blogs.
Leased
You get leased links by creating content on online properties you don't know. These include:
Local citations

Social media platforms

Google Business profile
Owned
Owned links are those you create by linking to your website on other properties you own. These include:
Parent brand websites

Sister brand websites

Other owned assets
Join Our Webinar for Expert Advice
Learn more about on-page and off-page SEO by joining the KEX+ webinar on November 17, 2022 at 10 AM ET. We'll discuss how to implement them on your website and provide helpful tips.
Sign up today to secure your spot.
The post The Two Main Sides of SEO: On-Page and Off-Page appeared first on SEOReseller.