Every holiday is an opportunity to make more sales — and New Year's is one of the best. In the new year, your customers and prospects prioritize new beginnings and life improvements. And no matter what you sell, there's an opportunity for you to make a splash, especially after you've got proven ideas for New Year's marketing campaigns.
No matter what you sell, or how you want to promote your work, at least a few of these New Year's marketing campaigns can work for you.
1. Highlight the best of 2022
You provided a ton of value to your audience this year — whether in your newsletters, on social media, through creating new products, or with educational resources like ebooks and videos.
Create a "most popular" list of how you helped people in 2022, and share it with your audience. You likely have new followers who missed out the first time. And loyal fans would love a reminder of your best tips and most popular products.
Whether delivered via blog post or newsletter, your 2022 highlights are sure to be popular — and you can pair them with a year-end promotion to help drive sales.
2. Run a New Year's challenge
Whether you are a coach, influencer, or anyone else, you are an expert in your field. The New Year is the perfect time to run a challenge, especially if it's your first.
Nutritionists could offer a 10-day dietary cleanse with recipes. Educators could offer a 4-week 2023 planning challenge. Photographers could give daily tips on self-portraits for two weeks.
Think about the advice you'd give to your audience — but keep each section small and achievable. That way you can grow your followers, gain trust, and get a boost in loyal customers throughout the year.
Related: Learn how to create a challenge via email.
3. Sell product bundles
Group related things you offer into packages — called bundles — and sell them at a small discount. Bundled products are a great way to upsell to customers who love your stuff and are likely to buy more if they can save some money.
To encourage an extra boost, create urgency with a time-sensitive offer (only available through January). Or, offer bundles at a certain price for a New Year's special, and let your audience know they'll be more expensive later in 2023.
4. Survey your customers
The best way to market to your customers is by knowing their goals and interests. And your audience may have changed a lot in 2022.
Learn who reads your newsletters, follows you on social media, and buys your products with a year-end survey.
There are two easy ways to do a survey: Send a form via email or ask questions using polls in your social channels. Or why not try both?
Get a few sales in the meantime by incentivizing your survey with a discount code. You get more responses and sales and your customers get 10% off. It's a win-win!
5. Share your own New Year's resolutions
You have goals for 2023 — just like your audience. Sharing what they are is a great idea for New Year's marketing campaigns.
You'll get at least two benefits when you share your New Year's resolutions with your audience:
They can identify better with you. Even though you're the expert, people like to see that you have room for growth just like them.
They can help you with your goals. Are you looking to grow your newsletter list or social followers this year? Your current audience can help just by forwarding your newsletter to a friend or engaging with more of your content.
So share your journey and goals this January on your newsletter, blog, and social media channels.
6. Offer a yearly subscription or membership
Do you sell products, premium content, or services? Then why not try a subscription model?
To boost revenue early in the year and create long-term customer loyalty, you could create a membership (charged monthly, quarterly, or yearly). Have the subscription include new products, content, or services every month, plus access to a community you can build in Facebook or Discord. (Note: To keep fees low, use AWeber as your sales platform.)
Many businesses who have added subscription models found it to be their largest source of revenue after a couple of years.
7. Throw a party (online or in-person)
Hosting an event is a sure-fire marketing strategy — and New Year's is one of the best times to celebrate.
Your party's theme could be customer appreciation, highlighting something new, sharing New Year's resolutions, or just getting together with like-minded people.
If you have a physical office and many local customers, an in-person party could be perfect. But if you have more of a digital presence, a Zoom call with games and discounts may be a better fit.
The best New Year's marketing campaigns give your customers a time and reason to celebrate — and a discount too. That way, as you're saying thanks, you're also making sales.
8. Host a shared live on Instagram, TikTok, YouTube, or Twitch
Some audiences are too big for a virtual party — so host a New Year's live stream instead. And, as a bonus, include customers, influencers, or other company owners on your live stream.
This is a great way to celebrate your followers and grow your audience. Plus, you can learn a lot from them and give them something fun to do.
Make sure you have a plan for your live stream to keep it interesting. Here are some ideas:
Run a quiz and give away small prizes for the first people to answer in the chat
Do polls on New Year's resolutions
Bring on pre-vetted customers to talk about their successes
Cover highlights from 2022 in your industry or field
Good old-fashioned jokes and games — just make it fun
Include a call-to-action for people to sign up for your newsletter on the live so you can get a boost in subscribers to start your year!
9. Offer a seasonal discount
This may sound obvious, but each holiday is an opportunity for a sale. Create a discount that fits with your profit margins and send out an email notifying your subscribers.
A subject line that includes "sale" or "20% off" is sure to get some attention and potentially give you a boost in revenue.
Want to get rid of last year's inventory? Offer a deeper discount on old products to get them off the shelf. Once your customers are on your website for the big sale, they're likely to buy something newer, too.
10. Reward loyal customers
New Year's marketing campaigns should double down on your loyal customers. Offer them bigger discounts, special content, premium events, and exclusive memberships.
Did you know that your loyal customers could be the best source of new customers? If you haven't already, create a loyalty program to give them discounts or benefits for referring people to your business for the new year.
Which ideas for New Year's marketing campaigns will you choose?
Let us know in the comments what you plan to do to get a boost in revenue at the beginning of 2023!
The post 10 New Year's marketing campaigns to boost early sales in 2023 appeared first on AWeber.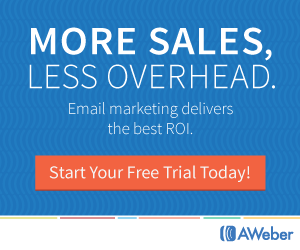 Article link