Valentine's Day is right around the corner. If you've been sending emails to your subscribers for the holiday, keep it up! If not, now's the time to start.
Consumers are looking to spend during this holiday. Last year, it was estimated that the average person spent over $175 on Valentine's Day. People worldwide are looking for that special Valentine's Day gift and are likely searching their inbox first. It'll be filled with dozens of promotions and specials in the first weeks of February.
But don't worry about your competition. You can stand out in the inbox with these email ideas, tips, and examples. Use them for direction and inspiration as you create a memorable Valentine's email campaign.
6 ideas to drive Valentine's Day sales from your emails
Looking for ideas for your next Valentine's Day email? We've been busy collecting some of our favorite emails sent by popular brands over the past few years. Take a look and get some inspiration for your Valentine's Day emails this year.
1. Add Valentine's Day elements to your newsletter
Not every business needs to send a separate email for Valentine's Day. Instead, you could add fun seasonal colors or pictures in your newsletter.
Check out how ActionRocket added some hearts and a splash of red and pink to their weekly newsletter. Just like that they have a Valentine's Day inspired newsletter.
2. Link your product to the holiday
Think about how your existing products or services could be turned into Valentine's Day gifts or promotions.
For example, Notorious Nooch turned a product they sell everyday into a Valentine's Day gift — and spun up an eye-catching email for it, too.
Company: Notorious Nooch
Fulton, who sell insoles for shoes, cleverly associated the main benefits of their insoles with a Valentine's Day gift. Here's how they pitched it: "Give someone you love the gift of support."
Add a Valentine GIF
Use eye-catching GIF in your Valentine's Day emails. Adding some movement to your emails is a great way to draw your reader in.
This is an older email from us, but still one of my favorite Valentine's Day emails.
We added a fun, dynamic GIF which grabbed attention and proved to be one of the best-performing emails that year.
Want to add a Valentine GIF to your email? Check out all of our Valentine's Day GIFs.
Tell a joke (or a few)
Valentine's Day is taken seriously by some, but there is a lot of humor surrounding the holiday too. Is your business better suited to a funny Valentine's Day email?
For example, to draw customers into their retail stores on Valentine's Day, glasses retailer Warby Parker compiled funny tweets from customers, joking it's the perfect place to find romance.
(If a glasses company can run a humorous Valentine's Day promotion, you definitely can too.)
Create a sense of urgency with a Valentine's Day countdown
Remind your customers that Valentine's Day is right around the corner by including the date (February 14) in your subject line. For people who let the holiday creep up on them, offer a quick last-minute solution.
See how CleanMyMac did this with a (very adorable) countdown timer in their Valentine's Day email.
Go over-the-top on Valentine's Day designs
Valentine's Day and beauty go hand in hand. So if you were thinking about upping your design game, this is the holiday to start.
Beautiful and eye-catching emails pop in the inbox (and lead to more sales and positive brand sentiment). Add some Valentine's Day flair to your messages to stand out and almost shout "EXCLUSIVE OFFER."
Here's some tips on how to do that: Choose colors like pinks, purples, and reds. Or, use eye-catching GIFs (like the one below). Adding some movement to your emails is a great way to draw your reader in.
28 Valentine's Day subject lines to help you stand out in the inbox
Want to make sure your Valentine's Day emails are opened and read? Make sure your subject line is specific and clearly conveys what the email is about. This way, your subscribers know the email is relevant to them.
Say you're a restaurant owner: Remind your subscribers to make a reservation for a romantic dinner on Valentine's Day. If you're a baker, showcase your sweet treats as perfect gifts for loved ones. The key is to tie your message to the holiday, so your subscribers know it's something special.
Here are a few Valentine's Day subject line ideas you can use as inspiration:
General Valentine's Day subject lines
Be our Valentine
Make this the best Valentine's Day
Show her how much you love her
Cupid has a gift for you
Love doesn't have to cost you a fortune
Better than roses…
Spread the love, reserve a table today
10 Tips to show them you care this Valentine's Day
Valentine's Day News Flash
Valentine's Day sales subject lines
Valentine's Day Sale: 20% off
Nothing says love like a special Valentine's Day sale
Our Valentine's Day gift to you: 20% off
Valentine's day specials for a special someone
Sweetheart deals for your sweetheart
Fun, catchy Valentine's Day subject lines
Unleash the romance: Exclusive Valentine's Day specials for our beloved customers
Sweep them off their feet: Delicious Valentine's Day treats to surprise your loved one
Book now or forever hold your peace: Limited Valentine's Day reservations available
Love is in the air: Valentine's Day gifts that'll make their hearts flutter
Last chance to make a lasting impression: Don't miss out on our Valentine's Day deals
Say it with flowers (and more): Valentine's Day gift ideas for every kind of love
Valentine's Day subject line examples from other companies
Better than roses (Nike)
Your three-course Valentine menu is here (Liebherr)
Time's Almost Up! Make Your Valentine's Day Dinner Reservation (Cibo Ristorante)
Need Chocolate? Pick Up A Sweet Treat For Your Valentine (Joe's Bakery)
A gift that says I love you from head to toe (Fulton)
Valentine's Day favorites made with love (Land O'Lakes)
Better than chocolates (Onsen)
Put your love in a box and send it (Jeni's)
Add some love to your email signature
Every holiday — and especially Valentine's Day — can be used as an opportunity to get creative with your email signature. Switch up your marketing email signature, personal email signature, or both this year!
It's simple: A couple of weeks prior to Valentine's Day, update your email signature to include a holiday-related photo. There are even some photos already loaded in your AWeber account.
Here's just a few of the Valentine's photos you can use:
Skip the design work with Valentine's Day email templates
Not sure where to start to design your Valentine's Day email? You can sign up on platforms such as Stripo or Bee to get hundreds of beautifully designed templates. Or, choose one of the Valentine's Day email templates free in AWeber.
You can customize each Valentine's Day template to fit your brand and offer.
Here are four examples of templates you can use for free in your AWeber account:
When to send your Valentine's Day emails
Most people start planning for Valentine's Day about 10 days before (unless they're the last-minuters). But you should actually start sending your Valentine's Day emails before early February, if possible.
Why? Because, in addition to driving direct sales, your emails notify people about your products and remind them your business exists (yes, this is important and necessary). Then, when they're ready to buy their loved one a gift, you're one of the first places they think of.
So start sending those emails as early as three weeks in advance. Has the three-week date already past? Don't worry about it! Just get your first email out as soon as possible, and follow up with a few more leading up to Valentine's Day.
Get your Valentine's Day emails ready today
Email marketing is the best tool you can use to connect with your customers this Valentine's Day. Your customers are looking for gift ideas, recipes, restaurants, and more. Make sure you stay top of mind and provide your customers with what they're looking for.
So take what you've learned here, log into your email account, and get started.
We'd love to hear what type of Valentine's Day emails you've decided to send, too. Tell us about it in the comments.
The post Valentine's Day email: Subject lines, templates, and email ideas your customers will love appeared first on AWeber.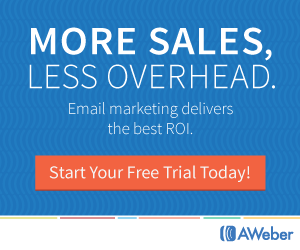 Article link