As the U.S. prepares to celebrate Independence Day, there's another holiday trend Americans can expect to look forward to: July 4th promotional emails.
Whether you plan to host a huge sale, offer exclusive discounts or simply take a holiday spin on your typical content, getting your emails to stand out in the inbox can be a doozy – especially when there are hundreds of other businesses tying the holiday to their emails too.
So what can you do?
8 cool ideas for your 4th of July email campaigns
My goal is to help you stand out in crowded inboxes by giving you some different (and slightly out of the box) ideas for your independence day emails.
1 – Fireworks picture contest
Fuel the excitement of Independence Day by inviting your audience to participate in an exhilarating photo competition. Encourage customers to showcase their photography skills and artistic vision by capturing mesmerizing fireworks and sharing their best shots on social media, while tagging your business page.
As the skies ignite with vivid colors and explosive beauty, this contest offers a unique opportunity for your brand to engage with customers and generate buzz around your products or services.
You can have a prize for the photo that gets the most likes.
2 – Red, white, and blue product collection
Everybody loves a deal. So if you've got products that could be bundled together and fit a red, white, and blue theme, wrap them up as a discounted bundle.
3 – 4th of July quiz
Create an interactive email by quizzing your audience on how well they know their American history.
Here's a nice example from RoadScholar:
4 – Support a cause this Independence Day
Highlight your brand's commitment to a specific cause or charity aligned with patriotic values.
Offer a percentage of your sales during the 4th of July period to support that cause. Inform customers that by choosing your product or service, they are not only celebrating but also making a positive impact on their community or the nation.
5 – Show your patriotism
On Independence Day, how about a nice and simple "Happy 4th of July" message.
Here's an example from TradeGecko:
6 – 4th of July themed products
Just highlight red, white, and blue products.
Brit+Co does just that in their 4th of July email:
7 – Online scavenger hunt
Who doesn't love a good game?
You can play to the inner child of your audience by having some fun with your 4th of July email campaign. Provide some clues in your email and send your audience to your website to find them.
Maybe you add historic pictures throughout your blog, whoever finds all the images can win.
8 – Send your email before or after July 4th
Keep in mind that your subscribers may not be paying close attention to their inboxes on July 4. Consider sending your holiday email before or even after the holiday when they're more likely to open it. Plus, it'll also give you an edge over the competition.
Considering a post-holiday message? You might want to try a subject line like, "We're Still Celebrating July 4th: Buy One, Get One Cupcakes!"
Or, if you want to get a head start, try a subject line like, "Ready for this early July 4th deal?"
Give your emails a patriotic theme
Transform your 4th of July email messages into a celebration of red, white, and blue.
Infusing your emails with patriotic elements can help you create a memorable and engaging experience for your audience.
Here's some ideas on how to leave a lasting impression on your subscribers as you celebrate the land of the free and the home of the brave!
Subject line tips
Here are three tips to keep in mind when writing eye-catching subject lines for your July 4th emails.
Use time-sensitive words, like "July 4th" or "Fourth of July".
Create a sense of FOMO — or fear of missing out — with your subject line. This is one of the most effective psychological drivers of email opens.
Referencing specific dates in your subject lines creates a sense of urgency with your subscribers, and ultimately encourages more subscribers to open your emails.
Mention how long your promotion is running. Having a week-long sale? Be sure to mention it. This not only tells subscribers how long they can access the deal, it'll entice them to act faster and take advantage of it as well.
4th of July email subject lines examples
This Week Only: Hot July 4th Sales!
The 4th of July continues with 60% off!
Sales That Even Uncle Sam Would Want
50% off Patriotic Tanks & Tees for July 4th!
4th of July email template
Unlock the true spirit of 4th of July in your email campaigns with captivating and visually striking email designs.
I'm not a designer, there's no way I'd be able to create a 4th of July email that radiates patriotism. And I'm not alone, for those non-creative people you can use a pre-created email template. And there are plenty of options out there. You can purchase a 4th of July email template from companies such as BEE Free or Stripo. Or you can use one from your email provider.
Here are a few Independence Day email templates that you can use in AWeber.
Use 4th of July images
You don't need to create a whole new email template, just adding holiday-inspired images like a 4th of July email banner, GIF, or images to your email signature is perfect.
Email banner example
I love this example from Kindlendar. They do a great job incorporating the summer fun of an Independence Day holiday into their email banner.
You can create your own email banner in do it yourself graphic design tools like Canva. They make it so easy to create your own 4th of July email banner, when you're done it will look like you paid someone to professionally design this graphic.
And if AWeber is your email provider, you can actually design in Canva within your email builder, making it that much easier to create your email.
GIF example
Check out this simple yet effective use of a GIF in UBERs email. The fireworks are a nice creative touch. And I especially like how the fireworks draw your attention to the CTA.
Looking for your own 4th of July GIFs? Here's a few that our design team created. Feel free to use them in your emails.
Add some red, white, and blue to your email signature
Celebrate Independence Day in your emails by adding a touch of patriotic flair to your signature.
Include a small American flag icon or a festive red, white, and blue banner that showcases your holiday spirit.
Start creating your July 4th email
Sending holiday-themed emails keeps your brand relevant, but be sure to keep these tips in mind for success.
Are you sending any July 4th emails to your subscribers? Tell us about it in the comments below!
The post Cool 4th of July email ideas and creative design inspiration appeared first on AWeber.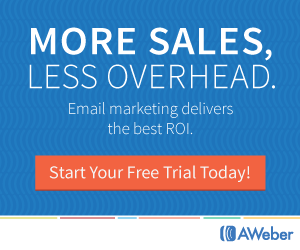 Article link