Imagine your Etsy shop is thriving, sales are skyrocketing, and your loyal customer base hangs on every new product release. Behind the scenes, your store only requires a small amount of time each day, leaving plenty of time for your family and creative endeavors.
Sound far-fetched? Not anymore. Automation and AI have come a long way in the past year.
Crafting the perfect product is only part of what makes a successful Etsy store. The other part is good business management. But, SEO, marketing, research, and customer service require a contribution of time and expertise you may not have to give. And tasks like inventory tracking, shipping, and taxes require a level of accuracy that's tough for any busy person to achieve.
Some days the responsibilities feel endless and can leave you overwhelmed and pressed for time.
What if there were a better way?
Now, you can grow your Etsy business quicker and more efficiently using popular Seller tools. Whether you need help choosing products, writing listings and marketing content, or putting your routine tasks on autopilot, there's probably an Etsy tool that can help you get the job done.
A well-chosen stack of Etsy Seller tools can drive customers and boost sales in a big way. And the best part? Thanks to all the time you save with automation, you'll also make it home in time for dinner!
In this article, we walk you through the top Etsy Seller tools on the market today. We'll show you what each tool does, how it can help you, how much it costs, and what customers have to say about it. Find your way to the best tools quickly in our guide below.
Ready, set, automate? Let's go!
Why tools matter to Esty Sellers
Building a good stack of Etsy Seller tools is like having five or ten expert assistants by your side working 24/7 to help your shop succeed. Suddenly, tasks that used to take hours to complete are finished in minutes.
You're able to execute critical functions like taxes and inventory with a speed and accuracy never before possible.
You create full-blown marketing campaigns with a quality you never imagined yourself capable of — before it's even time to break for lunch.
Etsy Seller tools can be a game-changer for any shop, but with all the choices available, how do you choose the best ones?
5 tips to help you choose the best Etsy Seller tools
Here are five tips to help you choose the best Etsy Seller tools for your business.
Automation, automation, automation! Look for tools that can automate repetitive tasks.
AI-powered tools will almost always give you an edge over those without AI. Don't be shy about using them!
Look for tools that can grow with you. For example, tools with scaling fee structures or free starter plans are perfect for small Etsy stores.
Look for user-friendly tools that come with great training resources. A helpful customer support team is a huge bonus!
Read verified customer reviews. When possible, check out customer reviews on sites like Capterra or Trustpilot. Reputable, verified reviews can help you understand the strengths and limitations of a tool before you commit to using it.
Best Etsy Seller tools
Here are our picks for the top Etsy Seller tools to help you automate, market, and elevate your store and its products.
Best Etsy email marketing tool: AWeber
Wouldn't it be nice to email market like a pro without any prior experience? Imagine creating well-written, gorgeous emails in minutes, then automating them in a way that allows your list to grow — and sell — on its own.
If you've ever wished you could reach your sales goals quicker, AWeber may become your new best friend.
As the only email marketing software showcased by Etsy, it fully integrates with your Etsy shop. That means you can set it and forget it with Etsy email automation that does most of the work for you.
Get your customers to buy again — even while you're sleeping. Use the autopilot feature to effortlessly cross-sell, upsell, and follow up on abandoned carts for you.
Do words like segmentation, integration, and automation sound intimidating? No problem!
Even email marketing newbies can get more sales on Etsy thanks to a complete video training library, email templates, and 24/7 customer solutions. Its built-in AI writer and Canva design tools mean you can create stunning, well-written emails in minutes.
AWeber AI-assisted email composition tool
Here's why you'll love AWeber:
Provides autopilot and automation features specific to Etsy Sellers
Keeps you compliant with Etsy email marketing policies
Auto-syncs customers to your email list
Includes built-in AI writing features and Canva design tools
Auto-sends announcements when you add new products to your Etsy store
Automatically drives repeat sales with behavior-based, personalized messaging
"For a long time our team was on the hunt for a tool that would help us better communicate with our customers on Etsy – then we found AWeber! There are so many fantastic features that make email marketing that much simpler. From setting up landing pages, and email flows, to seeing all of our new subscribers that join daily, we have loved using AWeber!"

Abbey Hertzler
AWeber Pricing:
Free plan
Lite plan: starting at $12.50/month
Plus plan: starting at $20.00/month
Unlimited plan: $899/month
Ready to start driving more sales through email marketing? Sign up for a free AWeber account today!
Best Etsy referral marketing tool: ReferralCandy
Looking to boost sales, grow your customer base, and build customer loyalty? You can grow your Etsy shop through word-of-mouth marketing using a fully automated referral tool like ReferralCandy.
ReferralCandy dashboard
Why we like ReferralCandy:
Fully automated referral program
Customized reward system
Several promotional tools, including post-purchase popups, referral widgets, and referral links
Seamless Etsy integration
Easy integration with other apps like AWeber and Google Analytics
"What I like the most about ReferralCandy is that it makes the business grow while making the customers happy, and their friends too!"

Francesca A., Capterra
ReferralCandy Pricing:
Free 14-day trial,
Premium: $47/month + 3.5% commission fee
Plus: $239/month + 1.5% commission fee
Enterprise: Contact for pricing
Best Etsy social media marketing management tool: Outfy
Social media marketing can dramatically increase your Etsy Store visibility, leading to more sales and subscribers. But sticking to a regular posting schedule, creating quality content, and engaging with your audience can be a full-time job.
That's where a good social media management tool comes in.
Outfy helps Etsy Sellers quickly create engaging posts, collages, videos, GIFs, and promos in minutes. Then, you can schedule them to auto-publish on specific days and times in the future.
Outfy promo example
We love Outfy because it's designed to support Etsy Sellers with an autopilot mode. Integrate it with your Etsy Shop, and it can automatically select products for promotions!
Why we like Outfy:
Integrates with Etsy
Puts your Etsy promotions on autopilot
Automates social media posts
Creates videos and other media in minutes
Lets you publish to Facebook, Instagram, Pinterest, TikTok, YouTube, and Twitter
Affordable and easy to use
"It's a very nice application which helps me market my products on social media without the hassle. I'm definitely sticking with this one!."

Nick Olsson Digital Design, Reputon
Outfy Pricing:
Free forever plan
Free 7-day trial
Starter plan: $15/month
Pro plan: $30/month
Ultimate plan: $52.50/month
Enterprise plan: $90/month
Best Etsy design tool: Canva
If creating professional graphic designs for your Etsy shop sounds like a challenge, you can breathe easy — Canva's got you covered.
High-quality visual design can make or break your business on Etsy. Most sellers use visuals like a storefront header, product videos, and social media content to promote their shop and products.
But hiring a graphic designer is pricey, and there's no guarantee you'll be happy with the results.
The good news is that you can create eye-catching, professional designs in minutes with Canva. On a budget? You'll love the affordable pricing and its generous free plan.
Canva Etsy shop banner examples
Why we like Canva:
Magic Studio AI tools let you create images and other media from text
Create videos, ads, social media visuals, and Etsy headers in minutes with AI or by choosing from thousands of prebuilt templates
Save your brand colors and instantly apply them to any design.
Affordable, easy to learn, and integrates with AWeber email marketing software
"I use Canva every day for designs and creativity. It's online-based and provides high-quality assets to create presentation videos and website graphics. It's so extensive that I can create a complete video with this tool including text-to-speech."

Ngala Emmanuel, Capterra review
Canva pricing:
Free plan
CanvaPro plan: $14.99/month
Canva for Teams plan: $29.99/month
Best Etsy product research tool: Etsy Hunt
Want to give yourself an edge over Etsy's 48 million products and 120,000 Etsy shops? A great product research tool can help you instantly discover what products are most likely to become winners.
EtsyHunt is a dedicated Etsy product research tool that can help you pinpoint in-demand products for your niche. It's a top choice for Etsy Sellers because it goes beyond what you'd expect in a product research tool.
EtsyHunt product research tool
Boost your chances of getting noticed by optimizing your shop and listings for its native search engine.
EtsyHunt gives you access to historical, price, favorites, and review data to give you a behind-the-scenes peek at what's selling on Etsy.
The free search engine optimization (SEO) keyword tool helps you choose the best keywords to use in your product descriptions.
EtsyHunt can also help you write better listings by providing suggestions for titles, tags, and prices.
Why we like EtsyHunt:
Analyze multiple products at once
Receive automated alerts on the latest listings
Instantly research and optimize products, listings, photos, pricing, shipping costs, and more
Manage your Etsy reviews in real time
Optimize Etsy SEO with keyword research and data-based recommendations
"I like that it helps me improve my Etsy shop's ranking and increase its visibility in the market. It helps me research and optimize Etsy SEO, Logo, Listings, Pricing, and more."

Capterra review
EtsyHunt Pricing:
Free plan
Basic plan: $9.99/month
Pro plan: $19.99/month
Team plan: $79.99/month
Best Etsy SEO tool: ERank
Get your products in front of more shoppers with a well-rounded Etsy search engine optimization (SEO) tool like ERank.
ERank helps sellers get more views on Etsy. Its comprehensive features help you master all aspects of Etsy's search engine, including listing optimizations and competitor analysis.
ERank keyword research dashboard
Why we like ERank:
Analyze your shop's SEO and receive feedback on how to improve
Monitor your keyword rankings over time
Discover up-to-date information on top sellers, keywords, and print-on-demand sales
Track your competitors' prices so you can make informed decisions when setting your own prices
"Erank is the sole reason I get all of my traffic. It's a great tool. You just have to learn how to use it. YouTube helps"

Reddit user Shaynon17
ERank pricing:
Free plan
Basic plan: $5.99/month
Pro plan: $9.99/month
Expert plan: $29.99/month
Best Etsy inventory management tool: Craftybase
If you sell physical items on Etsy, you do more than create products. You also manage inventory, fulfill orders, and track shipments — all with the expectation of complete accuracy at every stage.
Want to spend more time creating and less time managing inventory? A good inventory management tool like Craftybase can help you get there.
Craftybase automates your inventory across all sales channels, including Etsy. It tracks your materials and product inventory with real-time data and cost of goods sold (COGS).
Craftybase inventory management software
Craftybased is designed for small-batch Etsy Sellers. Small batch manufacturers are businesses with a total annual revenue of less than $1,123,531 who sold less than 7,501 units in the prior year.
Why we like Craftybase:
Real-time inventory tracking
Streamlined Revenue tracking
Raw materials monitoring with product "recipes"
Ability to record expenses and generate reports for bookkeeping and taxes
Connects with multiple online stores, including Etsy
"I couldn't run my business without craftybase. I run a jewelry shop with thousands of orders per year. I've got over 200 skus with 70 variations each and CB makes it simple to create product recipes, manufactures, and adjust inventory."

Lisa E., Capterra review
Craftybase pricing:
Free 14-day trial
Studio plan: $39/month
Indie plan: $79/month
Business plan: $119/month
Growth plan: contact for pricing
Best Etsy accounting and tax software: TaxJar and Quickbooks
Wouldn't you love to hear the word "taxes" and think, "No problem!" A good accounting and tax tool can automate your sales tax process across multiple platforms.
TaxJar automates tax compliance by collecting the correct amount of sales tax on every product you sell, then submitting your filings and payments for you.
With TaxJar, you'll never experience tax anxiety. The correct tax is added to every sale you make. Record-keeping, filing, and payments are automatically handled for you. TaxJar ensures that your Etsy shop is compliant and that the correct sales tax is added to every purchase.
TaxJar AutoFile example
It only takes one click to integrate TaxJar with Quickbooks accounting software. Quickbooks is an easy-to-use (yet robust) bookkeeping software that lets you track all your business income and expenses.
Why we like TaxJar:
Seamlessly integrates with Etsy
Calculates your sales tax in real-time with over 99% accuracy
Automatically files and pays your store taxes to every state in which you're registered
Provides comprehensive sales tax reports from all of your e-commerce channels
Provides resources and customer support
Easily integrates with Quickbooks
"Calculating taxes for several states and countless municipalities is daunting, TaxJar made it easy."

Tracy H., Capterra review
Pricing:
30-day free trial
Starter plan: $19+/month
Professional plan: $99+/month
Making the most of Etsy Seller tools
Running a profitable Etsy shop requires a balance of creativity and business skills. Whether creating unique products or managing marketing and inventory, successful sellers have a lot on their plate.
With the right tools, though, you can succeed as both a creator and business manager.
In this guide, we explored some of the best Etsy Seller tools on the market. From keyword research to inventory management and marketing, they can help you reach a wider audience and generate higher profits while saving you a significant amount of time.
As you move forward with your Etsy shop, remember that it's normal to feel overwhelmed at times, especially in the beginning. But investing your time into adopting tools that can automate tasks and advise your decisions leads to real value: the freedom to spend more time doing the things that matter most to you and an income that lets you enjoy your free time to the fullest.
The post The 8 best Etsy Seller tools to boost your sales and efficiency appeared first on AWeber.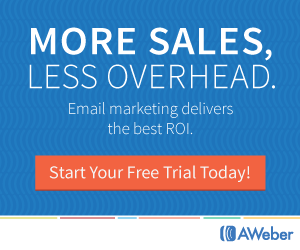 Article link