When social distancing became the new norm, Dori Staehle had to find a creative solution to still grow her business Next Stage Drumming while meeting in-person was impossible.
Staehle is a certified drum therapist who works with adults and children of all ages at in-person classes. "I create specialized drumming programs. I help people focus, feel better, and find their joy! Transforming lives one drum beat at a time," says Staehle.
With the help of AWeber and Zoom, Staehle was able to take her classes online. "I did not miss a beat. I told my private students we are going to do this virtually. They can see me on the screen. I can see them. We can hear each other. We can follow along. It is working well," says Staehle.
Here's how she did it.
Staehle moved her business online when COVID-19 forced people to stay at home.
Using AWeber, Staehle let her students know that she now offers virtual classes through Zoom.
Moving her classes online actually increased her audience. Many of her newsletter subscribers were not local and could not attend her live events. Staehle told them this was the perfect time to attend classes — no matter what part of the world they lived in.
She shared links to her online classes in her email newsletter.
She also included a video about creative solutions during COVID-19. That newsletter happened to get her highest open rate ever — over 50%!
During a crisis like COVID, it's more important than ever to get creative and use technology to your advantage. With email marketing, you can easily communicate with your audience anytime.
If you're struggling with how to communicate with your audience, Staehle has a few tips.
"Don't try and sell all the time. Now is the time to give people some hope. Make sure you are giving them some encouragement and tips. You want to be a giver. You want to be providing good content and information," saysf Staehle.
How a simple newsletter changed awareness for an unfamiliar product
Notifying her students about her pivot to offer online classes is not the first time Staehle has used her newsletters to drive awareness. Drum therapy had only been in existence for about ten years when Stahle started her business. To most people, it was unfamiliar.
"I used my AWeber newsletters to let people learn more about it and build awareness. Eventually, people realized this isn't something weird. It is backed by science and research. Drum therapy has helped people with all sorts of issues, including Alzheimer's, PTSD, depression, and ADHD, " says Staehle.
How Staehle increased revenue with a new product and email marketing
Staehle discovered that a lot of people hesitated to join her classes because they didn't have a drum.
Staehle quickly set up a store on her website to sell drums and ship them wherever her students might live. To increase drum sales, she included a link to her drum store in her newsletter.
Business is starting to pick up for Staehle as customers realize they may have extra time at home due to COVID-19.
The lead magnet that boosted Staehle's email list growth
Staehle used AWeber's integrated sign up forms to make it easy for her audience to subscribe and get her content. She added a freebie (also called a lead magnet) to her form to increase conversion rates.
"Last week, I created a video as my freebie — 'Beating stress in five-minutes or less.' Everyone that signs onto my list gets that video. I thought it was a great way to build momentum, pay it forward by giving someone a freebie, and keep it top of mind with the newsletters," says Staehle.
She delivers her lead magnet to new subscribers with an automated welcome email.
Stahle loves how easy it is to create forms in AWeber. "You can do it yourself. You don't have to hire anybody. It is pretty much cut and paste," said Stahle.
Here's a step-by-step video that will walk you through creating your own sign up form.
How to get traffic to your sign up forms
To get more people to see your sign up form, promote it on your website. But don't stop there! Share it with your audience on social media as well.
"Before AWeber launched landing pages, I created a special page on my website to sign up to get my new content. I also added the sign up form to all my social media platforms. They won't magically find you. You have to let people know you have these things available. You have to find ways to lead them to your website," says Staehle.
Related: How to Add a Sign Up Form to Your Facebook Page
Want to see Next Stage Drumming's email marketing and sign up forms in action? Visit their website.
Try AWeber and start growing your business online.
You'll get everything Stahle uses to grow her own business online — including sign up forms, newsletters, and landing pages.
Start your 30-day free trial today.

The post How This Therapist Moved Her Business Online with Email Marketing appeared first on Email Marketing Tips.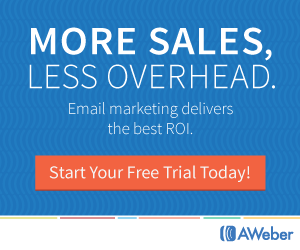 Article link