Have you ever thought about running your own dropshipping business and wondered where and how to begin? Are you reluctant to start from scratch? There is a convenient solution for you specifically: a custom online store! Let's look at it in more detail and discover what a custom dropshipping store is.
What is a custom dropshipping store?
A custom online store is a website made by a skilled team of designers, developers, marketing specialists and other professionals who research and consider individual preferences of each customer. 
Simply put, we set up your online store based on the niche you know and like, products you are interested in, and the design you prefer. 
Our team sets up the store according to your suggestions while making it well-performing from the technical point of view. In approximately 2-3 weeks you will receive a fully functional online dropshipping store based on your preferences and ready to welcome its first buyers. 
Reasons to buy an online custom store
If you have an interest in starting your own online store but are unsure where to begin, there is a simple solution awaiting you. It saves days and weeks of your time and makes it easy for you to run this newly launched business even if you don't have an IT or marketing background! Here are a few reasons why you should buy a dropshipping custom store. 
It has everything you need
By purchasing from us, you receive the complete ecommerce solution. You get a fully functional online store. All the products are already imported. The shopping cart is set up for seamless purchases. We offer the most popular and convenient ways of payment processing, so your customers can use the payment method most suitable for them. 
Your store will perform to its best if you dedicate some effort to its promotion. That is why a range of marketing tools is integrated into the store. Various options like discount coupons, product reviews, subscribers lists, emails for abandoned carts, etc. will be available to you. 
These are probably the main reasons why people all over the world are buying our custom stores. 
To obtain a business like this, you only need to make a one-time payment with NO: 
regular fees for the right to own the store

sales commissions eating away your profits

fees for processing payments 
So, the only recurring fees for a dropshipping store owner will be domain and hosting payments: they are necessary if you want your website to be connected to the internet.
By ordering our custom dropshipping store, you get full ownership of it. You might be in a little bit of a surprise hearing this, but other platforms keep control of the stores that they create for their customers. You can be sure that this is something that you won't encounter with us.
Since the store is under your full control, it's up to you to decide which products to sell, how to advertise them, and which growth strategy to choose. There are no restrictions on the number of orders or the volume of sales, the store design is also tailored to your taste as much as possible. You can always put new banners and pop-ups on your store pages, add or edit texts and images, and stay in full control of your store's content. 
If you wish, you can always profit from selling your store to a new owner.
We will create the store based on your preferences. You will receive constant support from our side during the customization process, from the moment we decide on the niche together, to creating the store design elements. 
Our specialists have devoted their time to create the best possible themes for online stores. Your store will be created based on one of these exclusive mobile-friendly and customer-oriented themes. Through careful researching and testing, these themes are catered to generating sales and increasing profits. 
To this day, our skilled specialists update themes to find new ways to reach the highest industry standards. 
It's hard to keep track of all the data and manage an online store manually. To simplify this process, we have created some automated features to help you out. 
Once your custom store is complete and you receive its login details, you will have access to the all-in-one-dashboard. It will allow you to overview the performance of your store, keeping track of sales, orders, and the statistics on other activities. With this information, you will always know in what direction your store is heading, and what actions you need to take to improve the results. Along with the mentioned above features, we have automated store promotion and order fulfilment. 
We managed to automate the most challenging aspects of dropshipping business management so that you won't experience any difficulties running your online store. 
Nowadays everyone has a smartphone or tablet, and not all internet users shop through their personal computers. Making sure that your website is adapted to these devices is a must in today's world, otherwise, you will lose out on a lot of potential customers. 
Buying a dropshipping custom store from us, we ensure that this is taken care of. You receive a mobile-friendly online store that is fully optimized for any users' devices.

What happens when you buy a custom store?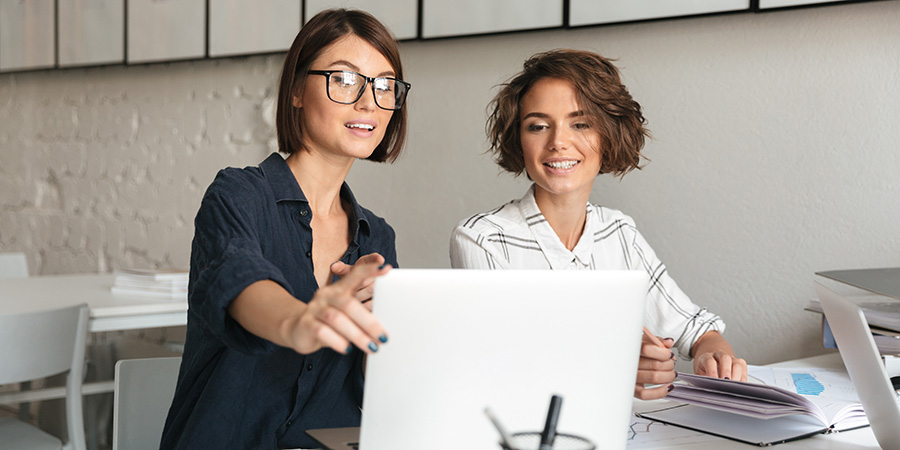 Here's what you'll get after placing your order for a custom store. 
After you've ordered a custom store, it won't take long for a personal manager to contact you. He or she will closely guide you through all the processes. 
To monitor the status of your website's creation, you will be added to the appropriate project on Basecamp. 
Your constant feedback is very valuable to us, that's why through Basecamp, you will be able to leave comments, ask us questions, and specify your needs. This way you will be able to manage the creation process of your customer store. 
Installation and maintenance
Don't worry about this part: you won't need to overlook or control this step. The responsibility for the technical part is fully in the hands of our specialists. 
To keep it brief, at this stage, we purchase the domain, set up hosting, install all the necessary plugins, set up payment gateways, integrate analytical tools and add contact information. 
This part is probably the most challenging in the dropshipping business. The goal is to find a niche that will be competitive, easy to promote, and most importantly, interesting to you personally. 
Making a business out of what you are passionate about is everyone's dream. And if you have already chosen a niche, that's perfect! You'll only need to make sure the niche is neither too broad nor too narrow: that's the key to dealing with a healthy level of competition and a sufficient amount of customers. 
So, if you are unsure about a niche that is best suitable for you, our analytics specialists will assist you with this part. They will select a niche for you based on several factors, such as trends, SEO, etc. 
Making sure your store is filled with the right products is essential for our team. We find the most popular and highly demanded products on AliExpress and add them to your store. The chosen products will surely be appealing to your customers, as they are picked out based on strict criteria. And thanks to the AliDropship plugin, you will be able to add more products by yourself whenever you want it and set the preferred price with the built-in markup formula. 
It is necessary to pay attention to this because your profit depends on the prices you set. Your profit is the difference between the original price of a product on the AliExpress store and your store.
Creating custom design elements
Like we said before, the design is taken care of by our expert specialists. They ensure that your store appearance is optimized to provide the highest conversion rate possible. You can choose from multiple themes that AliDropship plugin offers. Additionally, we will supply you with custom logos, header images, and favicons. 
All of these features help your store stand out, making it unique. These elements are created from scratch every time and are influenced by your personal preferences. 
To make internet users buy something from you, it's vital to let them know about your store's existence first. That is why marketing plays a crucial role in your business success. We heavily rely on marketing instruments like SEO and SMM.
Search engine optimization (SEO) increases the amount of organic traffic, which is important to any ecommerce business. Social media marketing, in turn, lets you create a specific brand image online and reach wider audiences of potential customers. So, we make sure that our custom stores contain multiple elements that make it easier for you to promote them by means of SEO and SMM. 
Custom store packages you can choose from
Depending on your needs, you can choose any of the following custom store packages: just pick the one that suits your business situation best!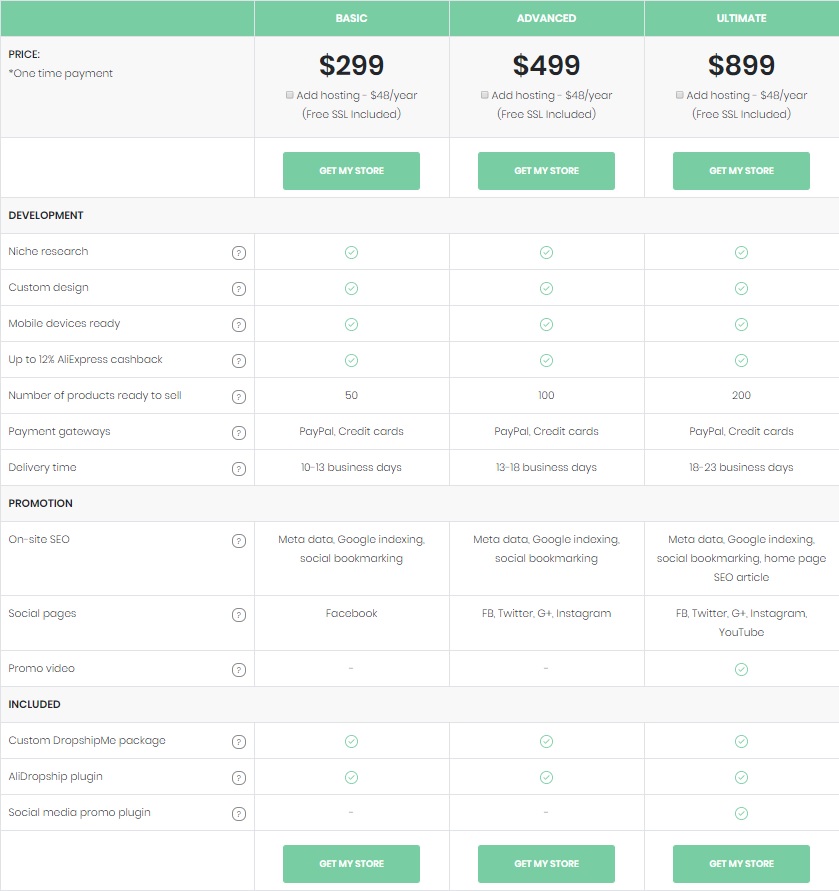 There are 3 packages for you to choose from: Basic, Advanced, and Ultimate. Their cost and contents are quite different – however, there are universal components included in every package:
one-time payment

AliDropship plugin

pre-imported products

full development assistance

niche research

custom design

mobile optimization

AliExpress cashback
You can also make use of our hosting solutions that are specifically tailored for dropshipping businesses and make sure that your store performs to its best.
In conclusion, when you order a custom store from us, you receive:
A personal manager's assistance
Our managers will take care of the organizational aspects. They will coordinate other specialists' work so that you receive your store in due time. They will be happy to provide you with information about the current stage of the development of your custom store. 
For us, it is of utmost importance to take into consideration all of your needs. Think about how you want to see your dropshipping store, and tell us every single detail that comes to your mind. We will do our best to explain how to make your dreams come true!
You'll be able to see how work is going and communicate with us at every stage of your store creation process. 
As soon as your dropshipping store is ready, your personal manager will contact you and provide you with all the extra information you need. You will receive guidelines and instructions on the store promotion and management. 
If you run into some kind of trouble, our specialists are just a click of a button away from helping you. You can contact them at any time. And the best part is, if you've ordered the custom store from us, you receive lifelong support! 
So, are you ready to start your own dropshipping business? Let us create a perfect store for you from scratch. 

Remember that you receive all this for a one-time payment. You order the store, we create and set it up, all that is left for you to do is start promoting it and making a profit. We offer you everything that you need to succeed.

The post Custom Stores: Your Easy Way To Start A Dropshipping Business appeared first on Dropship ME.