Email marketing is an efficient and cost-effective way to promote products or services. Most people check their inbox daily and can do it at the most inconvenient time and place possible, for example, while eating or even working out. Email marketing has also proven to be a very convenient method not just for communicating and building a relationship with customers, but also for finding new ones.
In this article, we have gathered a few email marketing ideas that you may find interesting if you wish to integrate this marketing strategy into your business. To be more specific, we will cover several email marketing services. Though, before we touch on that, let's see what exactly are the benefits of email marketing that make it so desirable for online business owners.
Why do entrepreneurs look for the smartest email marketing ideas?
Thanks to email marketing, entrepreneurs can achieve the following:
Build a better brand image
Make sure their customers are informed about their products and services and encourage them to come back for more purchases
Build a stronger relationship with existing customers and attract new ones
Benefits of email marketing
Email marketing allows for direct communication with your customers consistently. Not only does this strengthen the relationship between consumers and brands, but creates a unique approach where consumers are treated as individuals, instead of like everyone else. Here are the main benefits of email marketing:
A big advantage of email marketing is its lower costs compared to other marketing instruments. It is also constantly stated that it has the highest return on investment. As specified by the Direct Marketing Association, for every $1 spent email marketing brings in $40.
Targeted and personalized messages
With email marketing, you can easily implement the segmentation of your customers and personalize the content they receive. This means that you can send your messages to a specific group of people based on their preferences and depending on their personal information, like purchase history, location, demographics, etc. Making sure that customers will receive the content tailored to them, you will increase their level of engagement with your brand.
Email marketing is a great instrument for boosting your sales. How does it work? It can be used as a means for announcing new sales and offers. They can be holiday-themed or seasonal, it doesn't matter, but make sure that design is appropriate. How else can you increase your sales? Remind customers of the items left in their shopping cart and inform them of additional items that can go along with already bought products. Online shoppers often lean towards buying something based on previous purchases. This makes email marketing a great instrument for triggering impulse purchases. Combine that with a relevant promotion or a special offer/discount and you are sure to boost your sales.
How to collect email addresses?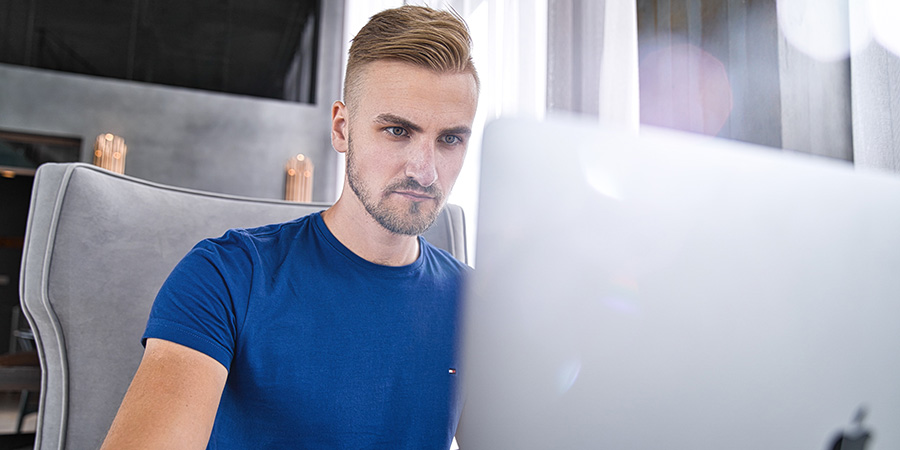 Now that you are aware of the possibilities of email marketing, you might be wondering how to get the emails and where to store them? There are a lot of ways to collect them, in this article we will take a look at the most effective one.
So, don't postpone this task for later! Take care of your email lists in the first steps of your business. We recommend the material on this theme from isitwp. In this article, they give some useful tips and step-by-step instructions on how you can create your own email lists and why you need to create them.
Pop-ups
Those little banners that come out of nowhere when you're scrolling through a website are pop-ups. If you've run into them, you must know how annoying they can be at times. So, like everywhere else, there are certain rules you must follow to get the best out of this handy tool. Here are a few tips for making your pop-ups effective:
Make sure to deliver the right message
Don't just make empty boxes with the option of leaving an email. Give your potential customers something in return: offer discounts, provide useful tips and guides or ask for their advice on how to improve your website or service.
Don't forget that pop-ups appear at a specific time. There is no clear answer about what is the perfect time, but it is recommended that you analyze how much time people spend on your page on average and divide that number by 2. For example, if a visitor spends 50 seconds on your website, your pop-up should appear at the 25-second mark.
Do not place a lot of pop-ups on one page
There is a point to where more than 2 pop-ups become so annoying that visitors leave the site without giving it a second thought. So, you must be careful when implementing this option, as you're risking losing customers. Ideally, a website should have no more than 2 pop-up notifications and they should appear at absolutely different times.
Check how your pop-ups look like
Take a look at how your pop-up windows look on different devices. It is recommended that two versions of them should be created: one for desktop and the other for mobile devices. If you do not do this, there is a huge risk your pop-ups won't be shown correctly, which will result in the loss of customers. While you're at it, make sure that the "Close" button works properly, because if it doesn't, people will get annoyed, and again, you risk losing out on customers.
How to get these pop-ups for your website?
There is an easy and efficient way for you to implement this email marketing strategy into your business. If you are wondering where to find such a service to collect emails from your site's visitors, take a look at Lead Generation Popup Setup.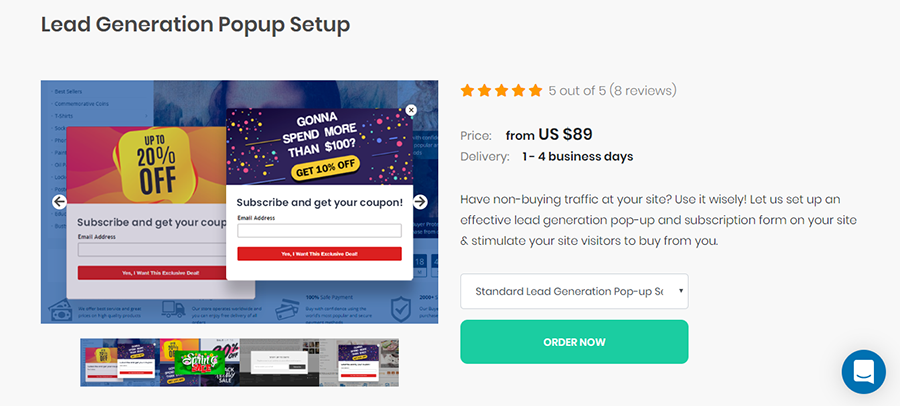 What are the benefits of the Lead Generation Popup service?
You take a proven path to effortless sales
Your store is 3X more attractive to visitors
You save your precious time (up to 8 hours)
No coding or marketing skills needed
With this wonderful service, you can easily reach out to your customers and collect their emails.
What is included in this service?
Setup of a bright pop-up by MailChimp on your site
Additional signup form setup in the footer
Coupon creation
Welcome message with a coupon for leads in MailChimp
Pack of designs for future pop-up customization
This a very effective marketing tool with the help of which you will create the foundation for direct interaction with your audience through email marketing.
Where to look for email marketing ideas?
Now that you have gathered emails from your visitors, you need to put them to good use. For this, there is an additional service: Email Marketing Setup. This is a service that sends unique and compelling automated emails which are called follow-ups. They effectively promote your products – and boost sales!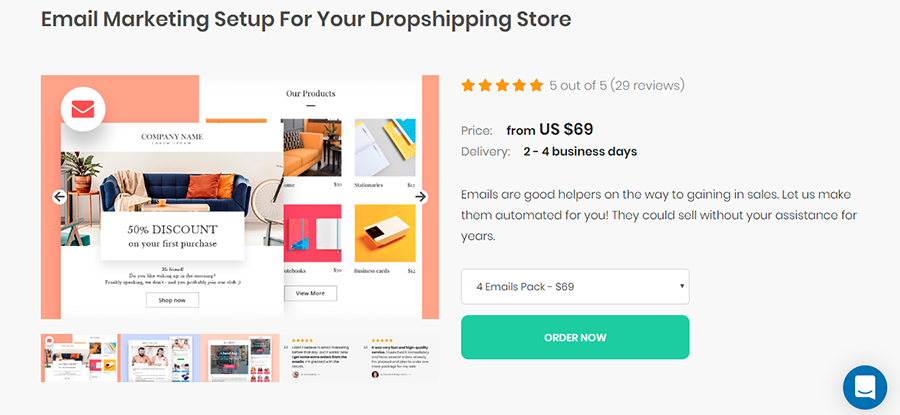 What are the benefits of this service?
We take the whole process off your plate
You gain up to 20 hours of free time to focus on your business
You get orders without any effort
Automated emails work for years to come
You get more sales and repeat buyers!
What is included in this Email Marketing Setup?
Responsive follow-ups in MailChimp featuring products/categories of your store
Custom email templates that you can use in your future promotions – which saves your time & money
Guide to follow-up creation in MailChimp
This is an effective email marketing tool at an affordable price. Now all of your collected emails will be put to good use.
Successfully implemented email marketing ideas will help reach amazing results. A combination of the two mentioned services will lead to a prosperous email marketing strategy. Email is one of the most effective marketing channels, if you still haven't integrated it into your business, now is the time to do it.

The post Smart Email Marketing Ideas For Your Internet Store Promotion appeared first on Dropship ME.