GetOrganizedNow.com helps people live healthier, happier, and more productive lives by providing tips to help them get organized.
The site's founder Maria Gracia has successfully grown her email list by offering visitors free, valuable content in the form of e-books, checklists, challenges, articles, videos, and print-ables. She also strives to offer relevant products through affiliate links in her emails.
However, Gracia learned that a large list by itself doesn't generate revenue. And consistently offering fresh, relevant products to earn income takes a lot of time, energy, and financial resources. That's why Gracia co-markets her products — and the products of other like-minded entrepreneurs — through AWeber's integration with ClickBank.
ClickBank is an affiliate marketplace that allows entrepreneurs to earn income on commissions of other people's products that they promote and sell. It is a win-win both for the product owner and the affiliate promoting the product. Not only do both parties earn revenue, the affiliate saves time finding products they know their audience will love.
It all starts with an awesome lead magnet to grow your list.
Gracia creates new content every few months by regularly following current trends and observing what other small businesses offer as lead magnets. She currently offers two free resources to help people survive and thrive while social distancing.
Her audience has been grateful for the free content, and GetOrganizedNow.com has experienced a nice bump in its subscriber growth.
"Instead of just offering our free newsletter, we have found that offering different resources, like the COVID-19 guides, are not only very timely and needed right now, but they are working really well to help grow our list," says Gracia.
Place signup forms everywhere you can.
Gracia mentions the free resources on her website and social media channel.
There is not a single page on GetOrganizedNow.com where you will not find a link to a sign up form. The AWeber sign up forms detail the content subscribers will receive and includes an attractive image to catch their eye. Gracia only asks visitors for their email addresses to keep the process as streamlined as possible for people to be added to her list.
Gracia encourages subscribers to share her free resources and tips with family and friends, and collects additional email addresses through a sign up form link in her newsletter.
Related: 16 proven sign up form ideas to grow your email list.
Automated emails welcome new subscribers.
Gracia welcomes each new subscriber with an automated welcome email that details what they can expect as a new subscriber to GetOrganziedNow.com.
"I can't imagine a business without email marketing. And if you don't have a newsletter or some kind of free content to offer your list, people may leave or find valuable content elsewhere. I think that's such a disservice when a business doesn't have an email newsletter list,"says Gracia.
Related: How to write the perfect welcome email in under one minute.
Co-marketing with affiliate partners can increase your revenue.
Three essential pieces have all come together to grow the GetOrganizedNow.com business.
Free content to grow their email list
A free daily newsletter that recommends a product of the week
Revenue from the weekly showcased product
It can be challenging to keep your product line fresh and varied enough to be a regular revenue source. GetOrganizedNow.com has found co-marketing with other entrepreneurs helps to supplement its own product line. GetOrganizedNow.com helps to promote other companies' products, and other companies promote their products in return.
"When it comes to co-marketing, everything is very transparent, and it's working out well for us. Co-marketing, as with everything else, takes a little bit of enthusiasm and a little bit of work to find the right products and partners. It's just a matter of building relationships, and it can be a slow, but worthwhile, process. Sometimes you find a partner that is amazing for you," says Gracia.
How repetition and a sense of urgency in email marketing generate sales.
Each week GetOrganizedNow.com showcases a new product. They feature the same product throughout their daily emails that week.
The product of the week is showcased daily with a short description and a visual.
Gracia writes a detailed description of the product and the specific limited-time bonuses offered.
On the 6th day, the graphic is changed to read: "24 hours left."
On the 7th day, the graphic is changed to read: "4 hours left."
GetOrganizedNow.com found a daily email with a sales expiration countdown to be very effective. "There are two emails that go out, one at 24 hours left and one at 4 hours left. Those two emails alone nearly quadruple the sales that we've gotten earlier in the week. It creates a sense of urgency. And our readers have expressed that they appreciate the reminders. I'm helping to organize the people who want to get organized on my list," says Gracia.
Select your co-marketing partners carefully.
GetOrganizedNow.com is very careful about companies they work with to ensure that their product is represented correctly.
"We want to make sure that people understand who we are, and our mission to help people get organized. We don't just want to sell stuff. We want to make sure our product or the affiliate product we are co-marketing helps the person who is purchasing it," says Gracia.
For example, during the COVID-19 pandemic, many people focused on their yards and landscaping while they were sheltering in place. One of the affiliate products that GetOrganizedNow.com decided to showcase was a program on landscape designs.
Use email to connect with your affiliates to sweeten the deal.
GetOrganizedNow.com sends out a monthly contest. Gracia offers cash rewards to encourage affiliates on her email list to promote her product.
Finding affiliate products is easy with integrations like ClickBank.
ClickBank is a global retailer and affiliate marketplace. You can submit your product for other affiliates to sell, or select products to sell in your newsletter. It is essential to select products that you feel will resonate with your audience.
AWeber's integration with ClickBank makes co-marketing and affiliate product promotion incredibly straightforward. You select the product and get a link to put it in your newsletter or on social media. When a member of your audience purchases that product, you receive a commission. Commissions vary by product, but generally, they are around 50%.
"So it's a win-win situation for everybody. I think ClickBank is wonderful because, especially with a lot of new businesses, they don't have their own products. I can't imagine only having my own stuff to sell, it's just not enough. You have to offer people a wide range of products. I highly recommend it because it's another income source for businesses," says Gracia.
Keep your newsletter fresh and current.
GetOrganizedNow.com regularly tests and evolves its newsletter format. They used to send out a lengthy email once a week. They have recently adjusted the frequency to daily and also significantly changed the format.
Name change
The name of the email has changed to "GON in Five Minutes!" Every single newsletter sent can be read in five minutes or less, and they even include the exact time that a particular newsletter will take to read.
One piece of rich, organizing content
Each newsletter contains one essential organizing tip, guide, or step-by-step process. The content rotates between an organizing checklist, organizing strategy, a reader's question, or the reader's suggestion on how to get organized.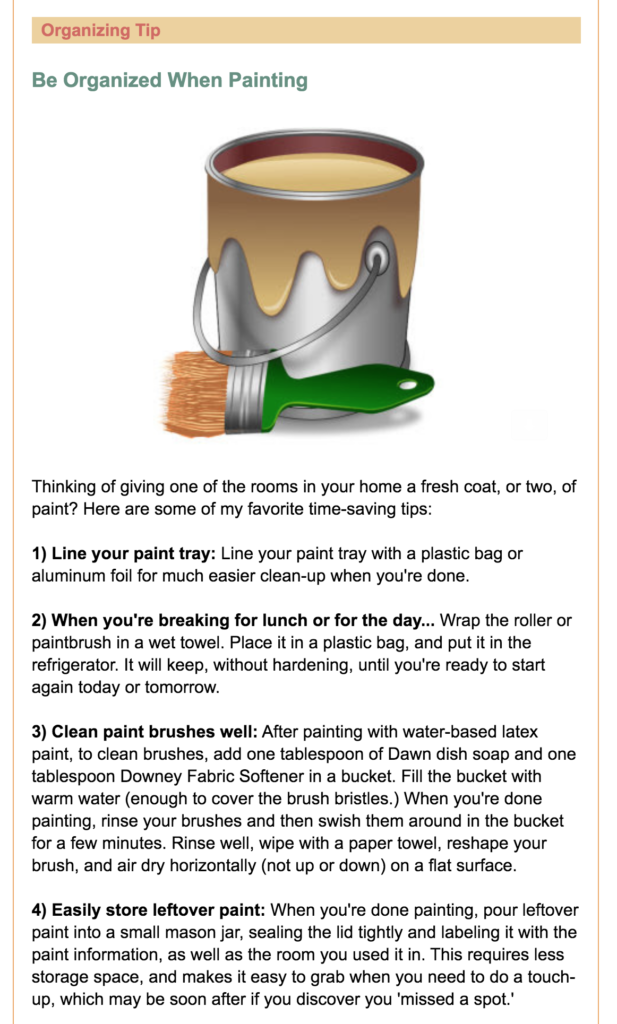 Free resources
Every newsletter includes links to the free resources that are available to subscribers. GetOrganizedNow.com follows trends and adds new topical, downloadable resources every few months.
Promoted product of the week
One product is promoted throughout the entire week. The product showcased is either a product they own or an affiliate product from ClickBank or a co-marketing partner.
What's new
Since not all of their subscribers read every daily email, GetOrganizedNow.com lists new content that was recently added to their website.
Closing message
Every newsletter includes a closing section with an inspirational quote, and a short message from Gracia encouraging her readers to connect with her and to share her content with family and friends.
Email helps build long-term relationships with your audience.
Reaching people today is harder than ever because there are so many communication options available.
"But in my mind, email marketing is still King. Without it, we wouldn't have a business," says Gracia.
Email allows GetOrganziedNow.com to build and maintain a strong relationship with its people. They have thousands of subscribers who have been receiving their newsletter for over 19-years.
Connect with your audience and start growing your email list today!
In your AWeber account, you'll get everything you need to grow your own business online — including sign up forms, newsletters, landing pages, access to our award-winning customer solutions team and a library of hundreds of integrations to connect your AWeber account with commonly used business systems and services. Start your 30-day free trial today.
The post A Large Email List Alone Doesn't Generate Revenue, But Leveraging Affiliate Relationships Does appeared first on Email Marketing Tips.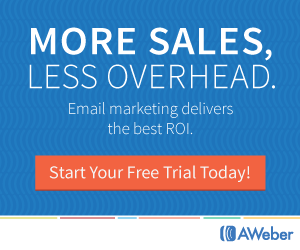 Article link