Have you ever wondered if you're using the right tactics to market your business?
You're not alone. That's why we analyzed 1,000s of emails from 100 of the top experts — the best of the best. Their email strategies engage thousands and drive millions in revenue. Many of them see unheard of results (like 80% open rates and 30% click-through rates).
"Should you capitalize your subject line?" was one of our questions.
Let's take a look at our findings.
The 3 capitalization formulas for email subject lines
To find out how top marketers use capitalization in their email subject lines, we examined the subject lines from our 100 experts to see if they relied on a particular capitalization formula.
We found 3 common formulas:
1 – Sentence-case capitalization (the first letter of the first word is capitalized)
2 – Title-Case Capitalization (the first letter of every word is capitalized except for articles like "the" and "an")
3 – all lowercase capitalization (every letter is lowercase)
As an example, here is the same subject line with these 3 different formulas applied to it:
Sentence-case: This is an email subject line
Title-case: This Is an Email Subject Line
all lowercase: this is an email subject line
How experts capitalize their subject lines
60% of email subject lines use sentence-case capitalization, 34% use title-case capitalization, and only 6% use all lowercase email subject lines.
Are lowercase subject lines an underused secret?
The majority of the experts we analyzed use sentence-case capitalization. But a few experts consistently send emails with entirely lowercase subject lines, like email marketing expert Val Geisler. Geisler is a freelance consultant and writer who specializes in email marketing, and we analyzed her emails for our research.
Geisler points out that people are more likely to open an email if it's from a personal connection or friend.
"If you're writing an email to a friend, are you going to title-case the subject line? Probably not. You likely won't even use sentence-case capitalization. I write my emails like I'm writing to a friend so my subject lines follow the same principles.

Does it work? I'll let my 80% open rates and 30% click rates speak for themselves."

Val Geiser
Email subject line capitalization case study
John Oszajca founder of Music Marketing Manifesto, an online consulting business that teaches musicians how to sell and promote their music, wanted to test this for himself.
Oszajca has been capitalizing the first letter of his email subject lines for years. Yet, he wondered whether this was giving him the highest opens and clicks possible.
So he used a simple tactic to find out.
The test
To test his assumptions about subject lines, Oszajca set up an email split test.
He created two identical versions of a promotional email for his upcoming "Copywriting for Musicians Workshop." Both versions warn subscribers that this is their last chance to register for the workshop.
In his first email, he followed his typical formula of capitalizing the first letter of his subject line. He also capitalized the first letter in the second clause.
Subject line #1: Last chance – This ends tonight
In his second email, he didn't capitalize any letters.
Subject line #2: last chance – this ends tonight
The results
Oszajca's split test results revealed that the subject line with lowercase letters got 35% more opens and clicks!
"It was fun to test certain things that I have been doing for years based on gut."

John Oszajca founder of Music Marketing Manifesto
But now he has data to back up his process, he says, and a deeper understanding of his subscribers' behavior.
Related: 6 Email Split Tests You Can Set Up in 1 Minute
Now, find out what your own audience prefers!
Want to know what kind of emails lead to the best performance with your own subscribers? Use AWeber's split testing feature to find out. (Don't have AWeber? Sign up for AWeber today)
The post Should Email Subject Lines Be Capitalized appeared first on AWeber.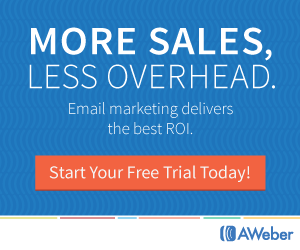 Article link