Keyword research is a process of searching for common and high-ranking terms – single keywords or keyphrases – and using them for search engine optimization of your content. 
Keyword research is highly important for the visibility and acknowledgment of your content. It supports better ranking on the particular search engine and enhances the visibility and traffic of your site. 
Satisfying keyword research enables you to target and attract your audience much more quickly and rank higher on Google or another SEO engine. Today, many platforms will offer keyword research services for free and give you a chance to tailor your unique keyword research by comparing the keyword relevance, volume, and competition.
In this article, you'll learn everything there is to know about how to do keyword research for SEO and how to find the best keyword research services.
How to Conduct Keyword Research?
There are many ways to conduct a keyword analysis, but the most common is to use a platform that enables these services. Ahrefs, SEOReseller, SemRush, or Hubspot are only some of the widespread platforms offering keyword research services.
You shouldn't worry about nailing the process, since the basics for keywords research always stay the same. However, to learn how to conduct keyword research for SEO, you need to be acquainted with the entire keyword research process.
Following are some of the basic steps and phases of how to do keyword research:
Consider Relevant Terms, Related to Your Business or Industry 
You can precisely define the most frequently used terms in your industry and gradually filter out the particular keywords that will be approved by the search engine.

Expand Your Topic with the Most Common Phrases Used for That Query 
When conducting SEO research online, the keyword is your priority. Think like your customer, not like a robot. People usually type in phrases instead of a particular keyword. That keyword can sometimes even be a part of the phrase.
Examine All Related Phrases at the Bottom of Your Search Engine
Google also suggests a list of associated terms and sentences at the bottom of the page. Moreover, a web-based app called 'AnwserthePublic' can provide you with three free pieces of keywords a day – in the form of common phrases that are related to your niche. 
Estimate the Volume and Strength of Each Keyword Found 
Try to assess the volume in which the particular keyword is used and estimate how often people use it for similar queries.
Do a Final Revision of Your Customer's Intents and Your Business Ideas
Don't let yourself get a distorted picture of what your customer wants. Go over the terms and phrases they'll ideally use to find your content and ensure you are working with winning keywords and phrases. 
As we've mentioned, many tools provide keyword research services. You can make a fair comparison between them by inspecting the customer's reviews on each. Some of the most popular ones are KWfinder, Ahrefs, SamRush, Hubspot, Uber Suggest, Ad Word Planner, and more.

You can even use this strategy or tools to group keywords for silo pages. 
And now, let's move on to the reasons why keywords are essential for SEO research and content optimization.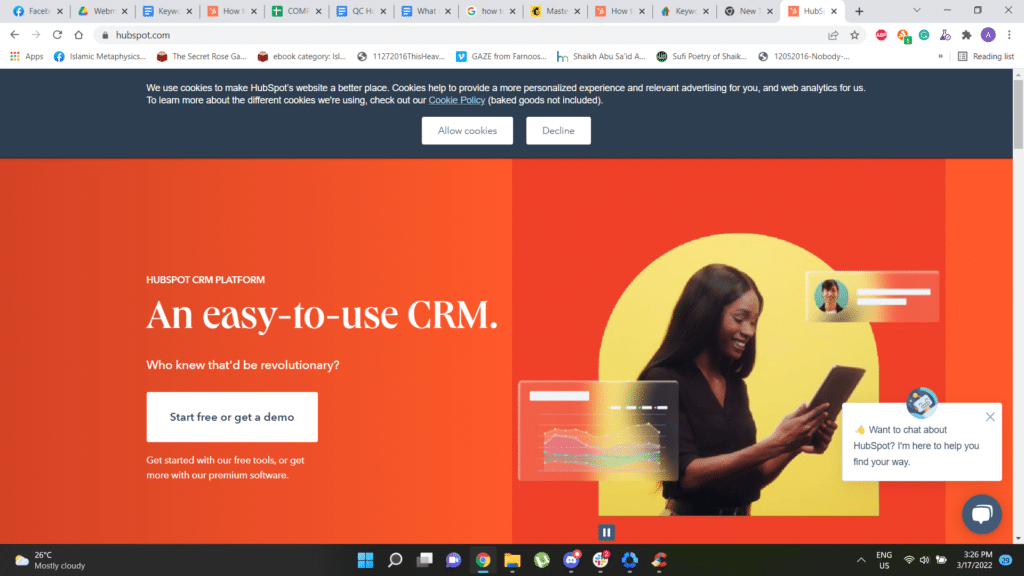 Things to Consider While Choosing the Right Keywords for Business

There can be many factors to consider when choosing the right SEO keywords – but the most commonly accepted pattern is Relevance-Competition-Search Volume.

These three components will be crucial to you in finding the right keywords which will elevate your content to a higher search engine ranking. 
Many platforms offer different keyword research tools following these three main principles. The factors are crucial because they combine quality and quantity into a single keyword strategy.
Relevance gives your keywords industry reliability. Competition analysis will make your keywords unique and plausible. The search volume will guarantee your keywords enable the planned traffic.
However, before you do all of this, you must analyze your user's intent and how it relates to the specific keyword. So, it is relevant that you do brief research of the related terms, idioms, words, and phrases that apply to your content. 
In recent years, quality keywords took the primate over quantity keywords.
But unfortunately, your customers' intentions don't always correspond with the particular keyword, and you would have to place yourself in their skin to find the right word. 
You'll find this and everything there's to know about choosing the right keywords in our in-depth analysis of these three factors. Read on to learn how each of them improves your site's ranking and traffic.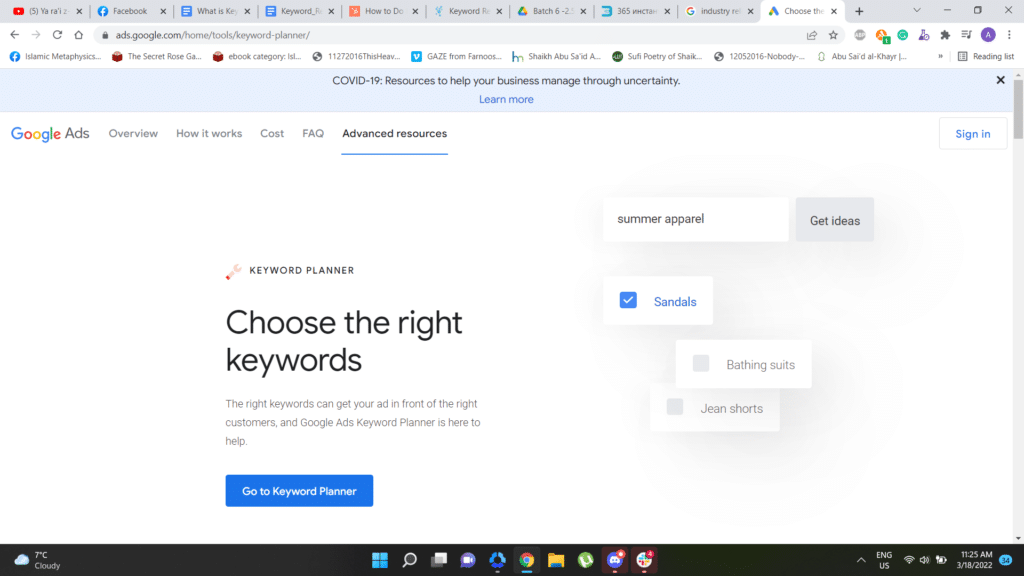 Relevance
You don't want to target keywords that will bring you the wrong customers. By choosing a keyword that doesn't suit your industry, you may end up in the search engine of some uninterested customers.
It's like you if you are working with automobiles, but your website is regularly visited by farmers searching for combined harvester components.
That's why Google, for example, ranks content by relevance and thus significantly decreases your chances of choosing an irrelevant keyword.

Here are some simple questions on how to research relevant keywords:
Is your keyword aligned with the

customer's intent?

Customers' intents sometimes overlap with keywords you have identified.
Is the

search

specific or broad,

and how much will those

particular customers benefit

you? Do you need these particular keywords or are there may be others that will bring you greater results? 
Are your potential customers ready to buy?

Some tools like SEMrush, for example, have an estimation of whether specific keywords are used for commercial, informational, navigational, or transactional purposes.
Competition
As in any business environment, half of the answer to how to conduct keyword research lies in your competition.
If, after estimating the relevance of each keyword you researched, you've realized that your competitors are Wikipedia, Amazon, or Walmart, your top-ranking chances are near to zero.
However, you can use plugins like MozBar, for example, which will give you exact info on each Domain's Authority (DA) – and you'll be able to compare it with yours. Sadly, if you're between 10 and 15, you can't compete with websites with 90 DA.

So, you'll naturally search for the once in your range of authority.
Title tags are also another competitive aspect you should consider when thinking about how to do SEO keyword research. If you have the same title tags as your competitors, they might put you up against them, and so, your chances to rank higher on the search engine will be significantly reduced.
Choosing different title tags can be crucial for tackling your competition.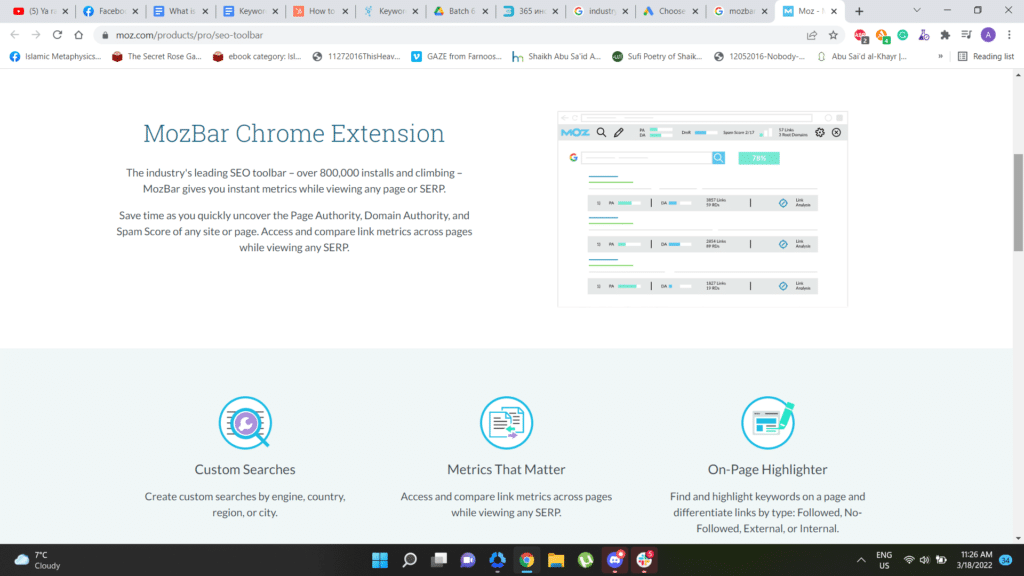 Search Volume
The search volume is an essential component when conducting online keyword research. The search volume is a feature that almost all tools have. It gives you precise info on the frequency of the searched keyword and the amount of traffic it can bring your site if you decide to use it. 
The volume is usually calculated as Monthly Search Volume (MSV) or the number of times a particular keyword was searched online. This will help you avoid using keywords only for ranking while nobody's searching for them. 
This is a commonly made mistake, so try to estimate the search volume before deciding on your final keywords list.  
Tools for Keyword Research 
You can download and use many online tools to conduct your keyword research in SEO. The most famous tools are the Google Search Console, Ahref, SEMrush, the Adword Planner Tool, Uber Suggest, etc. 
They all have the same features but with different names and terminology. Once you master one of these tools, you'll be ready to work with almost any other keyword research platform. 
Some tools can be utilized for free, while others demand a fair price depending on whether you're an individual, a minor team, or a more prominent organization. 
These tools will provide you with information on search volume, relevance, authority, creating plans, gathering insight into trends, predicting future keywords usage, etc.

Some of the tools can also be integrated with others, but each functions perfectly by itself, too. 
Most of them can be used for free (Adword Planner Tool, Ahrefs, SEMrush, etc.). However, their subscription fees will enable you many more features and the chance to conduct your unique SEO keyword research.
Following are our top tools for conducting SEO keyword research.
From SEMrush
With a database of more than 20.3 billion keywords, SEMrush offers a 'Keyword Magic Tool' for SEO research. You only need to type in the specific keyword, and the tool will instantly display on your screen the Intent, Volume, Trend, Keyword Difficulty (KD), etc.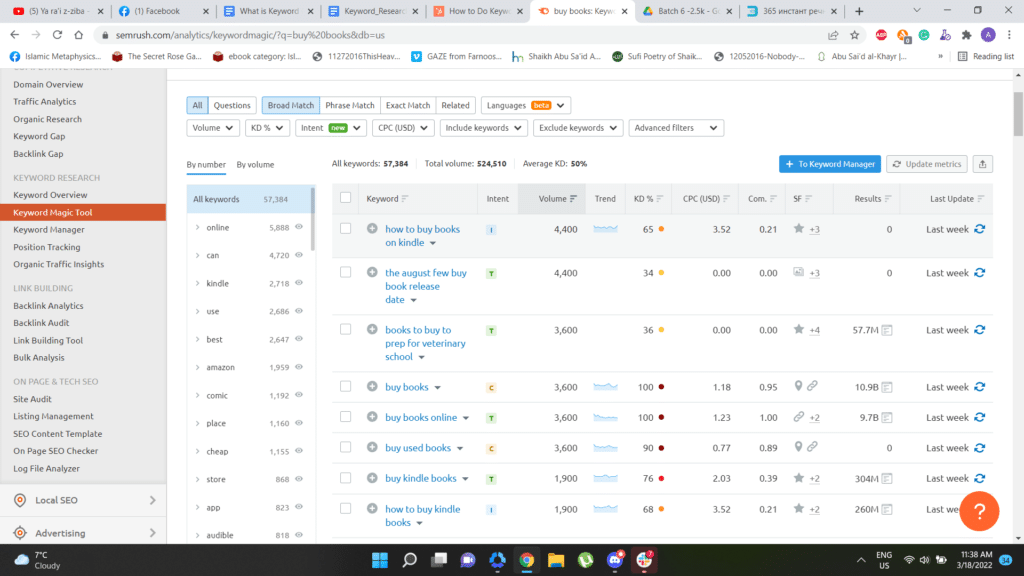 The SEMrush tool can also enable keyword planning and other managing activities.
You can use it as an individual, a small team, or a fully-fledged company, and it has different prices with different features available.
You can also create an account for free and use the essential SEMrush tools to do your keyword research analysis. The SEMrush Keyword Research Tool also has an SEO Audit tool that can help you scan your site and give you suggestions on how to improve your keyword structure based on the latest changes. 
To track competitors' keywords and changes in domains, you can take advantage of the 'Organic Traffic Insights.' This tool will allow you to build reports based on historical data as well as current trends. In addition, organic Research will enable you to determine your competitors and how competitive your keywords are precise.
At last, the SEMrush magical tool provides organic traffic insights and multiple filters to narrow the choice of keywords. The software gathers information from Google or Bing and creates its database from where you can analyze your keywords.
You can adjust the settings depending on your industry and specific products or services, thus guaranteeing better traffic and attracting the right customers.
From Ahrefs
Ahrefs is yet another SEO tool that gives you plenty of options on how to do keyword research and increase your site's traffic. 
Before doing anything else, to use the platform, you'll have to sign up at the official website and get a glimpse of what this tool has to offer. Interestingly, Ahrefs incorporates more than ten search engines across 171 countries worldwide. 
This means thousands of keyword suggestions, precise keyword difficulty assessment, and accurate search volumes. 
You can start doing your SEO keywords research using the 'Keyword Research 3.0 Beta' tool, located right above your dashboard, on the top of the screen. This tool will enable accurate search engine results because you can adjust them to Amazon, Bing, Yahoo, Youtube, or Google.
Moreover, after typing the specific keyword, you'll get insightful data on:

Keyword difficulty

Search volume

Clicks and

Global Volume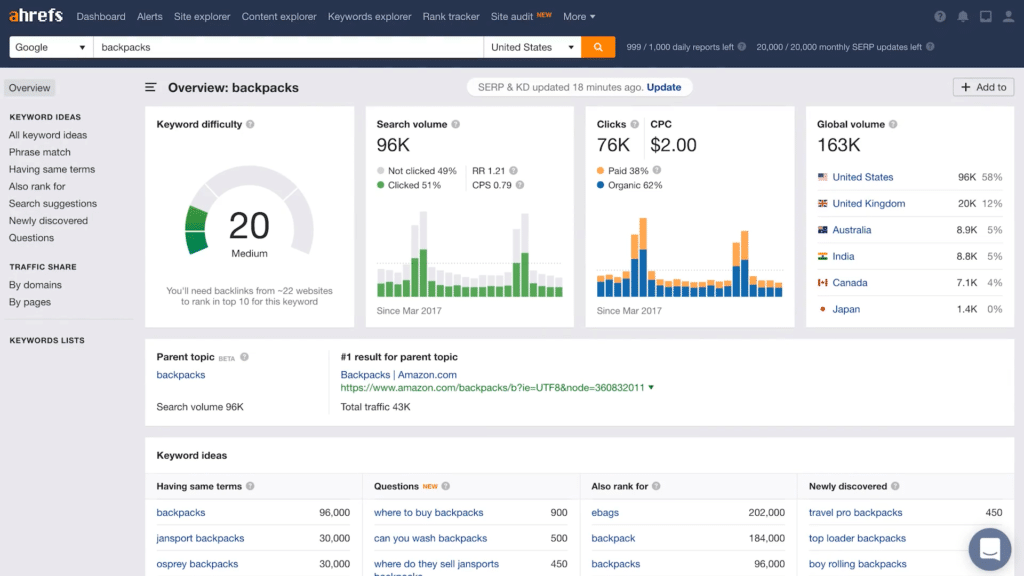 These four keyword-ranking categories will give you a clear picture of how much traffic a specific keyword can bring and what you can do to improve it. 
Furthermore, you can use this tool to enter specific URLs, and the system will generate you a list of keywords that the competitor's site uses. 
The tools in Ahrefs are divided into:

Site Explorer

Keyword Explorer

Site Audit

Content Explorer

Rank Tracking
They are all critical in how to do SEO keyword research and ranking your page among the top query results. The tool can be used for free, but for more in-depth research and features, you'll have to pay a symbolic fee.
From Adword Planner Tool
Google is another company that provides a fully-fledged 'Keyword Planner' where you can assess the relevance and search volume of your keyword as well as the competition.
The Adword planner tool is very easy to use. However, you'll have to register your account and you can use the planner for free. Once you've done this, you'll get two options – Discover new keywords & Get search volume and forecasts.
By clicking 'Discover new keywords', you'll get another two options – Start with keywords and Start with a website.
By clicking on the 'Start with keywords' button, you'll be able to enter up to 10 different terms of phrases and get the results. You can track your keywords and their changes over time which will help you improve your SEO strategy.
Furthermore, the Adword Planner Tool gives you an opportunity to add keywords to your plan and see the performance forecasts for each one of them. 
Here's a little guide on how to use the Adword Planner Tool effectively:

Specify your geographic audience

Prefer quality rather than quantity keywords

Let Adword find keywords within your budged and rank
All in all, the Adword Planner tool is a great service provided by Google. It can help you understand why identifying keywords is important for research and make you make your site rank at top of your customers' screens. 
You'll have to sign up, determine your bailing country, time zone, and verify your info. All features will become available to you in a minute.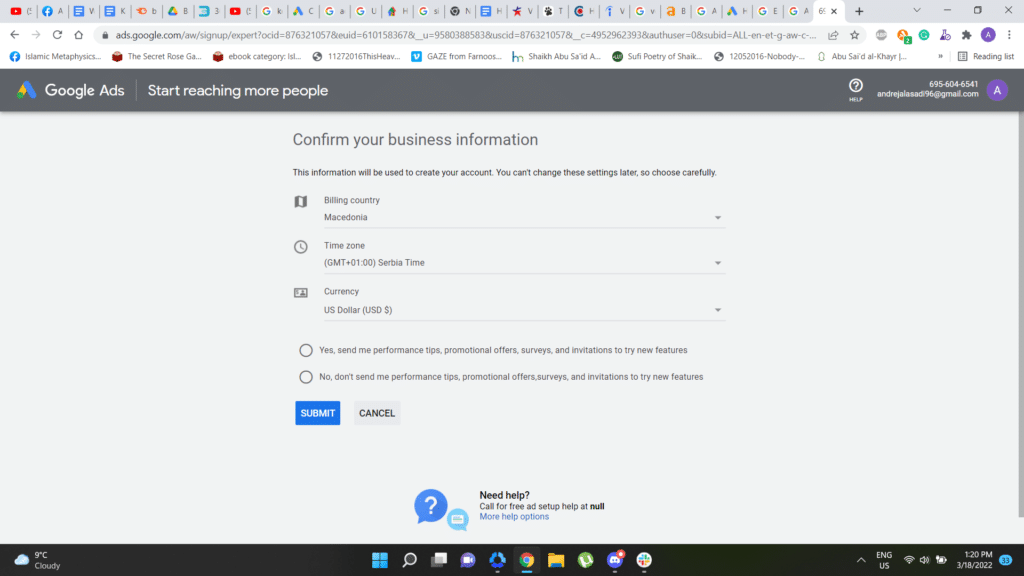 From Uber Suggest
Have you ever thought that by answering 9 simple questions you can get a 7-days keyword plan for your site? This is what Uber Suggest can do for you if you create an account and start using its services.
You can register for free and get access to Uber's SEO tool, SEO training & support, Daily rank tracking, and personalized SEO suggestions. You can further add up to Uber Suggest which tells you how to do keyword research for SEO through selected tools like Domain Overviews, Keyword Suggestions, Content Ideas, and much more.
The usage of Uber Suggest is easier than you think. All you have to do is enter the specific domain or keyword and you'll get exact results regarding the relevance, your competition, and future prospects.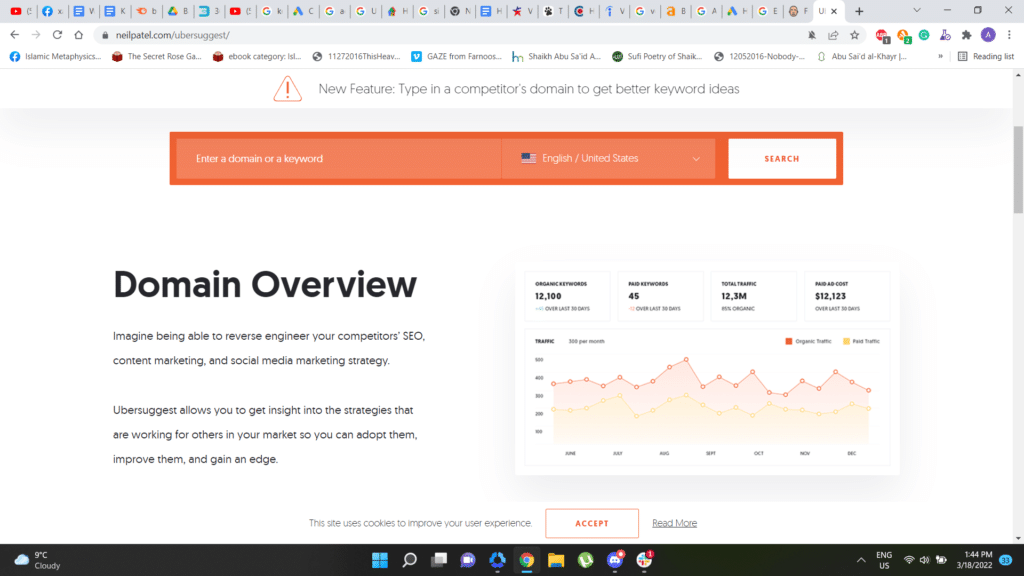 Uber Suggest is a tool that can help you separate the organic and paid traffic while having a clear picture of what's your competitor's keyword strategy. This way, your keyword research will be directed towards keywords and content which visitors want to read.
Uber's Keyword Suggestion Tool will also display to you the volume of each particular keyword, the seasonal trends, and the latest activities of the competition. All the tools are automated, and you just need to get acquainted with the terminology of the software and the different modules. 
Final Thoughts – Short Summary 
In this article, we've seen why identifying keywords is essential to research for SEO and how different keywords can be related to the ranking of your page. Furthermore, we've seen how even though the keyword volume might be high, relevance remains the crucial factor for your traffic.
Additionally, keyword SEO research is essential for identifying your competition and finding the most appropriate place to launch your content. 
Moreover, the best keyword research and planning tools can be used for free, making an effort even more exciting. However, if you're a team or a fully-fledged company or organization, you can always subscribe yearly and get all the extra features for SEO optimization
The post What is Keyword Research in SEO & How to Do It? appeared first on SEOReseller.