If you run an agency or are responsible for drumming up a new business, you've probably encountered hundreds of different objections from speaking with your prospects.
The problem, you may have realized, is that you can't be too sure which of those objections have the most impact on your prospect's decision.
While one business might give several reasons for why they won't work with you, another business might have completely different reasons for declining your offer.
So, to understand the decision-making process that companies use to hire agencies, we surveyed business leaders in 30+ industries and 100+ marketing firms. After compiling and analyzing hundreds of responses, we identified 10 key factors that most companies look out for when shopping for agencies.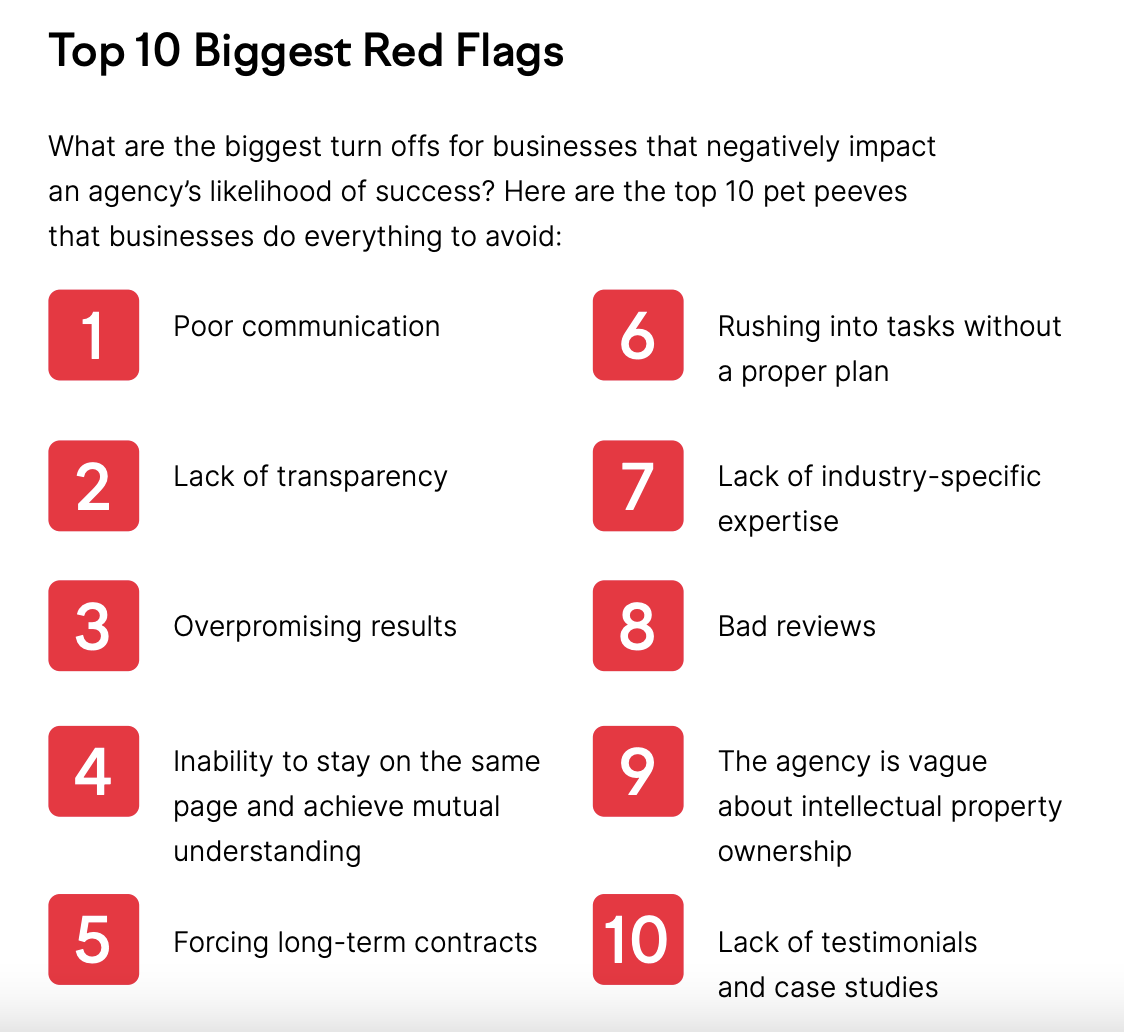 Whether you're in charge of business development at a multinational digital agency or you run your own boutique marketing firm, these red flags might be costing you business and negatively affect your chances of closing the next deal. So to help you turn your leads into clients, here's a list of the top 10 pet peeves that turn away businesses — and what your agency can do to avoid them:
1. Poor Communication
When it comes to maintaining a strong agency-client relationship, constant and consistent communication is paramount to keeping your clients happy.
Plenty of things can go wrong when there's a breakdown in communication between you and your clients. Between missed deadlines and ambiguous expectations, poor communication not only spells disaster for a project, but also leaves your client fuming at the lack of professionalism.
Solution: Incorporate scheduled client updates into your agency's project workflows. This can be as simple as setting a specific day during the week to let each of your clients know what deliverables you're working on and when they can expect them. Providing a constant line of communication keeps your clients informed and prevents them from second-guessing what you're up to.
2. Lack of Transparency
A lack of transparency and openness is just as damaging to your relationship with your clients as poor communication. In a field where trust is the dominant currency, failing to be forthcoming about project hurdles and attempts at covering up mistakes are glaring red flags for any business that works with your agency.
Solution: Be honest with your clients when you run into issues. It's expected that projects won't always work out according to plan. But your clients also expect you to let them know when things go awry. 
3. Overpromising Results
If there's one thing agencies are notorious for, it's overpromising and under-delivering.
Far too many businesses have been traumatized by agencies that sell them on a dream and leave them in a nightmare.
As an agency, a track record of disappointing performance can turn prospects away the moment they hear your name.
Solution: Underpromise and overdeliver. You might think that overestimating project timelines and underestimating results will make your agency appear less competent. But being honest and realistic with your client when it comes to setting expectations goes a long way to building trust.
4. Inability to Stay on the Same Page and Achieve Mutual Understanding
Nothing is more irritating to a client than receiving work that does not align with their vision. For creative projects, this often means seeing artwork and copy that are off-brand. For conversion-focused projects, this means generating unqualified leads or targeting the wrong audience.
Solution: Invest more time and energy into onboarding new clients. Prepare onboarding checklists that will help to guide you and your clients through defining the scope of work and branding guidelines. Ultimately, clients want to work with like-minded people who can speak the same language. The more time you spend learning their language, the more comfortable your clients will feel working with you, and the more likely your work will reflect what they originally had in mind.
5. Forcing Long-Term Contracts
Simply put, forcing anyone into any type of long-term commitment is a terrible and ineffective way to form a relationship. While it may sound counterintuitive, the key to developing a lasting relationship with new clients is offering them the freedom to decide how long they'd like to work with you. This allows the relationship to grow organically, without clients feeling like they've been pushed into an agreement against their will.
Solution: Start off your clients with pilot projects or trial periods. Short-term engagements are helpful for both your agency and your client to gauge how well you work together and whether longer-term collaborations make sense.
6. Rushing into Tasks without a Proper Plan
As the saying goes, "if you fail to plan, you are planning to fail." Undertaking a project without a detailed plan in place leads to a whole host of issues down the road. Not only do you have to manage concerns from your clients, but pursuing one project without a structured process makes it exponentially harder to accomplish other tasks for other clients within your agency. 
Solution: Before your team starts work on any new project, plot out a timeline that outlines what tasks need to be done and when they need to be completed. This will help keep your agency organized while you're juggling multiple projects, and it also makes it easier to sell potential clients on how you're going to achieve their desired results. 
7. Lack of Industry-Specific Expertise
Another red flag for prospects is not having working experience in their industry. Your clients don't just want a specific service. They want a specific service that's specific to their niche.
Just because one solution worked for one client in a certain industry doesn't mean it's suitable for another client in a completely different industry. Failing to understand the nuanced parts of your client's business can often lead to unforeseen obstacles during the course of a project and leaves your client questioning your every move.
Solution: If your agency doesn't already have a target industry or niche, pick one. At the very least, you should be looking for clients and projects that are similar to those you've worked with in the past. Focusing on a particular type of business not only simplifies your business development strategy; it also gives your prospects peace of mind that the service you're offering is something you've done before. 
8. Bad Reviews
Word-of-mouth recommendations and online reviews are arguably the most influential factors in the buyer's decision-making process. This means even just a couple of bad reviews is enough to scare prospects away from your agency and into the open arms of your competitors.
Bad reviews are particularly damaging to your agency's reputation for two reasons. 
They're usually permanent and available for anyone to see. 
People tend to remember the negative details more than they remember the positive.
Solution: Be proactive in responding to negative reviews. Although poor reviews may initially seem like they're bad for business, they're also an opportunity to win back clients and attract new ones as well. How you treat your clients at any point of interaction speaks volumes about what it's like to work with your agency. 
9. The Agency is Vague about Intellectual Property Ownership
Most companies won't do business with agencies that aren't clear about who owns what following the execution of a given project. While there may be a great deal of valuable information and assets at stake with any project, in many cases the matter of IP ownership all comes down to one factor: trust.
If a prospect doesn't know how your agency is going to handle their IP, then they can't trust you. And if they can't trust you, then there's no point in doing business with you.
Solution: State in no uncertain terms exactly how you plan on protecting your client's IP. Make sure to include IP ownership clauses or nondisclosure agreements in your contract to explicitly show your client what they can expect. 
10. Lack of Testimonials and Case Studies
It's almost impossible to get your prospects to believe that you can deliver what they want if you don't have any proof.
Social proof like client testimonials and case studies is one way for a business to determine whether or not you're the right agency for the job. And nothing turns prospects away like an absence of social proof.
Solution: Ask your clients for testimonials if you don't already have them. Get your team to write case studies about your most successful projects — just make sure your clients are okay with what you choose to share.
Key Takeaways
There are plenty of red flags and warning signs that businesses look out for when hiring an agency. At the end of the day, the secret to encouraging prospects to sign with you is providing a foundation of trust.
Be authentic. Be honest. Be yourself. Communicate effectively and in a timely fashion. Don't be another bad experience that will cause a business to forget about hiring another agency ever again. Put yourself in the client's position to understand their concerns and give them the quality of service you'd expect.
Read our full report to get an insider's perspective on what prospects and clients really want from you.
The post What Are the Top 10 Red Flags for Your Clients in 2022? appeared first on Axnhost.com.