Effective email marketing is all about sending the right email to the right person at the right time. Now, you can send your emails at the right time for each of your subscribers with AWeber, no matter what timezone they're in.
That timing is important. Getting the content, subject lines, and branding of your emails is important, too. But if your emails arrive at a time when your subscribers are likely to be offline (or asleep), they'll just get pushed down in the inbox by other emails.
So set your campaigns to go out by time zone and start seeing better results from the exact same emails you're sending! It's a no-brainer.
How to set up campaigns to go out according to subscribers' time zones
Click "Automations" -> "Campaigns" to start a new campaign or open an existing one.

Add a wait time before the email you want to send. This will determine when your email goes out after a subscriber is added to the campaign.
When editing the "Wait Time," click "+ Add New Send Window" under "Set Custom Time."
When you do this, it means your email will send on a specific day and time, like Wednesdays at 9am. Without a custom time, your email will send according to whenever the trigger happened (like a new subscriber signing up for your account).
Once you've set your custom time, click the box next to "Use the subscriber's time zone."
That's it! Your emails will be sent out in the appropriate time zone, at the time you've established.
Note: This feature is not available on free AWeber plans, or (yet!) for Broadcast emails. Upgrade now to access it if you're on a free plan.
5 types of campaigns to optimize for time zone
Looking for some inspiration for how to use this new feature? Here are five ideas to get you started.
1. Weekly YouTube or blog post notifications
Set up a weekly automated email to announce your new content. If you blog regularly or create content on YouTube, you can let your audience know what's new with surprisingly little work. Just ask people to sign up for your emails and then create an Auto Newsletter to automatically notify them about anything you've recently published.
Now here's how to use the time zone feature to make this even more powerful: Figure out when you tend to get the most YouTube views. For example, maybe people like to watch your videos on Friday afternoons or Sunday mornings. So set up your weekly emails to go out at that time — for every subscriber.
2. Welcome emails
After someone has subscribed to your list, send them a lead magnet or welcome email immediately. Then, set a wait time to send the rest of your emails at times that are better for them.
For example, if you sell to businesses, you'll want to send your emails during working hours. Set up your welcome series emails to go out Monday to Friday, 9am to 5pm, in each person's time zone. That way, your subscribers in London and your subscribers in New York will all get emails at 9am their time.
3. Abandoned cart emails
Sometimes when someone signs up to buy something but they don't complete the purchase, it means they need some time to think about it. Or maybe they didn't have their credit card nearby. Either way, an abandoned cart email is the best way to make that sale happen.
You can send an abandoned cart email one hour after the person has put the item in their cart. But you may want to avoid certain hours of the night that you never make sales. So set that email's custom time to between 8am and 12am every day and then set it to send in each subscriber's time zone so you can remind them the next morning to make the purchase.
4. Etsy product inventory updates
Do you have an Etsy store? You can send automatic inventory updates to your subscribers when you add more products to your store.
Make this an immediate or weekly email — but set it to go out when people are most likely to buy from your store. Just check your sales reporting so you know when your target audience is likely to buy. Then send the new product email notifications at that time, but optimized to arrive in everyone's specific time zone.
5. Surveys
Surveys are useful for you and your customers, but even short ones can be time consuming. Your customers may want to help you out, but they have more available time at the beginning or end of the work day when they're not focused on tasks.
Set up your survey emails to send at 4pm in your subscribers' time zones. They'll get the email at a time when they're likely winding down from the day, so they'll have a little extra time to give you feedback.
Get started with AWeber
Ready to start sending emails at the perfect time for your international customers? Sign up for an AWeber account today. Upgrade to a pro plan to get the time zone feature.
The post Get more engagement when you set email campaigns to arrive by time zone appeared first on AWeber.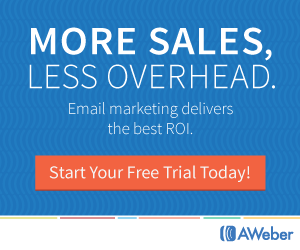 Article link