Less than two years after acquiring newsletter platform Revue, Twitter is now planning on closing it by the end of this year, leaving its over 30,000 users scrambling to find an alternative.
When Elon Musk's purchase of Twitter finally concluded on October 27, 2022 experts speculated that there would be some major changes. No one was shocked when he immediately fired the CEO and other longtime top executives. But no one anticipated a tool that thousands of people use as a source of income would be a causality of Musk's massive changes for the social media giant.
So what does this inevitable closure of Revue newsletter means for you and what you should do next. We'll help you sort it all out.
But first, let's get an understanding of what Revue is.
What is Twitter's Revue?
Revue is a newsletter service designed for writers and publishers to communicate with their audience through email. Revue customers used this tool as a way to connect and monetize their content through email newsletters.
When Twitter purchased Revue in January 2021, the intent was that users would be able to easily convert their Twitter followers into email subscribers, resulting in more revenue.
What does Revue sunsetting mean for you?
If you're someone who is using Revue, you need to be thinking about how you're going to continue sending and monetizing your newsletters. Here's a step-by-step guide to help you make sure the process from Revue to a new platform is seamless for both your and your subscribers.
Step 1: Export your email list
Your subscribers are your most important asset, you need to protect them. No one knows exactly what's going to happen with Revue, and I certainly wouldn't take a chance that it gets shut down before you secure your most valuable asset – your email list.
Step 2: Create a list of features you use in Revue
This will help you identify alternative platforms that perform the same functions.
Step 3: Research an alternative to Revue
Luckily there are options so do your research. Determine what's important to you. Look for a platform that will migrate everything from Revue to your new platform, this will help ensure a smooth transition.
"This situation illustrates the power of email. If Elon decided to close your Twitter, or Mark closed your Facebook your audience is gone. No backup, no transfer. There's zero latent value in audiences on social outside of the platform they are built on."

Tom Kulzer, AWeber's CEO
What's next?
"Entrepreneurs are simply those who understand that there is little difference between obstacle and opportunity and are able to turn both to their advantage."

Victor Kiam
Opportunity – you may not realize it at this moment, but that's what the closure of Revue is.
Revue was a fine place to get your newsletter started, but it's never been a great place to turn it into a business you can scale. The same simplicity that many people choose Revue for also limits you once you have an audience who loves your content, and a rhythm for creating that content.
If you're looking for a new newsletter home, consider AWeber. We've been helping creators and authors reach their audiences via email for over 20 years. We push new product enhancements literally every day to help you create faster and connect more meaningfully.
We have simple writing tools that make it easy to create newsletters and grow your audience without distractions, but we don't stop there. We also have tools for turning that content into something you can make a living from.
Things like automation to take routine tasks off your plate, personalization so you can serve your audience as individuals and keep them engaged, and commerce tools to help you sell what your specific audience wants.
Related: Check out how Hunnys.net organized a scavenger hunt around Times Square using the features in their AWeber account
How does AWeber compare to Revue?
Here are just a few of the many reasons why AWeber makes a great Revue alternative:
Best support
If you've ever had a problem at Revue and went looking for help your only option is to use their knowledge base and hope you find the answer. Our customer solutions team are experts at using AWeber. They have a direct line to the rest of the team to make sure your issues are addressed promptly. And they're available 24/7.
Save time with automation
We know you're busy, which is why we have so many tools to automate parts of your content workflow that Revue doesn't support. It's super simple to send automated messages to welcome new subscribers and point them towards content that might interest them, re-engage with lapsed subscribers, and even automate messages based on things your subscribers do in other products you use. Good luck trying to do that at Revue (spoiler alert: you can't).
You can even automatically send your subscribers new content when you post new YouTube videos, podcasts, products in your Etsy or Shopify store, or anywhere that gives you an RSS feed. That way you can spend your time creating, and not fiddling with online tools.
Creating more personalized experiences
As your audience grows, you're going to realize that not everyone who reads your content is the same. They love you and your content for different reasons: be it their interests, how they found you, or maybe even where they live.
With Revue you have to talk to all of them the same way. AWeber lets you easily segment your audience to send different groups, different content or dynamically personalize each email so people reading the same newsletter will see content that speaks to their specific interests and identity.
Getting paid for your content
Many of the most successful newsletter writers out there make their living through a variety of things: subscriptions, paid products, services. On Revue, you can only offer subscriptions – and your subscription options are pretty limited. Not so on AWeber.
Want to offer subscriptions? Go for it – and offer as many subscription levels as you like.
Want to sell a digital product like a custom font, workout plan, or excel template? You're free to do so.
Do you offer paid services to help your audience grow? Sell them through AWeber.
We know that for many people, the newsletter itself is just a part of the newsletter business and we're here to help you grow your business and earn more.
Get started with a free account today.
Want us to migrate your newsletter subscribers and templates to AWeber? No problem, just sign up for our free migration service.
The post 3 things you need to do now, before Revue gets shut down appeared first on AWeber.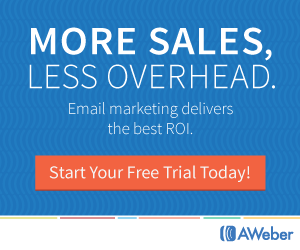 Article link