What do you expect the best dropshipping websites supplier to be like? And what are you looking for when choosing the right partner for your ecommerce venture?
Let's review first-hand experience of 3 online entrepreneurs who switched their dropshipping supplier or ecommerce services provider at some point! Why did they do it and how is it working out for them in a long-term perspective? Read below!
The best dropshipping websites supplier is the one providing fast shipping
Key points to consider: fast shipping is one of major factors that influence people's decision to buy from you. Ideally, you need to look for a supplier who stocks their products in a warehouse close to your target region.
Martin, 43, is an online entrepreneur from Denmark who started his online store in a traditional, well-known way. He began with dropshipping products from China through AliExpress – the strategy that brought him over $3.5K in 7 months.
But did it make him happy?
The numbers may look ok, but in reality, I was struggling with delivery times and customer complaints. That's why I was interested in some alternatives to AliExpress.
No wonder Martin got curious when he discovered a faster shipping opportunity!
Sellvia's 1-3 days shipping seemed to solve my delivery issues, and I decided to check it out. It has ready-to-sell products already kept in a warehouse in California.
What happened next?
Martin's monthly sales doubled right after switching to Sellvia!

Read his full story to see the stats and details – and to learn why this was a game-changing decision for Martin's business future:
I now have the confidence to scale my business and not worry that I will get buried in customer complaints about long delivery times from AliExpress.
Isn't that the issue that every online business owner wants to have solved?
The best dropshipping websites supplier is the one making promotions easy
Key points to consider: to make sales, you need to actively drive traffic to your store and let internet users know about the fantastic products you have on offer. The more product info details and catchy promo materials you can get from your supplier, the better! Remember that the overall quality of product pages (photos, specifications, reviews, trust badges, etc.) will also impact visitors' buying decisions.
Sotirios, 61, is an online entrepreneur from Greece who has a long story of experimenting with ecommerce. Just like Martin, he liked the idea of 1-3 days shipping that Sellvia offers:
Shipping time has always been a great concern for me: the thing is, I had some negative experience when I was doing my eBay dropshipping. I was receiving customer complaints about the long shipping time, and there was nothing I could do about it.
But what's more, Sotirios really appreciates the extra marketing support that comes with Sellvia-provided products:
I like that they have marketing materials readily available. I'm getting quite a bit of Facebook engagement: people are liking the page and reacting to the posts.
Experimenting with different types of advertisements (PPE Facebook ads and conversions campaigns, Instagram ads, social media posting, holiday coupons, etc.), Sotirios is aiming at higher profits with lower ad spend.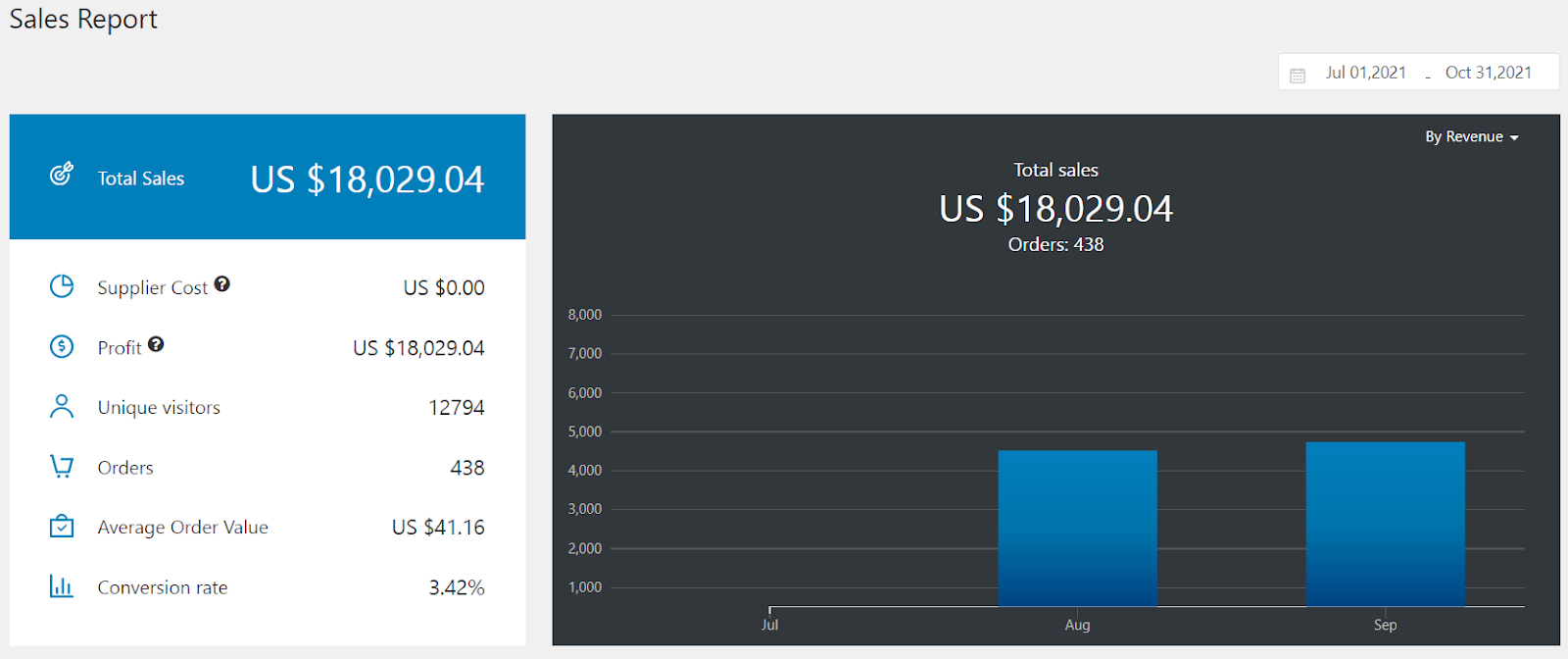 Read and watch his interview to find out more of his business strategies – and long-term plans!
If all this leads me to a more optimistic financial result, I'd like to get another store in the future!
Given that Sotirios has already made over $18K in sales, that's quite an ambitious plan, don't you think?
Your best ecommerce partner should be MORE than just a supplier
Key points to consider: if you're new to online business or simply want to make a smart ecommerce investment, it's a good idea to look for a 'package deal'. Apart from a source of products, you can also get an online store made for you, marketing and tech support to help you out with daily tasks, and even a business growth roadmap created for you individually.
Alexander began his ecommerce journey after serving 8 years in the US army. He wanted to pursue his dreams and start a business on a budget with no previous experience. Like many other beginner entrepreneurs, he decided to try dropshipping:
I was using suppliers from China, so shipping across the globe was expensive and took forever. I ended up buying some winning products in bulk and then shipping them from my house to the customer once the order was made. It was so costly in the end!
Looking for a more reasonable and less stressful way to run an online business, Alexander came across Sellvia and decided to test it by ordering a free ready-made store. It's safe to say the outcome exceeded his expectations!
I was searching for a better way to run my business. I needed a good supplier, fast U.S. shipping, and a beautiful website. Sellvia offers all of that and more!
Having a ready-to-go online store, an extensive catalog of products to sell, 1-3 days US delivery option and a whole range of extra tools, Alexander has no worries over the daily business procedures and can dedicate his time to strategic planning. Read his full interview to learn his experience-based tips on ecommerce businesses promotion and growth – and his life-changing experience!
Sellvia has allowed me the opportunity to do the things I love and sustain a comfortable lifestyle. I was homeless for over a year until I started ecommerce and freelance graphic design work – now I have my own apartment.
Just how impressive is that?!
If you're looking for the best dropshipping websites supplier, there are multiple things to consider. Focus on the ones providing fast delivery to your target country, check if they have free informational and promotional materials available, and see if there are other ecommerce areas they can take care of for you. If you're aiming at the lucrative US market, Sellvia is a winning choice: its free online store offering alone says a lot!
The post Need The Best Dropshipping Websites Supplier? These Guys Have Found Their Winner! appeared first on Sellvia.