Selling on online marketplaces is one of the best ways to propel your online business to new heights, find and reach a customer audience, and increase your potential income.
With the heavy involvement of the Internet in our daily lives, customers purchase products online every day.
The ecommerce industry is evolving every day at astonishing rates, with new technologies developing and becoming more accessible than ever. And with ecommerce becoming more widespread, regular people have come accustomed to opening their own online businesses.
The online space allows ecommerce entrepreneurs to expand their businesses exponentially very quickly. And selling on online marketplaces stimulates this idea at an even greater pace.
Apart from starting an online store, there are numerous ways of selling online. That's exactly why we encourage selling on online marketplaces as the best way to conquer the online space in 2023. It provides many benefits to brands allowing them to access a vast number of potential customers.
Selling on Marketplaces like Amazon, eBay, Etsy, Walmart, etc. could be a bet as they can easily give a brand more exposure, and get you instant access to a vast number of potential customers. You could sell your products online with certain control but will be able to leverage the global reach and services of a marketplace.
Amazon is on the top, surpassing every other marketplace, with around 5.2 billion visits every month.
Now, let's uncover the benefits of selling on online marketplaces more in-depth.
[blog_subscription_form_1]
[table_of_contents]
The benefits of selling on online marketplaces
The big popularity of online marketplaces like Amazon, eBay, Etsy, Walmart, etc. provides you the opportunity to access its wide pool of online consumers, without having to invest in marketing.
All in all, selling on online marketplaces is a good opportunity for small businesses to gain profits without any advanced advertising.
Selling on an ecommerce marketplace, you have everything set up in one place. You barely have to invest anything, besides a few necessary expenses.
As a result, the cost of selling on a marketplace is significantly less, compared to selling on your own online store.
Increase the level of trust
In the online space, it is a common practice that online consumers purchase the exact same products that you may offer, but on an online marketplace. This happens because online consumers have much more trust in buying from a trusted online marketplace seller, rather than a website that they visit for the first time.
Once you expand your online presence to an online marketplace, you will get much more exposure and will provoke users for instant purchases. As well as generating higher sales and revenue numbers.
Enhance your brand's visibility
If you're new to ecommerce, customers will most likely be unfamiliar with your brand and the products you offer. And by selling on online marketplaces like Amazon, eBay, Etsy, etc., you help boost your brand's visibility and recognition.
High-class customer service
Thanks to the automation of the supply chain, the shipping process is quicker, and the customer can be informed on an ongoing basis about what is happening with his order. Being in constant contact with the customer can increase his satisfaction with the purchasing process.
As a result, they may be more likely to return for future purchases.
A wide range of payment and shipping options
Various marketplaces offer different payment and shipping methods. That's one less problem for you to worry about since it will be handled by the marketplace's team.
You can also try dropshipping since many marketplaces support this business fulfillment method. Some platforms allow the sellers to add their shipping methods, or allow the seller to use the shipping services of the marketplace.
Increase authority and transparency
Marketplaces like Amazon are safe and reliable places for transactions. They provide secured options for payments and are integrated with various payment gateways.
Likewise, many marketplaces have PayPal security, which is the most trustworthy payment method worldwide.
Selling on online marketplaces with Sellvia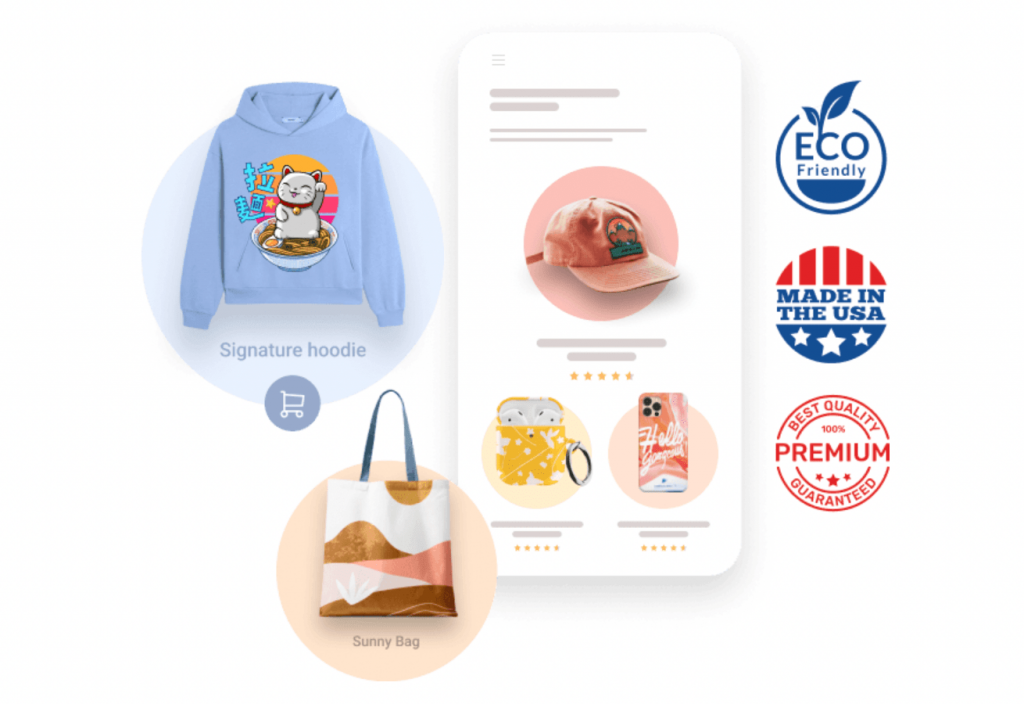 If you want your business to resonate with as many buyers as possible, finding your target audience is essential, and selling on the top online marketplaces is going to help you with that.
Start selling on Amazon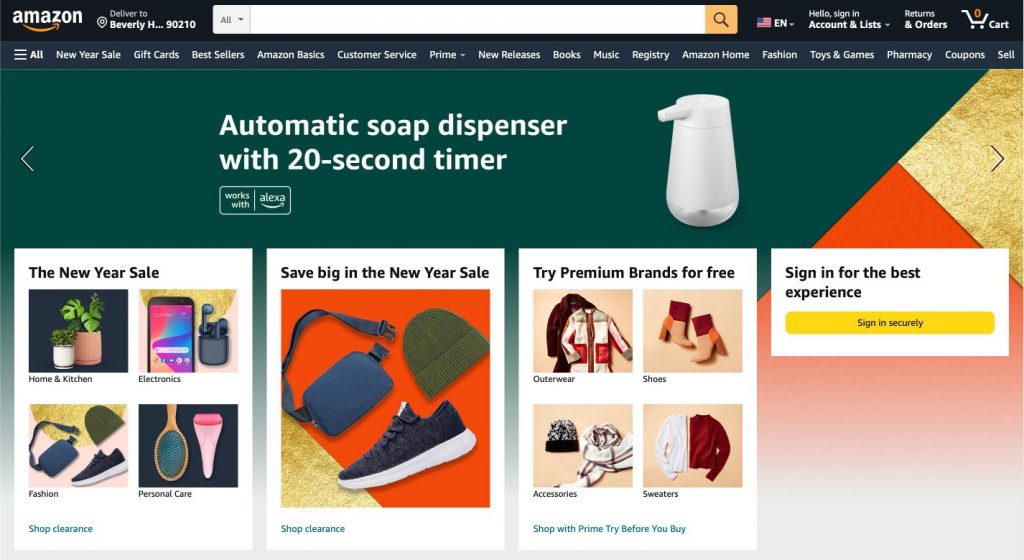 The majority of online consumers prefer to shop on Amazon. In fact, right now, Amazon is considered the most popular ecommerce marketplace in the USA.
Why do so many people prefer to shop on Amazon? According to reports, online consumers like shopping on Amazon because of the wide variety of products they can find, as well as the convenience of the return processes, and the unique items that aren't available anywhere else.
And what better way to start selling on a major online marketplace than to do it without all the tedious tasks!?
Try out our Premium Products service! You'll have a chance to start an Amazon dropshipping business and sell your unique products!
Sellvia allows you to start selling on Amazon with no inventory and avoid any risks and difficulties you may encounter.
We'll turn your idea into unique products that win your customers' hearts! All you have to do is specify your preferences and desires to our specialists and they will create a product range according to your specific needs. As a result, you will have a product range consisting of the most desirable products that cater to your customer's demands.
Simply add the Amazon option to your Premium Products package and we'll handle the creation of your Amazon account. On top of that, we will upload and build your product assortment according to Amazon's standards, so that you can experience and benefit from the most profitable shopping destination in the US. Get ready to profit!
Win over Etsy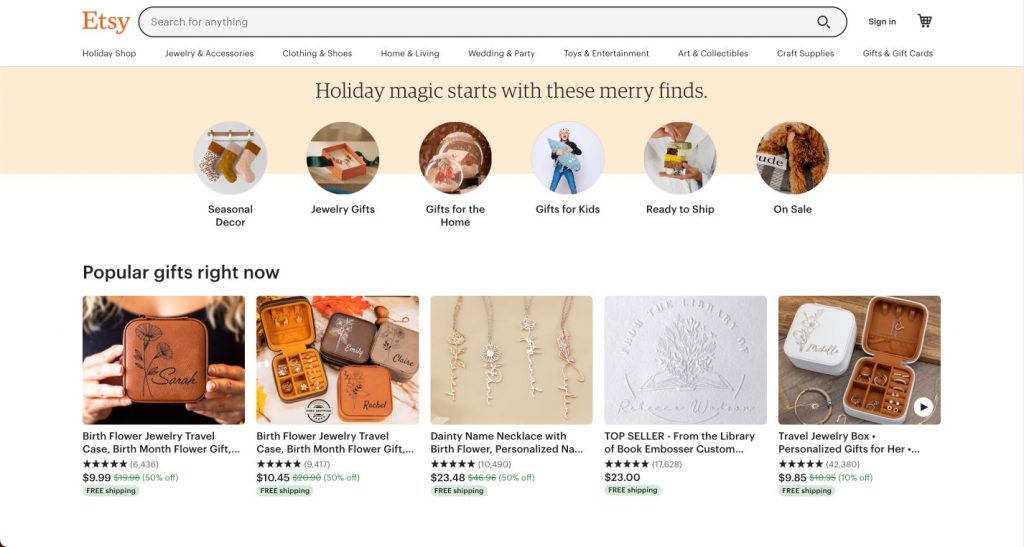 Etsy is the primary marketplace for selling and buying unique vintage and handmade items. And it's no surprise, as the demand for these kinds of products is through the roof right now. And Etsy helps entrepreneurs in this niche find their audience of customers.
For instance, In 2021, roughly 7.5 million sellers sold goods through the Etsy platform.
Moreover, there were approximately 96.3 million active buyers who purchased goods on Etsy. This is a whopping 18% increase from the year.
So, as you can see, this ecommerce platform is experiencing a huge rise in both sellers and shoppers, so it's safe to say that selling on a Marketplace like Etsy will be a huge boost to your overall business.
So, want to take your shot at Etsy? We'll gladly help you with that! We'll help you create an Etsy Seller account and upload your premium products to its catalog.
Strike it big with Pinterest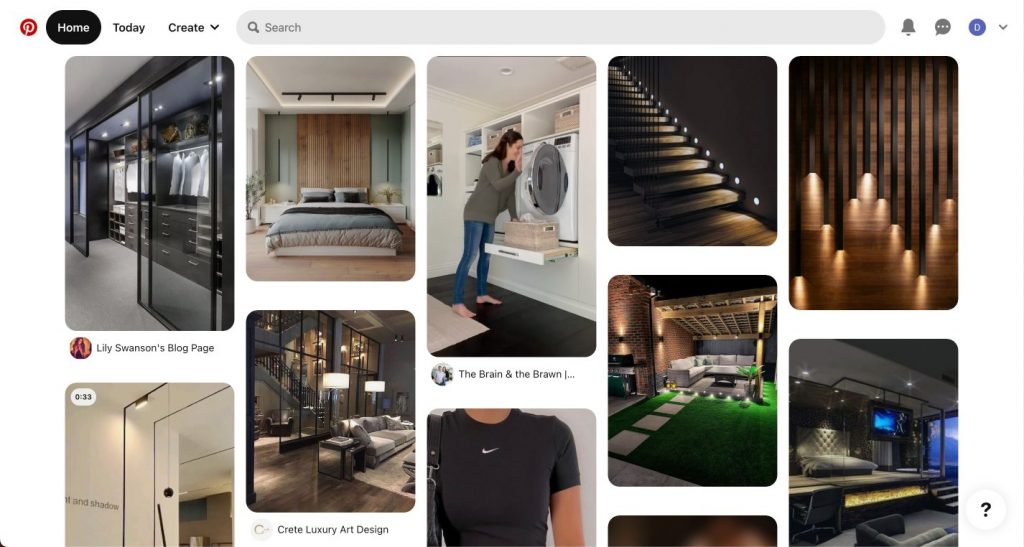 Nowadays, there are online platforms for everything. Pinterest is a popular platform for finding ideas, and inspirations in the form of various images. However, it may not seem like it at first, but you can also sell on Pinterest.
According to Pinterest, today, more than 400 million people come to the platform every month to explore and experience more than 240 billion ideas that have been saved.
That's quite the potential audience of consumers, isn't it?
What if we told you that you can use it to broaden your online presence even further? Partner with Sellvia on this powerful social network to grow your business, win loyal customers, and boost your sales.
Final thoughts: Should you start selling on online marketplaces in 2023?
If you're still wondering whether or not you should start selling on online marketplaces, the simple answer — of course, go for it! It's an awesome way to boost your online business and increase the chances of your success.
Especially if you're just starting out, as online marketplaces simply provide so many advantages for you to propel your business and sell your products. And on top of that, by teaming up with Sellvia, all of the boring tasks will be handled by a team of professionals, while you manage your online business.
Rest assured, as the experts behind Sellvia's Premium Products service will handle everything:
Discover what products people are searching for, but cannot find
Merge these products with your personal ideas, interests, and values to create a product offering that stands out and meets the customers' demand
Fulfill an order in your store and print the needed items upon your request
Take care of the delivery right to your customer
You can make your product assortment anything from clothes and baby products to home décor and pet accessories. Thanks to the Premium Products service, you get everything you might need for selling on online marketplaces. All the physical product concerns are taken care of — the only thing required from you is your idea. So, ready to take on various online marketplaces and boost your business to new heights?
The post Why You Should Start Selling On Online Marketplaces In 2023 (Amazon, Etsy, Pinterest, Etc.) appeared first on Sellvia.